 Because there's never enough Danny DeVito in the news, Twentieth Century Fox recently released two of DeVito's films, 1989's "War of the Roses" and 1992's "Hoffa," on Blu-ray. The discs are part of the Fox Home Entertainment "Signature Series," which feature a new video introduction from DeVito and both picture and sound quality that come literally stamped with his approval. (A copy of DeVito's signature is emblazoned on the packaging.)
To celebrate the release, HuffPost Entertainment spoke with DeVito about … well, almost everything. Ahead, DeVito's thoughts on digital filmmaking, his next venture as a director, the fiscal failure of the underrated "Death to Smoochy" and why you should always bring cash to the French Riviera.
What made you want to revisit these films?When the laser disc came out, I did the same thing: I had this rush about wanting to be on the best delivery system available. I know people maybe know the Blu-ray technology, but I was unaware of it. Blu-ray enhances everything. It's like you're sitting in the room when you're making the movie. It doesn't happen very often. I love film and we shot them all on film, but what happens is there are a lot of details that you miss. Some people are fine with film, some people are bothered by it, but it doesn't bother me. I'm really ecstatic about it. I like to see the detail on the furniture and the shadows that the cinematographer is creating. All the contributions that are made from the collaborative artist: The costume designer, the production designer.
Then you go in the sound area and it's like night and day. We're all listening to digital stuff all the time now. I love putting my 78s on and listening to some Etta James playing. But I also own Etta James songs on my iPad and my computer. It's like if you were in that generation that I'm from, where you sit there with your Hi-Fi and get blown away by some Bird or Dizzy Gillespie or some Yo-Yo Ma or whatever it is you're listening to? It's the same kind of thing. Technology has brought it so close to you. I don't care if you're watching it on a small screen or big screen, you just get that feeling. I love doing it.
Did you change anything on the discs?I added a couple things for this version. I put a little introduction. They're called the "Signature Series," and I had this idea that I would do a little P.T. Barnum thing in the beginning. That's the way I was feeling. I was in that mood. The people at Fox Home Entertainment indulged me and let me go take a camera and shoot some green screen and play around with it. I stuck myself in a logo.
I don't know what's going on with me. I blame the guys at "It's Always Sunny In Philadelphia." I mean, I was always a little bit out of whack, but now I'm just off the charts. I'm looking at the picture right now of me flying through the air on "Taxi," where I have an affair with the boss's wife. I look back and I say, "That's about as far out as I went." Now, look at where I am with these guys on "It's Always Sunny": They've got me coming out of sofas naked and doing all kinds of crazy shit. I've turned into a wild card.
Is that the reason you're directing "St. Sebastian," your first film since 2003?That's my latest one. We're basically doing it for the internet. It's a feature length film for the internet. It's got William Fichtner, Lance Reddick and Constance Zimmer. It's really fun. I did it with my crew -- my small, pared-down group of merry men and women. We went into an abandoned hospital and shot it. Steve Bing, who's the producer, is really good and into it. We just took an Alexa digital camera and shot with lanterns and low lights and did all kinds of cool things. Wandering with the camera. It's a different kind of movie for me. I'm in the middle of editing now -- I'm doing it myself.
There was a great documentary this summer called "Side By Side" that dealt with the evolution from photochemical film to digital. Where do you stand on that debate?My feeling is -- and I haven't seen the documentary -- that I'm able, right now, to do everything I want to do with my peeps. My pals. This movie, we shot for 17 days. One camera. Very few lights. Good actors and a fun story. And now I got all the digital information put on my hard drive and I take it with me wherever I go. And I edit it. I like digital for that. It's like when I was making Super 8 movies. You take the little Super 8, you shoot with it, you're editing in the camera and you send it off to Kodak and they send you back the printed film. It doesn't have to be a big thing. Now, if you can hire Vilmos Zsigmond and shoot it or Anastas Michos ... I worked with him on "Death to Smoochy." Beautiful, beautiful stuff. But we shot on film. Now I've lured Anastas for this; he did "St. Sebastian." It's really beautiful. Same thing: You compose. It doesn't smell the same. It's not the same thing as putting your hands in a black bag and changing the magazine. It's not the same. It's totally different. There are buttons you can push and fuck everything up. It's like me with a remote control; can you imagine? There's so many Goddamn buttons on there. But, I'm enjoying it.
You mention "Death to Smoochy." I've always enjoyed that movie.That's one of my favorite movies. Working with Edward Norton, Catherine Keener. Jon Stewart's terrific. It was a great experience all the way up until Warner Bros. released it. [Laughs] Otherwise, it was really fun.
Right. So, what happened there?That's a whole other conversation. Why did they want to put "Slumdog Millionaire" direct to DVD? They sold it to Fox. One company doesn't want to make "Jaws"; one company doesn't want to make "Star Wars." You don't know what the hell those guys are thinking, and who's going to try to figure their heads out? You can't deal with that if you're an artist. You just have to do your work. OK, they buried the movie and never promoted it. "Death to Smoochy" came out at a rough time, after the national tragedy in this country. [Ed. note: "Death to Smoochy was released six months after the 9/11 terrorist attacks.] But, still, I love it. And I watch it. I can't look at Robin Williams without thinking of Rainbow Randolph. He is fucking Rainbow Randolph. He's got some great moments in the movie. Everybody was a team player. That was just one of those movies. Look at Edward: He's a serious actor and he's funny as hell. I got him to put the suit on! That's above and beyond the call of duty. He's my buddy. I love Edward.
From "War of the Roses" and "Hoffa" to "Death to Smoochy," you always seem to get these surprising performances out of actors. As a director, what's the key to unlocking an actor's potential?Actors are the smartest ones on the set. So if you're not listening to the actors, you're fucked up. That's what I look at. Writing is really important: It's the blueprint. It's good to have the great script with the bon mots. But, the actors are the smart ones. You give Jack Nicholson something to do and you just sit back and let him work. Of course you're moving things around, you're trying to see it from a certain point of view as the director. That dictates a lot of it. I'm not saying directors don't do anything. When I worked with Milos Forman, I always felt my performance was true and honest. Milos was allowing me to be Martini in "One Flew Over The Cuckoo's Nest." We were doing it together. It's a collaborative art.
Who are some other directors you loved working with?Tim Burton, I love. I loved working with Tim. It's like coming from inside his twisted brain. The hideous penguin boy is realized as Gotham's attacker [in "Batman Returns"]. He's misunderstood, of course -- there's always a duality. The bird that cannot fly. He was thrown out by Pee-wee Herman, for Christ's sake. Pee-wee threw me into the fucking river! [Laughs] I always bring it up when I see him: "You, you bastard, you threw me in the river when I was a baby."
Before we go, this month was the 15th anniversary of "L.A. Confidential." What do you remember about that one?Hush hush. On the QT. That was really a lot of fun. 15 years? Oh my God. Arnon Milchon called me up one day and said, "I've got this movie I'm producing, would you meet with the director?" I said, "Sure." Curtis Hanson was so prepared. He had pictures of what he wanted from the era. I jumped in at a good time. I got to meet Guy Pearce and Russell Crowe and Simon Baker. Got to work with James Ellroy. It was a lot fun. We went to Cannes. That was such a cool thing! I know "Pulp Fiction" won the Palme D'Or and I was part of that [as producer], but being at the Cannes Film Festival -- that was my first time with "L.A. Confidential." It was a beautiful experience. I'll tell you one thing, though: I'm glad I wasn't paying for it. Kid, they'll take you to the cleaners. The hotels are really making out. They only take cash, of course. It's like an Italian restaurant in the '50s.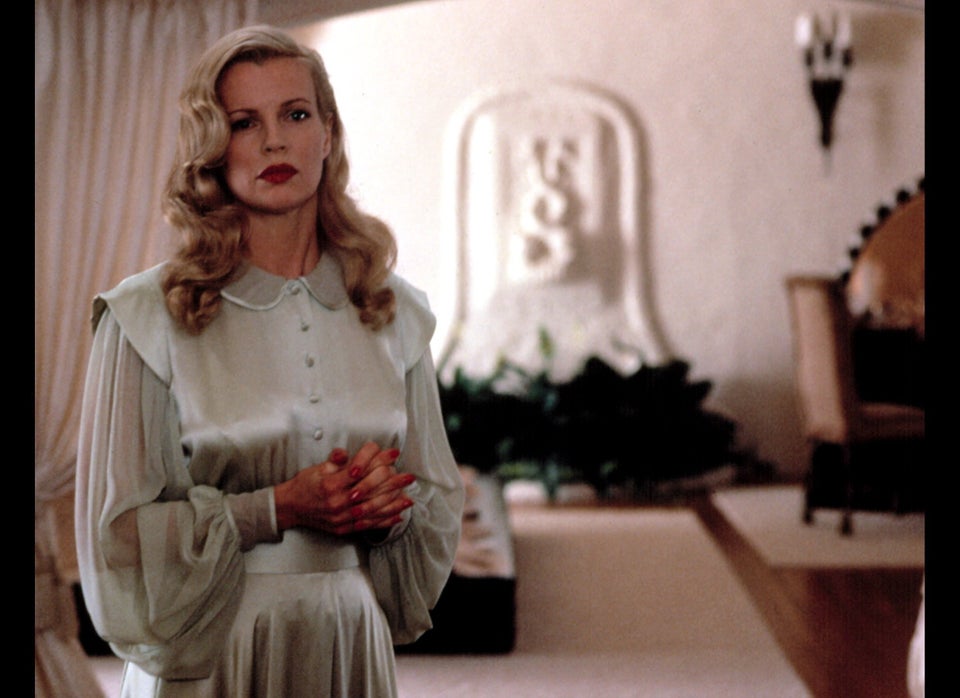 'L.A. Confidential' Cast: Where Are They Now?
Popular in the Community