He made his mark on the New York stage in 2015 playing the Fred Astaire role in Lady, Be Good at City Center's Encores! This past season he made his Broadway debut as Lucky in the tap-happy revival of Dames At Sea. Now Danny Gardner shuffles onto the grand stage at Radio City making his debut in the New York Spectacular Starring The Radio City Rockettes.
As part of the principal cast, Danny joins eighty performers in this new show that celebrates New York City in the summertime. It's centered around the trip of a lifetime for two kids, who, while on a vacation in New York, are separated from their parents. The city magically comes to life and helps to reunite their family in the end. It's all directed and choreographed by Emmy Award-winner Mia Michaels, and is written by Drama Desk Award-winner Douglas Carter Beane.
I had the opportunity to speak with Danny while he was on break from technical rehearsals.
Congratulations on making your debut on the Radio City stage in the New York Spectacular.
Thanks. It's really exciting. We just teched my big turn as George M. Cohan last night and standing on the stage with all of those Rockettes is really out of this world.
So you get to dance with the world famous Rockettes? That has to make a guy feel special!
Oh my gosh, yes! When I got the role I thought, oh that's great I'll get to do a little tap. Then when they told me I'd actually be dancing with the Rockettes I was blown away. It is a dream come true because they're so talented and precise. I have to say that dancing with them is really such an honor.
Can you tell me a little about your role in the show?
I actually play two roles. I play a husband and the father of two children in a few scenes and I also play George M. Cohan. Well, it's actually a statue of George M. Cohan that comes to life. I did a lot of research on him and James Cagney as well. A lot of people associate George M. Cohan with James Cagney because of his role in the film Yankee Doodle Dandy. But Mia Michaels, our director and choreographer, was very specific and wanted a flavor of George M. Cohan but also wanted contemporary hoofing. So we worked together to find that combination and I think we've come up with some fun and interesting stuff.
How have rehearsals been going?
It's wonderful because everyone is on his or her "A" game. We have eighty people in the cast and the rehearsal atmosphere is really fun and exciting. I think it's because we know that we're creating something new so there's an edge to everything we do. The more layers we add, the more exciting it becomes. It's also great that Douglas Carter Beane is writing the show. He's been in the room helping us find the comedy and heartfelt quality of the story.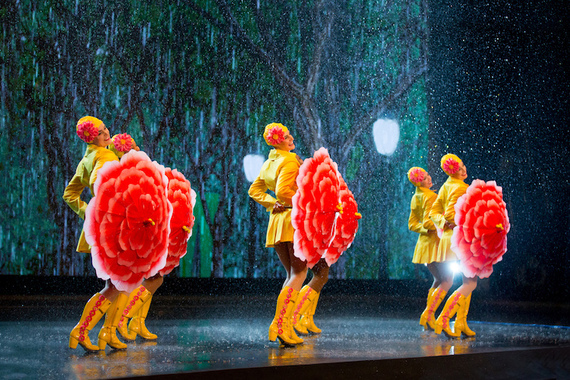 What's it like to work with your stage family?
Well, we're all making our debuts on the Radio City stage so we have that in common. I have to say that from the very beginning the kids were so open and excited. Their enthusiasm rubbed off on me for sure. The first time the four of us stepped onto that stage we all just looked at each other and said, "Wow, can you believe we're really here?" Especially for me since I just came from performing in Dames At Sea at the Helen Hayes Theater. I love that theater, but 580 seats are very different than 6,000 seats!
Since Radio City is so well known for their opulent costume designs I imagine you have a pretty spiffy costume.
Absolutely. For my George M. Cohan costume they basically made the same exact suit as the statue that is standing in Times Square. It's tailor-made with this handmade fabric that makes it look like metal. When I tried it on during my fitting I found that aside from looking like metal, it also bends like metal. It's amazing. Luckily, I only have to stand still for only thirty seconds and then it's like I'm shot out of a cannon and start dancing.
Speaking of dancing, where did you receive your tap training?
I started dancing when I was five years old at a local studio in Reading, PA. John Kalina, a former hoofer in New York, gave me my foundation in tap. I also studied very briefly with Shelly Oliver at Muhlenberg College before going to Ithaca College to pursue my musical theatre training and receiving my BFA.
When I got to New York City I learned a lot from Randy Skinner. He taught me more about style than anyone. Before I met Randy I was more of a hoofer but he made me realize I could get up on my toes a little more. His style is much more dancey than I was used to and I'm still learning from him to this day.
So Danny, what can audiences expect when they come to see the New York Spectacular at Radio City?
They can expect to see something like they've never seen before. The combination of amazing sets, technology, immersive theatre, and precision dancing is quite astounding. Plus, we have the beautiful contemporary dancing of Mia Michaels all tied together with a heartwarming story. I would expect the unexpected.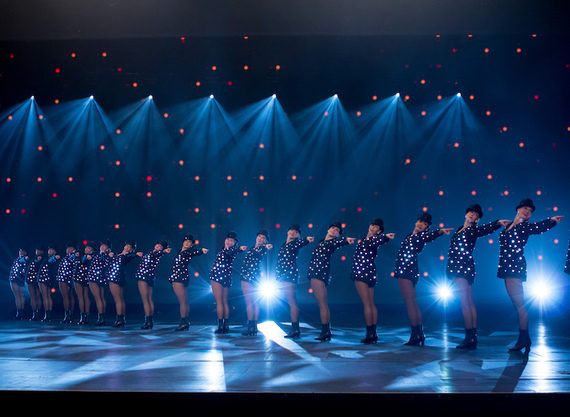 Hear what Rockette Christine Sienicki has to say about dancing with Danny Gardner:
Danny is in our 42nd Street number, which is actually one of my favorites! It's very contemporary and totally different than what you're used to seeing the Rockettes do. We dance in a line for almost half of the number, and then we go into Danny's section that is a really cool swing Charleston. At that point Danny comes to life as the statue of George M. Cohan and breaks out into this huge tap dance. It's so great working with him and amazing to watch him tap. It's kind of hard to believe how many sounds come out of his feet with such little movement. He's pretty incredible.
The New York Spectacular Starring the Rockettes, a production of the Madison Square Garden Company, will run June 15-August 7 at Radio City Music Hall, 50th Street and Avenue of the Americas. Tickets are available now at www.RadioCity.com and the Radio City box office.

For all the news on New York City arts and culture, visit ZEALnyc Front Page.
Bob Rizzo is a New York based award-winning artist and prominent figure in dance education and musical theatre.
All photos courtesy of MSG Entertainment
Calling all HuffPost superfans!
Sign up for membership to become a founding member and help shape HuffPost's next chapter