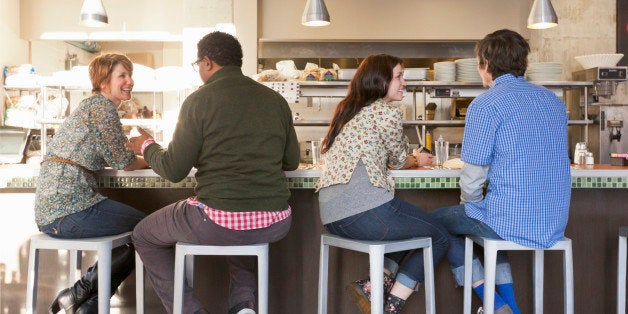 We have all heard the warning from our parents time and time again: Don't speak to strangers. As we grow older, avoiding strangers becomes less of a safety issue and more of an ingrained habit -- stick with the people you know, don't bother those you don't, and just keep moving. While research now shows that talking to strangers has the power to make us happier, many of us still walk the streets with our eyes cast downward, headphones in, content with our limited yet seemingly secure perspective on life.
If anyone can speak to the life-changing potential of reversing this habit and interacting with strangers, it's Danny Harris. A New York native who now lives in Washington, D.C., Harris is the creative director of StorySocial. He spoke at TEDxFoggyBottom in May about his former life as an absentee citizen of a bustling city, and how his conscious decision to talk to strangers brought the connections and meaning to his life that he desperately craved.
For Harris, his perspective on strangers changed in 2009, when he took an otherwise ordinary trip to the grocery store.
"I'm there with an iPhone and I'm looking for heirloom tomatoes as we do, and while I had been to that place and in that scenario so many times, this was the first time that actually I looked up and looked around," he said. "I saw that I was everyone... And not only could we not acknowledge how similar we were, we didn't even acknowledge each other at all... At that moment I realized if I can't connect with the people in this world who are so similar to me, what hope do I have of connecting with those who are not like me? I had a panic attack, first time in my life."
That evening he made a commitment to himself to interview a different stranger in his city every day to help cure what he had termed his "connectivity shock." He did so for the next three and a half years, learning about Washington, D.C. from those who know it best. His life was instantly transformed and enriched by the people he had spent years walking by without an acknowledgment. He no longer felt alone, and he is urging other city dwellers to make similar discoveries for themselves.
"I'm asking that you be more present and you be more aware," he said. "I'm asking that you think about who the extras are in the movie of your life. I'm asking that you introduce yourself to your neighbors. I'm asking that instead of saying 'What do you do?' and 'Where are you from?' you ask people meaningful questions and you pay attention to the answers."
Watch Harris' "Talk to Strangers" presentation in the full TEDxFoggyBottom video below.
Related