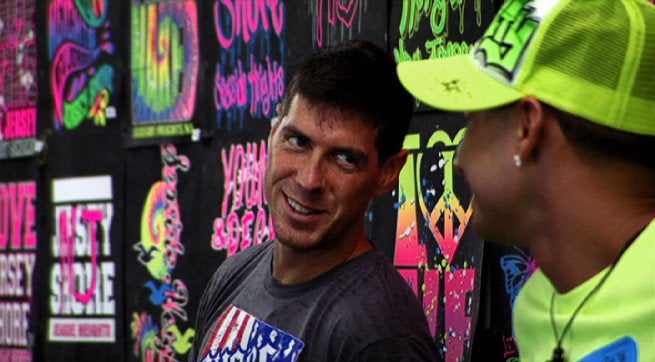 For the past five seasons, the world has laughed, cried and cringed with the housemates of "Jersey Shore." The MTV reality series turned pop culture phenomenon has made "Snooki" and "The Situation" household names and "GTL" and "DTF" part of the national conversation. But for Danny Merk, the real-life boss for this very special cast of characters, the show has been one thing -- great for business.
Merk, co-owner of the Shore Store, where the "Jersey Shore" crew works during their time in Seaside Heights, N.J., has certainly had his share of HR challenges -- with his on-camera "employees" sleeping on the job, drinking on the job and simply running out on the job. The headaches may not seem worth a little face time on TV, but like an increasing number of business owners, Merk (who owns the boardwalk T-shirt shop with his brother Paul) has found that prominent placement in a reality show can be surreal for the bottom line.
How did you get involved with the show?
It just came out of nowhere. Someone was scouting locations for a reality TV show, asked if I'd mind if they took some pictures of the house I had lived in for 10 years and then they asked if they could rent my house out for a month. This was just talk at first. I thought, "Nothing's going to happen." But then suddenly, they wanted me to move, and I moved 10 years of our lives in a matter of one night. And then, coincidentally, they asked to see the boardwalk, and I said, "Let's just cut through my store." And they said, 'I love this place. Let's give them jobs.' I was reluctant about that at first, but then I thought, "What the hell? Give it a try."
So is there any downside to having your business on a reality show? Do you ever wish the TV cameras would go away?
No, it's really helped out my business. Just about everyone who comes in at least buys a T-shirt. There's no downside. Oh, once in a while someone will scream something rude as they go by the store, and sometimes I've had spray paint on the front of my door, but the town is busier. My next door neighbors, which are an arcade and a pizza house, are seeing record revenue. The parking lot is always full. The town's making money. There are fresh coats of paint everywhere, and new fencing has gone up, so I can only say that the "Jersey Shore" has helped the Jersey Shore big time.
And it's helped you, too, as you said. I'm calling you in Florida. Do you spend much time at the store when the show isn't going on?
I literally live in the store from April 15 to Labor Day. After that, during the off season, I'm not there as much. My family is in Florida, and they have 17 Halloween MegaStore locations, two of them permanent. One's in Fort Myers, Fla., so I help them out. But, yeah, the show has been great for my business. People will ask me how much I hate the cast members, and I don't hate them. I don't hate anybody. How I can I hate anyone who has helped my business so much? Without the show, my website would be getting just a couple sales. But since the show, the website has really taken off. We get people around the world coming to the site. I've been very lucky. Nobody thought this would be as huge as it is, and I kind of compare the store to Cheers. Just like people want to get their picture taken at the Cheers bar in Boston, people have to get their picture taken in front of our store, and then they have to go into the store.
So who's your favorite cast member?
I can't say who my favorite is. I do stay in touch with Jenny [Farley], Pauly [DelVecchio] and Vinny [Guadagnino] the most. I like the guys the best because they usually work the hardest. Yeah, I'm biased to who works the hardest and makes me the most money.
And who's the laziest cast member?
Well, I know I just said the guys work the hardest, but by far, Mike [Sorrentino] is the laziest guy in the world. He works so hard at not working hard. He'd rather think of a million excuses not to do stuff. He'll just wander around in circles. It's a real talent. He's by far the worst person to work with. Everyone dreads it when they see the schedule and he's on it.
And is it hard to manage your real employees alongside the cast members?
They know how it works, and the employees love it, too. But employees almost have to not know about the show for it to work. We hire smart, college-driven people who just want a summer job, so they don't really pay attention to the cast, and a lot of them haven't even watched the show.
Have you heard if the show will be on another season?
I don't know. You'll probably know when I know. But I hope so. I hope it goes on forever, and I hope they come back and do the show for years and years, but I don't think Snooki's liver would be able to take it. The show has been good for me. I definitely don't want it to end. The production people, too -- everyone behind the scenes has all been so nice and cool. I was a little apprehensive at first, wondering what kind of Hollywood pricks will I get working over here? But they're all so nice. It's been ridiculous how nice and kind everybody has been.
Name: Danny MerkCompany: Shore StoreAge: 32Location: Seaside Heights, N.J.Founded: 1998Employees: 6, not including the castWebsite: www.shorestore.com
Popular in the Community