"That '70s Show" actor Danny Masterson was sentenced to 30 years to life in prison Thursday for raping two women at his Hollywood Hills home in the early 2000s.
"You were not convicted based on rumors, innuendo, gossip and speculation," Judge Charlaine Olmedo said before handing down the sentence, according to reporter Meghann Cuniff. "You were convicted based on evidence that 12 people in the community found to be credible. … You were convicted because each of the victims reported the rapes to someone shortly after the rapes occurred."
The 47-year-old actor and prominent Scientologist was found guilty May 31 on two counts of forcible rape and had faced a sentence of 15 years to life for each count. The jury was not able to reach a verdict on an additional count of rape involving a third woman.
Prosecutors had said Scientology officials protected the actor for years after he drugged and sexually assaulted the women, who were also Scientologists but have since left the church, in three separate incidents between 2001 and 2003. They testified that the church barred them from reporting the assaults to police, blamed them for the alleged rapes and harassed, intimidated and stalked them.
"I was terrorized, harassed and had privacy invaded daily by cult of Scientology for almost seven years" since reporting the rape to authorities, Jane Doe 2 told the court, directing her comments to Masterson, according to reporter Tony Ortega, "When you raped me, you stole from me. That is effect of spirit, you disfigured my life, stole my self-worth, less capacity for joy, you've made every part of me turn on myself."
Jane Doe 3, who had been in a relationship with Masterson, said in her written statement that Masterson had caused her to view her body as "a crime scene," "broken, deformed" and left her unable to ask for help because of her fear and shame.
"I didn't choose to be born into Scientology and their rules, just like I didn't choose to be raped by Danny Masterson," Jane Doe 1 said, according to Cuniff. As a result of the rape, she said, her ties with her family were severed and her life had been "hijacked."
This was the second trial for Masterson, who was charged with the three rapes in June 2020. The first trial ended on Nov. 30, 2022, with the jury deadlocked on all counts. In that trial, the judge did not allow the prosecution to say Masterson had drugged the women. That jury only heard that the women — identified as Jane Does 1, 2 and 3 — had been "incapacitated" when Masterson allegedly raped them.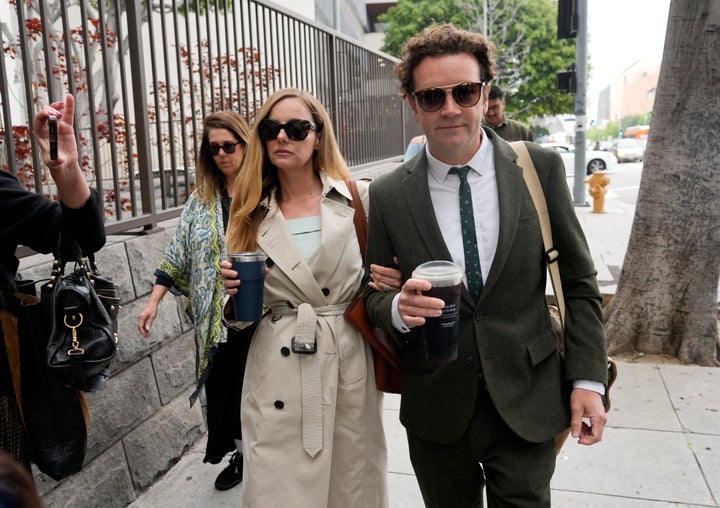 Masterson pleaded not guilty to the charges and didn't testify in his own defense in either trial. In both trials, his defense team rested without calling any witnesses.
The church vehemently denied how prosecutors characterized its belief and policies, accused the victims of making a money grab with their accusations and also said the trial violated its First Amendment rights.
In the second trial, prosecutors called a former Scientology official, Claire Headley, as an expert witness on how church members are instructed to interact with law enforcement as well as other policies, which have been criticized as controlling and abusive.
According to Headley, who sued the church in 2009, Scientologists may not call police without "specific authorization" — particularly in a matter involving a fellow Scientologist.
Jane Does 2 and 3 "have displayed tremendous strength and bravery, by coming forward to law enforcement and participating directly in two grueling criminal trials," their attorney said in a statement provided Thursday to HuffPost. "Despite persistent harassment, obstruction and intimidation, these courageous women helped hold a ruthless sexual predator accountable today, and they are not stopping there. They are eager to soon tell the fuller story of how Scientology and its enablers tried desperately to keep them from coming forward."
The trial also involved controversy over whether the church, which was not an official party in the case, was improperly receiving sensitive information. Masterson's original attorneys, Thomas Mesereau and Sharon Applebaum, were sanctioned in June for allegedly leaking confidential information about the women with Vicki Podberesky, a lawyer defending the Church of Scientology in a separate stalking and harassment civil suit brought by the women. They were replaced by attorneys Philip Cohen, Shawn Holley and Karen Goldstein, who have denied sharing information with Podberesky.
"Mr. Masterson, you are not the victim here," Olmedo said, according to Cuniff. "Your actions 20 years ago took away another person's choice and voice. Your actions 20 years ago today were criminal, and that's why you are here."
CORRECTION: A prior version of this story misstated the first name of reporter Tony Ortega.
Support HuffPost
The Stakes Have Never Been Higher
Popular in the Community