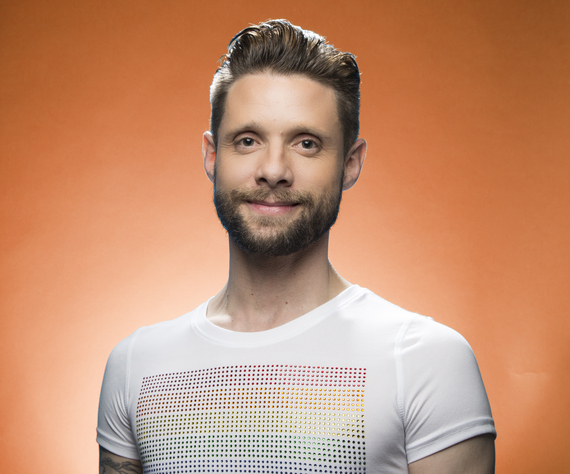 Reggie Cameron: You "came out" regarding your sexuality involuntarily many years ago.. When we look at people like yourself Barney Frank, Lance Bass, Neil Patrick Harris, among others who were dragged out of the closet by tabloids we see a number of incredible activists. How do you feel about the experience now that there has been some distance in time from the experience?
Daniel Pintauro: I feel like we've come a really really long way. The news now is that some celebrity or athlete has come out on their own accord, not against their will. And even bigger news is the support they receive from around the world, unheard of back in 1997. But I would venture to say that if any news outlet or journalist were to out a celebrity today, they would be blacklisted and would surely receive thousands of letters of protest. Unfortunately, during that time, it was 'good journalism' to out a celebrity.
I truly think everyone should only come out on their own accord and when they are ready. I've always said I believe that it's an actor's choice whether or not to divulge. Actor's DO need to maintain the ability to become as blank a slate as possible if they want to succeed in the business but with the way the media and public put celebrity's lives under a microscope: especially when they come out, wouldn't you agree it becomes very hard to be a blank slate? However, if you're one of those celebrities that everyone knows is gay, has been rumored to be in numerous gay situations and is barely trying to hide it... then I believe you're doing everyone a disservice. You're feeding the stigma by being too afraid to actually come out and say it.
RC: Recently, you told Oprah Winfrey about your HIV status and how you transmitted HIV... why do you think it is so important to discuss 12 years after the fact? What made you feel ready to discuss this?
DP: To be honest, it was not planned. At all. I've been out of the spotlight for many years, after a series of failed attempts at acting again I decided I just don't have the heart to be an actor anymore. So life became about setting other goals. When Oprah's people called I had a great job at PF Changs, a great husband, three dogs, a cute house in Vegas and an exciting long term goal for my husband and I to open a bed and breakfast. No acting on the horizon whatsoever.
About five or six years ago when I was living in LA, directionless, trying to be an actor again for the fifth time, I had the idea to come out about it but it would have been for ALL the wrong reasons and would have gone very poorly. I was not ready, I was using activism as a way to mask all the problems in my life or maybe as a way to boost my career.
But out of nowhere Oprah's people called in April last year and asked if I wanted to do a regular old Where Are They Now and I thought instantly -- I'm ready. I'm finally at a place in my life to do this. And I believe the fates above decided I was in it for the RIGHT reasons this time around... So after speaking about it with my husband I called her people back and said 'I've got an idea for a more in depth interview.' I had never really paid much attention to the activist side of HIV in the past but I paid enough attention to understand that it was 'off' a lot of people's radar and that needed to change.
RC: Do you think that your feelings about your own sexuality caused you to participate recreational drug use?
DP: I'm actually writing a story right now about the connections between drug use, particularly Meth, and the stigma, self-doubt and everything that comes with being gay... and especially everything that comes with being positive. I know for certain that my feelings about being positive contributed to my continuing to use Meth, I'm learning as I go through this that I have some latent issues with being gay and so I think that played a part as well. I'd also like to write a blog about how important it is for that component to be dealt with in recovery from Meth.

RC: I know that much has been made of this, but you explained that you were certain that you transmitted HIV from oral sex. How can you be so sure?
DP: Blegh. We're still talking about this? It's crazy that people are so attached to this idea when I still haven't given them ALL the details about that day. The details are embarrassing, NSFW and private so I'm choosing to leave it there for now. Maybe one day I'll write about it and you'll go 'Oh, okay!' But I have also said very clearly that I'm NOT sure and that anything is possible, especially once you throw Meth into the equation. But what I don't understand is why it's so important? What does it matter? No one can explain to me why it matters... All that matters is I have HIV and I had a problem with Meth and I have chosen to speak about them to try to make change. How is that not enough???
RC: Also there was an allusion to you participating in BDSM activity at the time.. is that something you still practice?
DP: BDSM will always have a place in my bedroom, albeit on a much more vanilla scale nowadays.

RC: WOW. What are common misconceptions about the leather community?
DP: People are afraid of things they don't understand. And, I believe for many people, gay and straight... leather and BDSM are simply 'things they don't understand.' It takes a particular mindset to want to immerse yourself in those worlds, you know? Unfortunately people tend to demonize things they don't understand. Just because you don't understand the appeal of the various aspects of BDSM, doesn't mean you're allowed to turn your nose up at it.
RC: How many years has it been since you were diagnosed with HIV?
DP: It will be thirteen years early March. Happy, err, pos-iversary to me?!
RC: Are there any misconceptions that you may have had prior to your personal experience about being positive?
DP: Yes, back when I first found out we were just starting to see that HIV/AIDS was not a death sentence... that's a huge, huge difference that younger generations have no concept of... I wish they did.

RC: You have been in a happy long term relationship, is your partner POZ and do you think that your status has effected your relationship in any way?
DP: My husband Wil is not positive but he's on PrEP. Though PrEP hasn't always been a part of our 'arsenal of protection.' I think he and I would both agree that Treatment as Prevention (aka, my being on HIV medications and remaining undetectable throughout our whole relationship) has been an important tool in our arsenal.

Daniel Pintauro will receive the The New Generation Arts and Activism Award at the Steve Chase Awards in Palm Springs on February 6, 2016. Previous recipients of the award have included Matt Bomer, Pauley Perrett and Mario Lopez.
The Steve Chase Awards benefits Desert AIDS Project (D.A.P.) an organization that serves our community with primary and HIV-specialty services, including medical care, case management and social services, including food, housing and counseling. D.A.P. also provides HIV prevention education and free and confidential HIV testing at dozens of community test sites and events through its Get Tested Coachella Valley campaign. They also offer The DOCK, a sexual health clinic at D.A.P., whose services include STD testing and treatment; PEP & PrEP education and referral to treatment; free and confidential HIV testing; and well woman exams. With new advances in treatment, improved access to care through health reform and new prevention tools, including pre-exposure prophylaxis (PrEP), D.A.P. is committed to helping bring the HIV epidemic to an end.
REAL LIFE. REAL NEWS. REAL VOICES.
Help us tell more of the stories that matter from voices that too often remain unheard.