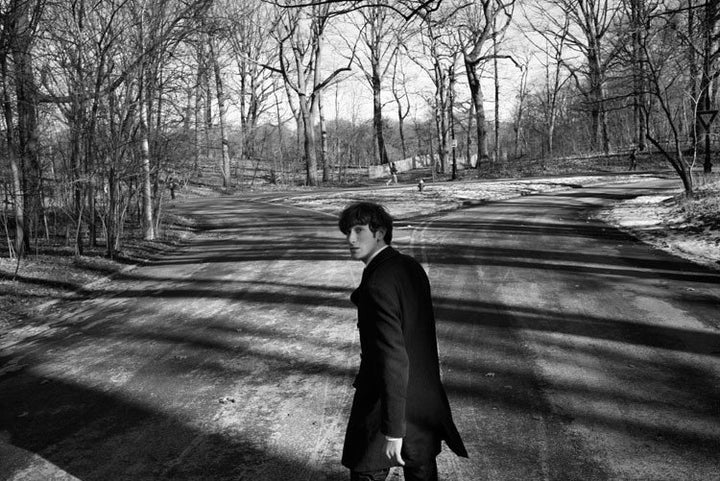 Danny Ross has been crooning his melodic, Beatles-esque music for years. He composes sincere little ballads that are at once ambitiously classic (horns! lush piano arrangements!) but also casual and fresh. Ross and his band are taking over The Living Room for a residency in July, and have become veterans of downtown venues. What makes Ross unique, perhaps, aside from his virtuosic musical skill, is his double life as a political staffer/rocker, a fact which once tickled the New York Post.
Stream his newest album, One Way, on his site here.
Huff Post New York: How would you describe your music?
Danny Ross: Imagine a place where the sun is always shining..
Uh huh…
And yet cloudy days are inescapable. A person who is light and free, and yet eats a stack of pancakes…
I'm with you so far…
A forest that is thick and lush with vegetation, but razed bare by greedy corporate forces. A reality show that was scripted, or a tiny person with really long legs. These are metaphors that describe my music almost exactly.
Who and or What are your inspirations?
Primarily the great pop composers (McCartney, Wilson, Simon, Costello, Newman, Gershwin), 60's r&b legends (Cooke, Redding, The Band), masters of folk (Dylan, Bruce, Cash, Seeger), country and jazz alongside a new interest in world music (bossa nova, afrobeat) and classical. There's a lot of disparate influences here, and I consider it my life's work to meld my favorite styles together in a clear, unique voice.
Who are you listening to a lot these days?
Besides the bulldozers outside of my apartment?
Yes, in addition to those
At this very moment I'm pretty heavy into Dylan's Blood on the Tracks, Abbey Road, Brazilian Tropicalia, the Beethoven symphonies and Thelonious Monk. But I just spent a year listening to nothing but Springsteen, The Band and Beatles remastered. As far as contemporary music, I'm always into Sufjan Stevens, Ryan Adams, dig the new MGMT record (thought it gets hated on) and Deerhunter.
Where do you live?
I live now in the lovely Park Slope in Brownstone Brooklyn. Just blocks from Prospect Park and some of New York's best restaurants and bars. Contact your broker now!
Actually, outside its stereotype as "Stroller City," which is 100% true, Park Slope has a very high proportion of twenty-something artists, songwriters, and creative-minded people. There tends to be a cultural shift that started in Williamsburg years ago moving down toward South Brooklyn. North Brooklyn is obviously still vibrant, just grimy.
You got any favorite Park Slope haunts?
On 5th Avenue, Miriam has an amazing brunch – try the Israeli breakfast. Perch, Crespella, 7th Ave Donut Shop are all delish and cheap. Mission Delores, Beer Table, Great Lakes have yummy craft brews and jukeboxes. Bar 4 and Barbes are great music venues.
Anywhere someone will, when you walk in, give you the 'usual'?
I've been going to Cocoa Bar on 7th Ave and 3rd Street almost daily for 2 years. They know I want a small skim latte. There are no words necessary. Staff actually come out to the shows and I shot pictures for the One Way album in their garden.
What do you do when you're not playing music?
Since finishing school in 2006, I've been working by day for Congressman Jerrold Nadler and the good people of New York's 8th Congressional District.
Wow! Does your office know about your double life?
They do, and thankfully they're incredibly supportive. And it has become exactly that, a double life. Flash the congressional seal in the night sky, and I'll be there in my shirt, bowtie and clipboard.
Do they catch you printing lyrics on the office machine?
Ha no, government machines are for government business only! A lesson we're all too familiar with because of recent events…
How'd you come up with the band name?
You'll have to ask my parents.
Favorite song?
That would have to be a toss-up between Michael Bolton's "I Said I Loved You (But I Lied)" and Hilary Duff's "So Yesterday."
What's your least favorite song?
If it came out after 1975, the statistical odds are that I won't it like very much.
Calling all HuffPost superfans!
Sign up for membership to become a founding member and help shape HuffPost's next chapter