If meeting Danny Simmons was the beginning of a novel, I might write, "the doors quietly blew open and a great smiling man beckoned us in." At six feet two inches, with sparkling eyes and a welcoming smile, he shows us into his parlor sitting room, which has French doors on two sides. We knew from the moment we entered we were going to be traveling from a majestic Victorian home to the world of Africa, and marking our path with the dust of the ages are shamans, soothsayers, and healers.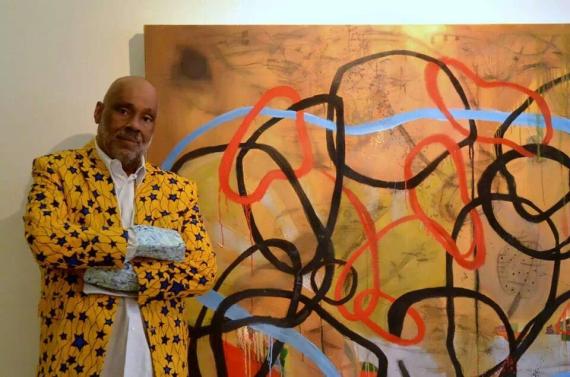 I am floored by the collection that Danny Simmons has amassed of old and new African and African American art. And what's more wonderful is that I just happened upon his historic Crown Heights home by accident, through friends on July 4th. It is one of those New York occurrences that happens only so often, and now less and less frequently, because fewer artists can afford the luxury of independence in the once hidden valleys of the New York City landscape. As a consequence I count myself fortunate to be sitting with this wonderful collector, visual artist, philosopher, and supporter of emerging artists. In an environment of inescapable fascination untouched by designers and developers, completely his and totally unique to his personal experience, Simmons, the ultimate renaissance man, has been collecting for about 20 years, first in his NYC loft, now in his Victorian home in historic Crown Heights, where many former industrialists a century ago built their great marble, granite and limestone homes. I am a huge fan of the African Art section at the Metropolitan Museum of Art and the curator did an outstanding job on its presentation. The Brooklyn Museum also houses a substantial collection. I have not seen the Queens College collection.
But there is something quite different between a visit to a museum and living with a multitude of ritualistic amulets, masks, and shields, mixed with contemporary visual dialectic.
Simmons has not visited Africa often. For the most part his collection has been purchased through dealers. There are over 500 tribes in Africa, some who still practice divination, others less so, but still make masks for decorative purchase. Simmons identifies their authenticity by the oily depth of patina left on the wood from being handled, as well as by holes that have been carved -- not drilled -- into masks and then stretched when worn repeatedly, causing hairline cracks. Most of his pieces range from the early 20th century to the present. Because this is an uncurated space it is hard to pinpoint any one thing to talk about, but I'll take a stab at it. (I will only be able to select a limited number from a forest full of trees.) Above where Danny sits are several lifelike masks of men's faces that caught me from the first moment I saw them. Danny laughingly says, pointing up to a mask, "This one right here looks just like my handyman Lenny. I can find these people all over Brooklyn." Then he explains that they are from the Makonde people of Tanzania, a tribe that is still demarcating its life force with ancient rituals and ceremonial expressions all its own making, uncultivated by modern consumer slickness.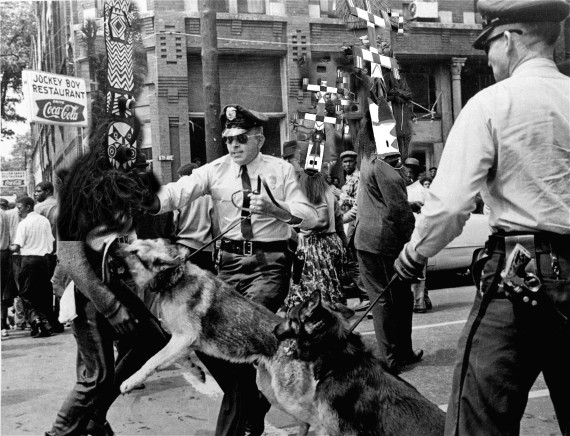 According to the Zyama website:
"The naturalism is exaggerated in many masks, with their full lips and receding cranium. The faces of the masks are often scarified. The Makonde have two main types of masks: helmet crests, known as lipiko, and face masks. The anthropomorphic face masks portray particular individuals or occasionally represent sickness. Design elements frequently include scarification marks, and eyebrows, lashes and coiffure made of real hair affixed with wax. The helmet masks have strong, African features. Male masks have beards, female ones lip-plugs."
"Africa is now largely Christian and Muslim," Danny explains. "Old Africa is fading a bit and becoming something new, less defined by mysticism." There are still rarified jewels like the Makonde.

I ask Danny what it feels like to live amongst all of these hundreds of ceremonial pieces. "Sometimes this house is literally humming," he tells me. He especially feels the presence of spirits when he shoots up to his painting studio on his air powered elevator, which looks like a dark grey glass time capsule from Woody Allen's "Sleeper." I can't help but think of H.G. Wells too. Danny is a time traveler of sorts. There he feels all that transcendental vigor while he paints. He accepts progress as a fact of life and does not rail against the inevitable changes that take place over time for everyone and everything. "We call it African art but these are religious pieces, pieces meant for power and divination." One can't help but see the skill, craftsmanship and imagination behind them. I ask Danny what his favorite piece is and he says, "Usually the last one I buy." He points to a piece that is really unique and says, "Look at this one. This is amazing, a real vulture's head and talons from the Yoruba people!" The largest nation in Africa, numbering 12 million, most of the Yoruba live in southwest Nigeria, with considerable communities further west in the Republic of Benin and in Togo. They are divided into approximately 20 separate subgroups, which were traditionally autonomous kingdoms.
Looking at it it's hard to say what it was used for, but it's made with mud, straw, fabric, and yes, a real vulture's head and talons. It makes a pretty exceptional Golem, with undoubtedly grand powers. If the point is to look scary the Yoruba have succeeded in warding off the spookiest ghosts. Sitting in this prettily detailed home that has to be somewhere over a hundred years old, I think of ladies crocheting and far off tribal dancing. I am caught up in the raw strangeness of the experience and what an ambiguous, unpredictable alternative universe this is, bringing together these worlds: past and present, polar opposites, culturally divergent experiences all mixed up into one unified causeway stretching from Africa to Brooklyn. Since he doesn't curate his space, things seem to evolve as he does, overflowing without concern for strategic best angles. I find it kind of dizzying, but enjoy it for what it is, a mini museum inside of Danny's head he has brought to life. And you can only patronize it by invitation.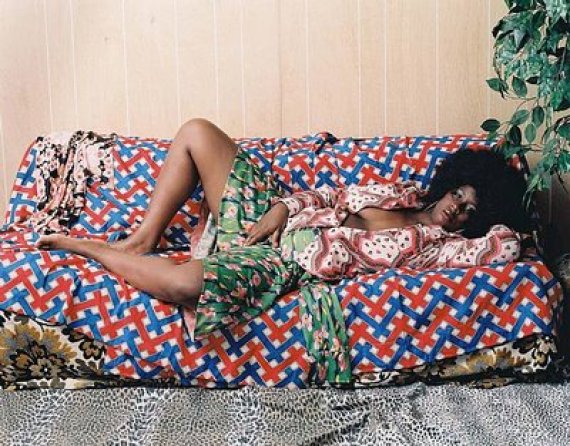 Danny mixes old and new pieces from a myriad of contemporary American artists with African tribal pieces. We move to the stairs and Danny jets up on the magic bullet (he has some bone deterioration in one leg from an illness he incurred while travelling). On the way we see works by Mickalene Thomas -- a picture of a voluptuous woman with a rich black afro reclines daringly on a couch -- while Carol Walker, Derek Adams, Sol Sax are thrown into the mix, and a beautiful fair faced Massai mask of a ponytailed girl with deep red full lips. There is also a series of black and white vintage photos. I see one by James VanDerZee, of a classic beauty from the 1920s, and then I do a double-take. Borrowing its vintage look, a man looks up a woman's dress while she climbs a ladder. The image screams contemporary artist Alisha B. Wormsley.
We meet in Danny's bedroom among action hero figures and ancient comic book covers, including the first Negro comic book from 1941. There is a picture of his beautiful mother, whom his brother Russell resembles. I ask about his action heroes and comic books. "I love 'em," he says. Everyone needs a hero and I've got them all around me." I think he is a bit of a hero to many emerging artists who need support and encouragement.
We resume our journey to his studio on the top floor. He pulls out large paintings with bold colors and African fabrics set ubiquitously into the oil paint. As an artist he is about vivid abstract form, mostly on large canvasses. He is not smitten with concept as much as spirit and the raw saturation of paint. Surrounded by all that he has created are other artists' works. Sol Sax's violent photograph of a civil rights conflict between a cop and an activist in the 1960s, with an African mask superimposed on the face of the activist, is total genius. It stands quietly in a corner waiting to be noticed. It packs a punch, but so does everything around us. Beside a chair sits a Beauford Delaney painting of his mother's stoic face with patrician-style flatness. Too many treasures. If you hear some drums and no one is playing an instrument, you know you are at Danny Simmons's place.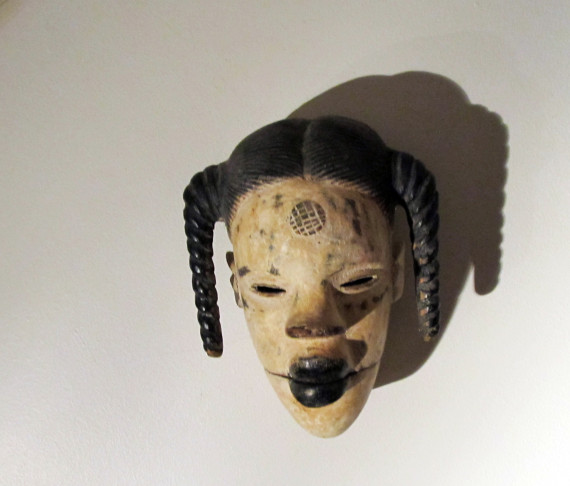 Soon we return to the front sitting room where we began our discussion. I ask how he feels about today's contemporary artists, about conceptual art versus other forms. "It's nice, but after you figure it out so what? It's too intellectual! Ok, I get that." It evaporates quickly for him. Danny talks about the need for artists to expound more on their inner lives than to respond, as they do too often, to outside forces. He is encouraged by African American artists who reflect not only on race but the whole of their being, allowing their inner and outer lives to inform their experience. He expresses the need for an artist's humanity to drive forth from his or her total equation: the spiritual, mental, psychic, emotional, poetic, environmental, etc.
Too much commercialism seems to bore him to tears. "Money has never been a consideration for me," he says. "I'm always able to pay my bills. I like that my brothers made money. I can always borrow if I need to," he chuckles.
Danny has great magic of his own. He has invested in the artistic community around him. He co-founded Rush in Chelsea, and Corridor Gallery (literally in a corridor) in Brooklyn. He played a significant role in starting CURATENY, a multi-borough art show with 1500 participants. Danny, along with his brothers Russell and Joseph (AKA, Rev Run), invest their passion for art in a once-yearly benefit in the Hamptons called Rush for Life. Since 1995, Rush has exhibited some of the most exciting contemporary artists of this moment, including Kehinde Wiley, Renee Cox, Wangechi Mutu, Suntek Chung, and Mika Tajima, to name just a few. Their subsequent careers speak for themselves.
Our three hour visit has ended. I quietly look around and become very philosophical and dreamy. Usually when one walks into a house a feeling of the living occupants and sometimes their ancestors pervades one's experience, but for me I have travelled today thousands of miles to another continent, through a porthole to another time, or many other times, through the intimate whimsical world of a wizard. It's been a pleasure. Thanks for taking me on a trip, Danny.