Businessman Danny Tarkanian, a staunch supporter of President Donald Trump, announced Tuesday that he will run against Sen. Dean Heller in Nevada's Republican primary next year.
Tarkanian ― who has mounted several failed political campaigns, including for seats in the House and Senate ― announced his run at 4 a.m. Las Vegas time on "Fox & Friends," a morning show the president frequently watches and praises on Twitter.
"We're never going to make America great again unless we have senators in office that fully support President Trump and his America First agenda," Tarkanian said.
Tarkanian blasted Heller for being one of the first and "most influential" GOP lawmakers to declare he wouldn't vote for Trump in last year's presidential election.
"[Heller] actually helped Hillary Clinton win the state of Nevada," Tarkanian said. "I fully supported President Trump to the end of the campaign. Even after President Trump has been elected, Dean Heller has obstructed his agenda."
"We need people who are going to support the America First agenda," he added. "And I will be that person."
Heller already faced an uphill battle to retain his Senate seat. The moderate Republican has seen his approval ratings plummet in recent weeks after enduring an onslaught of criticism from both Democrats and Republicans over his flip-flopping stance on the efforts in Congress to undo the Affordable Care Act.
In June, Heller voiced his opposition to the initial Senate bill to repeal and replace Obamacare during a dramatic press conference alongside Nevada Gov. Brian Sandoval (R). But weeks later, after a Trump-aligned super-PAC released ads slamming the senator, Heller reversed course and voted in favor of a "skinny" version of the bill that simply would have dismantled key parts of Obamacare. That bill failed.
Tarkanian, the son of the late college basketball coach Jerry Tarkanian, is the first Republican to announce plans to challenge Heller, though others are considering it. A primary fight creates an additional threat to the incumbent's already endangered status ― several political analysts rate Heller as the most vulnerable GOP senator on the ballot next year.
With conservative voters disenchanted with him, a new poll shows Heller would face a tough time surviving a primary battle before he could focus on a Democratic opponent.
The sole Democrat to so far announce plans to run for the seat is Rep. Jacky Rosen, a highly regarded liberal lawmaker who is backed by the one of the party's national campaign arms, the Democratic Senatorial Campaign Committee. But Rep. Diane Titus, another Nevada Democrat, is mulling a Senate run.
Tommy Ferraro, a spokesman for Heller's campaign, said his team wasn't "surprised" by Tarkanian's decision to run, calling him a "perennial candidate who has spent millions of dollars on five campaigns over the last decade."
Those campaigns have included a failed 2010 Senate run, in which Tarkanian lost in the Republican primary, and a loss to Rosen in last year's general election.
Tarkanian has "wasted conservatives' time and cost the Republican Party seats up and down the ballot," Ferraro said in a statement. "If he ultimately files for U.S. Senate, he will lose in the primary."
Vedant Patel, a spokesman for the Democratic National Committee, skewered both Republicans, citing Heller's 22 percent approval rating in a recent poll and Tarkanian's five previous losses as a candidate.
"Nevada Republicans are quite literally lost in the desert," Patel said in a statement. "As Republicans in Nevada fight to find their standard bearer, Democrats will continue fighting for affordable and quality health care, good paying jobs and expanding opportunities for working families in Nevada and all across the country."
This article has been updated with additional details about Heller's re-election chances and comments from the Democratic National Committee spokesman.
Before You Go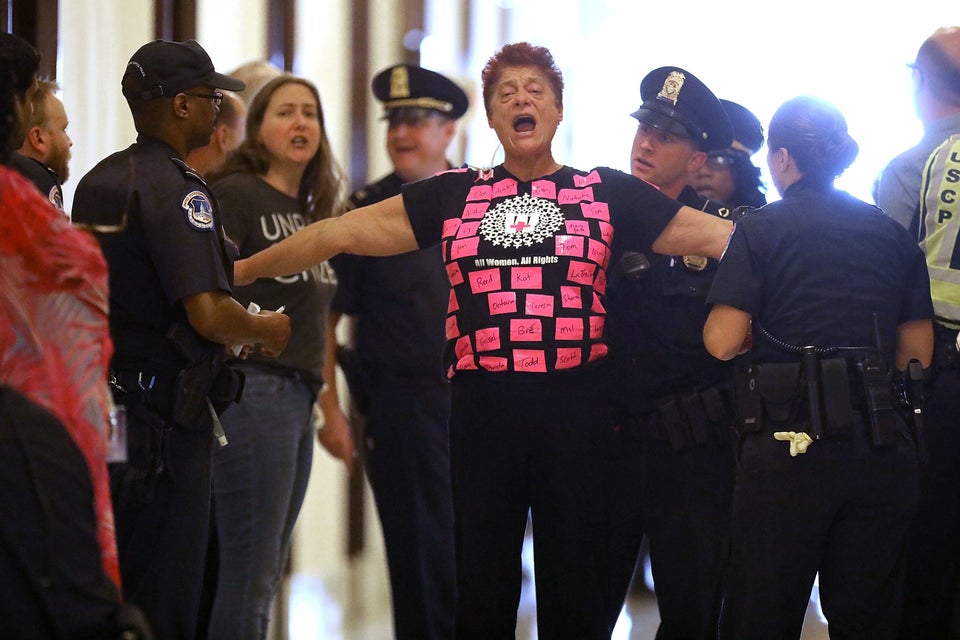 Health Care Protests At U.S. Capitol
Popular in the Community