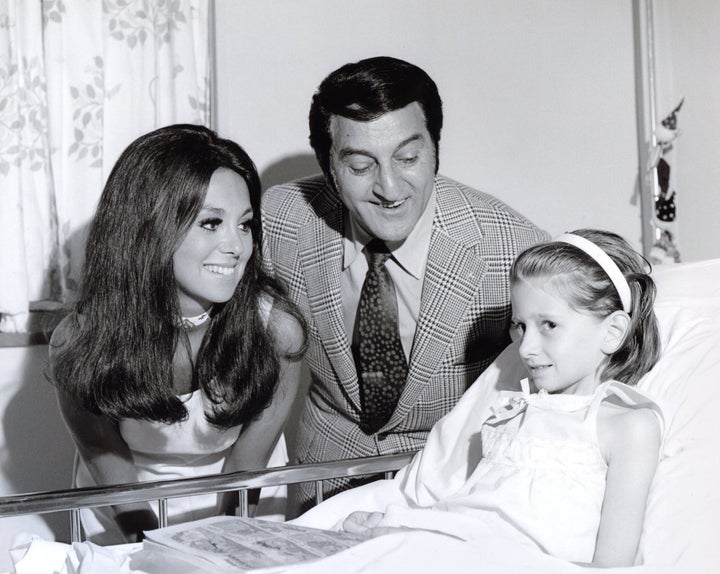 My father was the son of immigrant Lebanese parents, one of 10 children - nine boys and a girl - in a very poor family. My grandfather sold hardware - nails, needles, thread, rope - on consignment off the back of a horse-drawn carriage to the farms in Ohio, often with his pregnant wife by his side and a lot of babies in the back.
My dad told us that in his neighborhood nobody ever went to a doctor. My grandmother had her 10 babies without a doctor; Dad was delivered by a horse doctor! Children in the neighborhood died from influenza, and one died from an infection by a rodent bite. My father's baby brother lost an eye in a rubber band accident. I don't think my dad ever forgot the injustice of all that. He always felt that every child had a birthright to good health care. And he came out of that immigrant family experience determined to make his mark in the world, and to be better able to provide for the family he would someday have.
But Dad had a rough start. Although he worked hard in nightclubs and on the radio, he wasn't getting anywhere in his career. He told us about the time when he and my mom were about to have their first baby (me) - he had only $10 in his pocket, but it would cost $50 to get us out of the hospital. (Daddy used to say that I cost $50, Terre cost $500, and Tony cost $5,000. I was definitely the bargain baby of the family.)
So my dad was feeling pretty hopeless and scared, and he went to church to pray. On that particular day, the sermon was about St. Jude Thaddeus - the Patron Saint of Hopeless Causes. So he prayed to St. Jude, asking, Please, please, give me a sign to help me find my way in life - just a sign that I'm going in the right direction, and someday I'll build a shrine in your name. Then he took seven of the 10 dollars in his pocket and put it in the collection basket, and said to St. Jude, I need 10 times that amount to get my family out of the hospital. Shortly after that, he got a call to play a singing toothbrushin a radio commercial. The pay was $75. He had his sign.
Before long, Abe Lastfogel, a very big Hollywood agent, heard about this new young comedian and came to Chicago to see him. Another sign. And Mr. Lastfogel took my father to New York and then Hollywood, where his career was born.
Along the way, Dad read in the newspaper about a young African-American boy in Mississippi who was riding his bicycle when he was struck by a car - and because no nearby emergency room would take a black child, he died. My father carried the clipping of that story in his wallet for many years.
Time passed, and after much success, my father knew it was time to fulfill his promise to St. Jude. He decided that the best way to thank the saint of the hopeless was to build a hospital to care for the most helpless of all: children with hopeless diseases. No matter how poor the child, my father decided - no matter their religion, no matter their race - the doors would always be open. And no child would ever be turned away because of a family's inability to pay.
Dad went back to Chicago to speak to his friend Cardinal Stritch, to ask him for his help in starting his dream. Dad showed the Cardinal the clipping he had been carrying in his wallet and said, "I want to put my hospital in the South."
"I can help you if you put it in Memphis," the Cardinal said.
"Why Memphis?" Dad asked.
"Because it's my hometown," Cardinal Stritch said. "I've got a lot of connections there."
So my father came to Memphis and was introduced to the business community - and to a forward-thinking researcher-physician named Dr. Lemuel Diggs. Dr. Diggs told him, "If you really want to help kids, Danny, don't just build another hospital. Don't just treat kids. Let's try to figure out what makes them sick. Let's make this a place of research and treatment, devoted to the study of childhood catastrophic diseases."
Dad then brought in Paul Williams, the noted African-American architect, who donated his services and designed the first facility to put treatment and research side by side under one roof.
In 1957, my father formed ALSAC, the fund-raising organization created solely to raise the money to build and operate St. Jude. Dad did benefit concerts, both on his own and with his pals from the world he knew best - entertainment: Milton Berle, Bob Hope, George Burns, Sid Caesar, Jack Benny, Frank Sinatra, Dean Martin, Jerry Lewis, Sammy Davis Jr. - even a young Elvis Presley. This remarkable effort was spearheaded by Abe Lastfogel, my dad's mentor and, by now, his surrogate father. So my dad and his crew of Irishmen, Lebanese, African-American, and Jewish friends put together this classically American dream. It took five years, but what a wonderful, blessed day it was when St. Jude Children's Research Hospital opened its doors in 1962.
The hospital became my father's passion. When my sister and brother and I were growing up, Dad talked about St. Jude so much that we thought he was one of our uncles! My sister and brother and I used to wonder, "Who are these people? Who are these children that our daddy is so involved with - this other family?"
My father always used to tell my siblings and me that St. Jude was not our burden to keep after he was gone. But Terre, Tony, and I have gladly taken on his work, and we now know who that "other family" is - and they have become our family. We've been to their graduations, their weddings, and even their funerals. It's been quite an experience. A lot of parents leave their children all kinds of riches - a home, a family business, a vacation house. But I don't know many children who have been left something so enriching to their lives as St. Jude has been for us.
Forty-eight years after opening the doors, St. Jude is one of the nation's leading pediatric research and treatment centers devoted solely to children with cancer and other catastrophic diseases; the first institution in which both research and treatment were conducted under one roof - or "bench to bedside," as it is called. It's the only pediatric center to be designated a "Comprehensive Cancer Center" by the National Cancer Institute. And this year it was named the number-one Pediatric Cancer Hospital in the country by "U.S. News & World Report."
The work that goes on today at St. Jude Children's Research Hospital is my father's legacy. But the hospital also belongs to the countless generous donors who support it and who help ensure that no child will ever be turned away because of a family's inability to pay. Thousands of people - individuals, organizations, and corporations - around the world contribute every day to help keep my father's dream alive: saving children's lives. My gratitude to every one of them - for their dollars, for their compassion, and for their love, which is boundless.
Sign up to receive my email newsletter each week - It will keep you up-to-date on upcoming articles, Mondays with Marlo guests, videos, and more!
Calling all HuffPost superfans!
Sign up for membership to become a founding member and help shape HuffPost's next chapter