Danny Trejo's pre-Hollywood days' resume doesn't read like the typical actor's curriculum vitae: Folsom, Soledad, and San Quentin.
Those aren't acting schools. They're prisons in California.
It's what happens to a kid who smokes his first joint at the age of eight, mainlines heroin at age 12 – and that's after his first arrest at the age of 10 for assault and battery.
His graduation from grade school wasn't to high school. It was to robbing liquor stores with live grenades and becoming a hardcore gang-banger with shootouts from car-to-car in his hometown of Pacoima in Los Angeles' San Fernando Valley.
"We had a lot of pistols, and you don't really want to mess with somebody who's got a lot of pistols," says Trejo, who insists he was more of a vato-loco than a tough guy and that's what made him scarier.
"You've got to remember. People aren't scared of tough guys. People are scared of crazy people."
Danny Trejo cleans up his act, gets hired in Hollywood
So how does an ex-con gang-banger and one of the most frightening figures you'll meet go from being just a mean, scary-looking crazy guy to now one of Hollywood's most beloved action heroes and a celebrity red-carpet regular?
Trejo, 69, says it wasn't easy. And it started with hitting rock bottom and a three-month stretch in solitary confinement in 1968 at Soledad Prison where he was doing five years on a drug dealing charge.
"I was sitting in the hole, and it's like I knew, it's all over," Trejo said in a 1998 documentary. "It's just done, I'm through. I'm 24 years old and I'm through."
Trejo says he began praying.
"I said 'God, if you're there, then it's going to be alright,'" he recalls. "'And if you're not, I'm screwed.' And that was my prayer. I've never forgotten it. And that was just a complete turning point in my life."
Trejo joined Alcoholics Anonymous and, once released from prison and while clean and sober and counseling addicts, got the break of a lifetime when he went to the set of the 1985 film "Runaway Train" to help a client deal with the temptation of drugs.
"They had all these guys from like Brentwood and Bel-Air and Westwood," says Trejo, naming trendy Los Angeles neighborhoods. "And they were all dressed up like convicts, and they had fake tattoos, and they'd come up to me and go 'Hey, does this look hard?' And I'd go 'Yeah, you'd be somebody's wife in prison!'"
When the director got a look at Trejo and his real tattoos, he immediately hired him as trainer for Eric Roberts, one of the film's stars, and then cast him as a convict in the film.
It was the beginning of almost 200 films for Trejo, who became a familiar villainous bad guy in the movies and then had his big breaks in director Robert Rodriguez's films, with the 2010 "Machete" elevating him to prominent star status.
In September, Trejo will be back reprising that role in "Machete Kills," and today he laughs at all the wannabe bad boys in Hollywood and in entertainment, among them Justin Bieber's tabloid run-ins with the law with his Ferrari.
"First of all a Ferrari wouldn't last in my neighborhood, (because) I still live where I grew up — I don't live in a gated community," Trejo told a radio show interviewer in Portland, Oregon.
"It's like here's a kid who has the world by the tail and now all of a sudden it's like he doesn't want to be this cute Beiber anymore, he wants to be some tough guy. I don't know how to say it… but it's sad.
"Here's a young kid who has had everything thrown at him and what young kid is driving around in a Ferrari anyway? What happens is the people around him, aren't saying, 'Hey wait you've got limits, you're not entitled.' There are a lot of people out there starving and you're out here racing around in a Ferrari being a brat."
And now the former hardcore felon has some advice for Bieber and all the other self-created celebrity bad boys.
"All the rappers become very famous and then try to get street credit," he says. "They get caught playing with machine guns and its like wait a minute…
"You're no longer a thug, you're a business man."
Watch Danny Trejo's interview where he discusses prison, getting clean and his Hollywood break.
Before You Go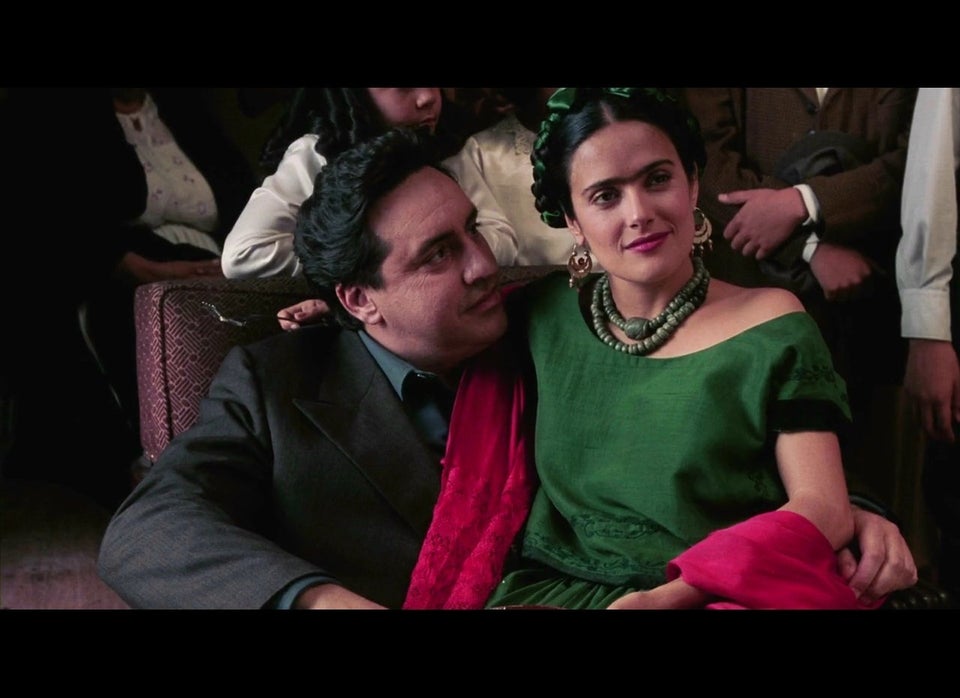 9 Latinos Who Have Played Famous Latinos
Popular in the Community