WASHINGTON -- Danny Werfel, the principal deputy commissioner of the Internal Revenue Service, acknowledged on Monday that the same tactic that got the tax agency in trouble for screening tea party organizations before the 2012 elections was used elsewhere by agency officials.
In a conference call with reporters, Werfel said an internal investigation of the IRS scandal, the findings of which were released Monday afternoon, had unearthed other instances in which "Be On The Look Out" (BOLO) lists were used. He has since ended the use of the tactic, he said, calling the screening criteria used in these other instances "inappropriate."
"When I got to the IRS, we started a more comprehensive review of the operations of this part of the IRS, have been looking at documents and business operations, and we did determine and discover that there are other BOLO lists in place," Werfel said. "And upon discovering that, we also found that we believed there continued to be inappropriate or questionable criteria on these BOLO lists. Once we came to that conclusion, we took immediate action to suspend the use of these lists in the exempt organizations unit within the IRS."
Werfel declined to reveal which organizations appeared on these other lists and what criteria were used to screen them, saying it took time to scrub these documents of "sensitive information." But his comments are bound to renew criticism of the tax agency, which has been under fire for weeks after news it singled out conservative organizations applying for 501(c)(4) tax-exempt status.
Though he acknowledged that his investigation remains incomplete, Werfel said that he had yet to uncover evidence of intentional wrongdoing by IRS officials when applying these BOLOs. Nor had he found instances in which outside actors -- mainly the Obama campaign and administration -- had pressured the tax agency to target conservative groups.
"The fact that no evidence is surfacing as wrongdoing is an important conclusion to reach as long as it is qualified by the fact that more reviews are underway," Werfel said, when pressed by The Huffington Post as to why he was making statements that could later be contradicted by the findings of additional investigations. "And so, I'll be as clear as I can right now. I'm not providing a definitive conclusion that no intentional wrongdoing occurred. But I'm suggesting that based on the ongoing reviews to date, no evidence has yet surfaced."
Werfel's assessment previewed a 60-page, three-part internal IRS report that concluded "significant management and judgment failures occurred" at the agency.
The internal IRS report notes that new people have been appointed to fill five executive management roles: IRS Commissioner, Deputy Commissioner for Services and Enforcement, Commissioner for Tax Exempt and Government Entities Division, Director of Exempt Organizations, and Director of Rulings and Agreements.
Werfel declined to answer questions on the current status of Lois Lerner, the director of the IRS division on tax-exempt organizations who was placed on administrative leave, citing "limitations imposed by the Privacy Act."
The report will offer various suggestions for agency reforms going forward. It will advise the Treasury Department to consider updating its regulations governing the amount of political activity a 501(c)(4) organization can pursue. Current regulations say that social welfare must be the "primary" function of 501(c)(4) groups. The law, which changed in the late 1940s, used to say social welfare should be the "exclusive" activity.
The report calls for an Enterprise Risk Management Program that will "provide a common framework for capturing, reporting and addressing risk areas across the IRS," according to a press release.
Finally, it suggests that the IRS create a self-certification process that would enable groups that have waited more than 120 days for 510(c)(4) approval to fast-track their applications for tax-exempt status. According to Werfel, groups in the backlog would have to sign papers pledging that they would spend "no more than 40 percent of their resources or expenditures and no more than 40 percent of their voluntary person hours on political campaign intervention activities."
Asked by The Huffington Post if that meant that these groups would get tax privileges in exchange for promising to follow the law, Werfel noted that groups can currently file as 501(c)(4)s and do not have to ask the IRS for that designation ahead of time. Moreover, if the IRS feels an organization is violating its pledge under the new system, it has the option to penalize it.
"To the extent any issues surface where those percentages change or the activities change, the appropriate place to vet and look at those issues would potentially be on exam and audit when they come in with their tax returns," Werfel said.
UPDATE: 4: 45 p.m. -- The Associated Press has obtained an internal IRS document that reveals the other terms the agency screened for when deciding which groups should be granted tax exempt status. The news cuts against the original storyline that the tactic was used to target conservatives.
An internal IRS document obtained by The Associated Press said that besides ''tea party,'' lists used by screeners to pick groups for close examination also included the terms ''Israel,'' ''Progressive'' and ''Occupy.'' The document said an investigation into why specific terms were included was still underway.
The Huffington Post reached out to the IRS to confirm the authenticity of this report and has not yet received a response. A congressional aide did, however, confirm that the term "progressive" was indeed a BOLO.
The revelation complicates accusations that IRS officials screened groups in a concerted effort to sideline tea party organizations during the 2012 election. Instead, it would suggest that the filters were applied to ensure that applications for similar groups were reviewed in a consistent manner.
Before You Go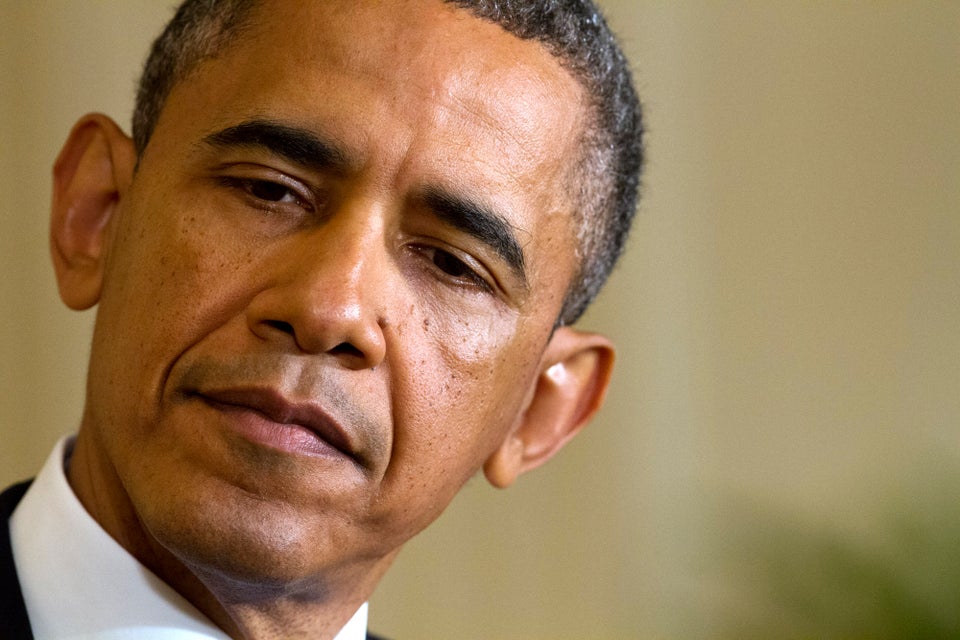 Politicians React To IRS Scandal
Popular in the Community