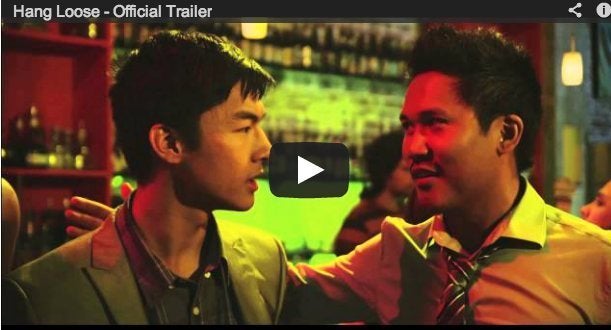 "Rufio, Rufio, Ru -- fii -- ohhhhh!"
If you're a child of the 90's, this epic chant dedicated to Dante Basco (aka Rufio) in the 1991 Spielberg movie Hook is part of your cultural lore.
I've always wondered if child actors become annoyed when they are typecast into their breakout roles. Shows like celebrity rehab demonstrate this to be the case at times. Nonetheless, I often check up on what the stars of my younger years are up to.
They are usually doing daytime guest spots, just trying to make it -- not starting movements.
Basco, one time leader of the Lost Boys, is anything but typecast and has become one of the most recognizable Asian-American faces in Hollywood over the past two decades. More recently, he's turned his focus to the other side of the camera as the founder and executive producer at Kinetic Films.
Big deal, right? Another actor-turned-producer. Pass the Ambien.
Unlike producers of genre ethnic films who simply want to create fishbowl environments devoid of other cultures in order to better showcase their own culture, Basco wants to put Asian Americans front and center not by making exclusively Asian American movies, but by injecting Asian American talent into familiar stories that we already know and love.
He hopes to create a movement that brings Asians and Pacific Islanders to the forefront of culture by reminding everyone that the concept of "American" is fluid and multifaceted.
We're not doing ethnic films where we're harping on the plight of Asian Americans. We're just doing things that people want to see. What are your favorite films? Those are the ones we're making. The magic and the twist of what we're doing is that the leads of those films happen to have Asian faces. You like Grease? Great, so do we. So we'll do Grease, but the two leads that end up kissing at the end will have Asian faces. They don't have accents... they're American just like everyone else. If you liked Sixteen Candles... instead of Molly Ringwald, we'll have a Korean American girl in the lead.
Normally, this is where the politically correct reporter would wish Basco well in his endeavors to make culturally diverse films and bring Asians into leading roles, all the while knowing that Hollywood is always going to be Hollywood.
Let's face it, even with his best efforts some would say that Tyler Perry still hasn't been able to crack the code behind bringing a minority culture the forefront of the Hollywood mainstream. What makes Basco's effort at Kinetic Films any different?
Answer: laser-like focus.
With revolutionary vision must come revolutionary delivery. That's why Kinetic's latest comedic offering Hang Loose isn't focused on taking Hollywood by storm. Its focus is to create a loyal following within the niche and completely circumvent the system all together. The entire film is available online for under $5 at the film's website. Its marketing has been almost completely via content promotion and social media.
And guess what -- it is posting record-breaking numbers. The preview alone has generated more than half a million views on YouTube. Not bad for a "niche".
About breaking through the Hollywood barriers, Basco says:
We're trying to change the mindset of audiences. It's like "We're doing a movie... no, it's not coming to theaters, but you can watch it anywhere." We're making it as accessible as possible.
This isn't a far-fetched strategy. As Netfilx, YouTube, Hulu and other streaming services move from secondary forms of content consumption to primary sources of entertainment, I'd say he has a real shot.
Hang Loose is a prime example of the evolution in entertainment that's giving the power back to the filmmaker and the audience. And, incidentally, the film itself is hilarious.
Popular in the Community