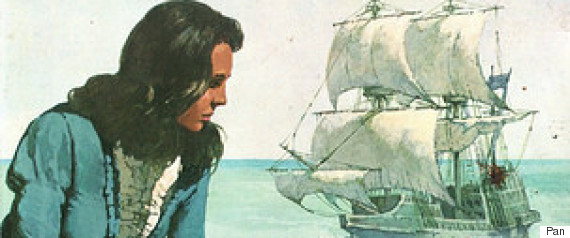 My favorite historical novel -- actually the one I wish I could have written myself -- is Daphne DuMaurier's Frenchman's Creek.
For those who haven't yet read -- and, if you haven't , I urge you to do so immediately -- it's set during the reign of Charles II and is the story of Lady Dona St Columb, a bored, beautiful socialite who, tired of the social scene in London, decides to escape to her feckless husband's country estate on the Cornish coast where, unbeknownst to her, an extremely attractive French pirate is waiting in the bay.
There you are, you see, how could you possibly resist that? Sexy French pirates? Cornwall? The landed gentry under Charles II? And, of course, you really shouldn't. Frenchman's Creek has everything you could possibly want in a novel, historical or otherwise. There's beautiful prose, a ripping yarn, and a passionate romance all combined with an authentic, effortlessly conveyed sense of time and place. From a genre point of view I suppose, it's a swashbuckler-cum-bodice ripper but in DuMaurier's delicate hand, manages to be both subtle and lyrical. There's suspense too, indeed at times it's quite terrifying and the villain of the piece is one of the creepiest characters ever written. In fact, there's a certain chapter so gut-wrenchingly tense that your palms will start to sweat as you read it.
Like all good novels it explores great themes, in this instance, duty, loyalty and love and, by the end of it you'll certainly feel the effects of a fairly rigorous emotional workout. But if, from a history point of view, it doesn't quite meet the exacting standards of the puritanical and pernickety -- those who love innumerable historical facts and stodgy detail -- what it does do -- and this, in my opinion, is what all truly great historical novels should do -- is transport the reader back in time so that you actually feel as though you're living and breathing the glorious decadence of 17th century English society, the delicious French pirate and the unsurpassable beauty of the Cornish coast.
Popular in the Community