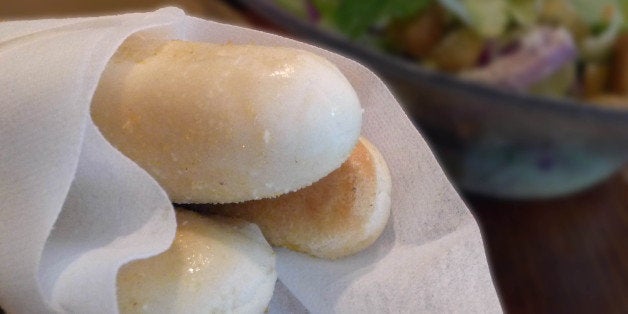 There may soon be salt in the pasta water at Olive Garden.
In a rare move, shareholders at Darden, the parent company of Olive Garden, Capital Grille and other restaurants, voted on Friday to oust the company's entire board and replace it with a slate put forth by Starboard Value, an investment firm. The vote was the culmination of a months-long fight between Darden and Starboard over the future of the company, which included the shocking revelation that Olive Garden does not salt its pasta water.
"Darden has all the right ingredients to regain the strength and prominence it once enjoyed," Jeff Smith, the CEO of Starboard, said in a statement following the shareholder vote. "We look forward to continuing our hard work from inside the boardroom and working with management on a shared goal of excellence for Darden."
Darden has struggled in recent years as Americans opt for eateries that spin themselves as fast and fresh, like Chipotle and Panera. The company reported a loss of $19.3 million in its latest quarter, and Olive Garden has been a major drag on its results. Despite a so-called "brand renaissance" that included a focus on quick online ordering and faster lunch eating, sales at stores open at least a year have dropped for five quarters in a row.
In a 294-page report released last month, Starboard had some very specific thoughts for revamping the Italian chain. In addition to changing the pasta-water policy, Starboard suggested Olive Garden stop serving giant salads sopping with dressing and encourage customers to order alcohol. The firm also urged Olive Garden to serve fewer breadsticks at a time to avoid wasting them and to ensure they come out hot and fresh.
Starboard's breadstick serving suggestions: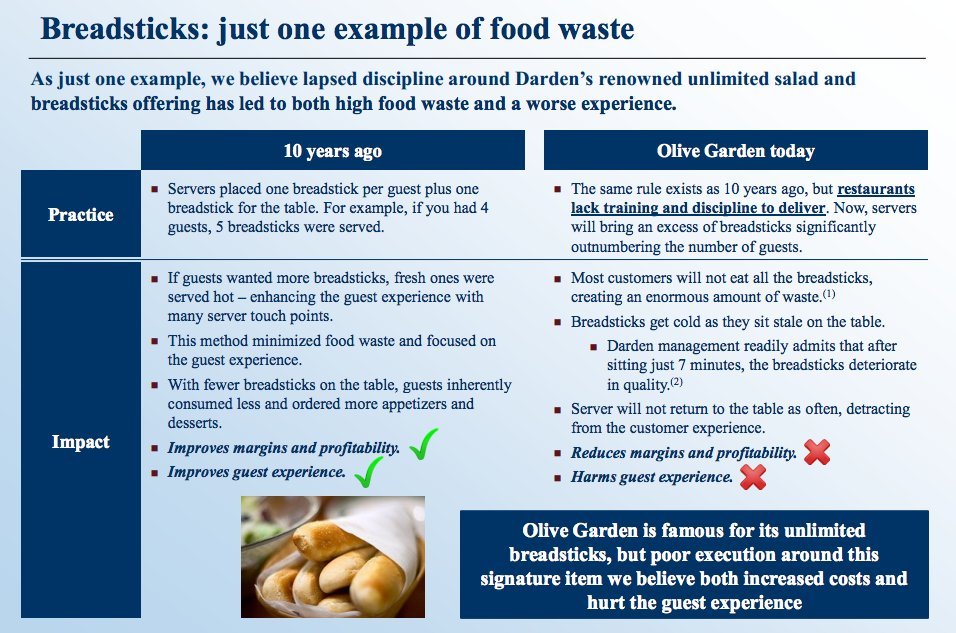 Smith tried to reassure shareholders that Starboard's breadstick suggestion was not meant to get rid of one of the chain's signature offerings: unlimited breadsticks. "I love Olive Garden unlimited breadsticks," Smith said, adding: "To be clear, I also love the unlimited soup and unlimited salad."
But according to some at Darden, the company has bigger problems than just breadsticks and pasta water. Shareholders brought up concerns over the way employees are treated at the company, including wages and a new policy that eliminates automatic gratuities for large parties.
Gene Lee, Darden's chief operating officer, said during the shareholders meeting that Darden pays competitive wages and that the change in the tipping policy came after feedback from servers who didn't want to have to report the auto-gratuity as income under a new IRS policy. The company now includes 15, 18 and 20 percent gratuity suggestions on all of its checks.
Still, Steve Gazzo, a six-year Olive Garden employee, complained of many "little knocks," like the tipping policy change. He recently launched an online petition with the help of ROC United, a restaurant worker advocacy group, asking for better working conditions.
In an interview before the shareholders meeting, Gazzo said it seems like Darden has used "every opportunity they had to deny us something or take something from us," in its quest to boost profits.
Despite his criticisms of Darden's current management, Gazzo expressed similar concerns about Starboard. "It seems like (Starboard's) goal is short-term profitability rather than long-term stability," he said before the meeting.
Support HuffPost
The Stakes Have Never Been Higher
Related
Popular in the Community