As I write this there are 12,000 older athletes assembled in Minneapolis at the 14th edition of the National Senior Games. Nineteen separate activities are scheduled including running, swimming, biking, horse shoes, archery, table tennis etc. These games are held every two years nationally, but annually at a state level, which serve as a tuneup. Competition is divided into five year age increments.
This year the oldest competitor is 102-year-old John Zilverberg of South Dakota. This is the 30th year in which he has competed. He is scheduled to throw the discuss, shotput, javelin, and softball throw. He used to do running and jumping events as well but one leg "gave out."
We here at Stanford were absorbed by the activities of one of our own Payton Jordan, our track coach and also coach of the Olympic team and cover boy for Time magazine. In the Games at age 80 in 1997 he ran the 200 m in 30.81 seconds. Incredible.
My own participation was at the fabled track in Eugene Oregon a few years back. The torchbearer at the entry march was the great Kenyan runner Kip Keino. I recall that during my run at the back of the pack in the 10,000 m event as we passed the spectators' grandstand a big Whoop came up. I appreciated their support, but I recognized then that the cheer was not for me but for a 90-year-old German who had just broken the world record for the shot put for his age. My vanity was tweaked.
But my main affiliation with the Senior Games came with my long friendship with Dr. Paul Spangler of San Luis Obispo. I met him at a Stanford event a long time ago. We bonded immediately. He was in my Father's medical school class at Harvard in 1920. He practiced cardiology for a long while, but then was the commanding officer at the naval hospital at Pearl Harbor in 1941, and subsequently commanded the hospital ship Hope. From there his career took him to be a prison doctor in California. But running was his passion. He became a full-time fitness ambassador. He served well as a member of the President's Council for Physical Fitness.
He was always the honored guest at our annual 50+ Fitness Association banquet. I recall one year asking what his projected time was likely to be for the next day's 10K run. He replied "Walter, I'm not sure of that, but whatever the time is, it will be a world record." His closet was chock-full of his senior gold medals. One year he won nine separate medals in track and field events. Early in his running career he ran a mile in seven minutes and 28 seconds, and was subsequently informed that he had broken the world record for his age. His workout routine was a 10 mile run at 5:30 in the morning six days a week followed by a swim. He ran the New York Marathon in 1991 at the age of 92, and joshed that he wanted to be the first centenarian to run a marathon. He died while running at 95, so he didn't make it to New York for his hundredth birthday but his shoelaces did as I inserted them into my shoes in 1999 when I ran New York in his honor.
He continued to flirt during his running opportunities with Sr. Mary Irvine who was a legendary long-distance runner. He was widowed twice so he twinkled as he suggested that they petition the Pope for a dispensation so they could hang out.
The whole domain of senior fitness is a growing urgency. As the world ages let us hope that it does so with vigor. So get out of bed. The devil can't hit a moving target.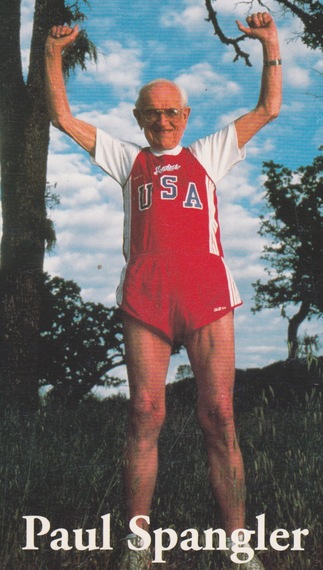 Related