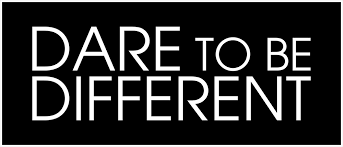 You are unique. We all are. We are the product of our upbringing, our experiences and our friends and families. We think differently and act independently of everyone else. Then we go to school. Then we go to work.
What happens when we go to school or work?
We are expected to conform. We are expected to act a certain way, behave a certain way, learn the same things, do things the same way. We fall to peer pressure. We want to be liked by other students or employees or people in general. So we change the way we act, the way we talk, the things we like. We change who we are.

Isn't that just so boring?
I'm a pretty sociable guy so I meet people every day. I hear the same greetings, the same tone of voice and see the same expressions all the time. However, every once in awhile you meet those people who catch your attention. You say hello and you expect a hello back but instead you get a "Howdy there friend of mine!" It throws you off it catches your attention because it's different. To me those are the most interesting people in the world. The people who don't conform, who make their own way and stand out despite the rest of the world.
Don't be that person everyone else wants and expects you to be. They have no idea if they like the real you. You know, that person that comes out when you're with your friends and family who's completely different from the person you project to the rest of the world?
We do it because we're scared.
What if nobody likes the real me? What if I'm too different? What if, what if what if what if? Just stop. We want people to like and accept us so we project ourselves to be what we think other people want to see. Then hopefully they'll like us. We don't want to be shunned from the group and feel isolated. Here's the thing.
People will always judge you.
We all make ourselves out to be that person we think other people like. But there are still people that don't like us right? Still people we don't get along with that we would rather avoid because we're fundamentally different people. So you know what, who gives a damn what other people think? They're going to think whatever they want anyway and judge us just as harshly no matter what we do. It's because that's what people do. They judge. Everyone makes judgments all day long every day even if they don't notice. I don't like him. That food tastes bad. Who dyes their hair that color? It's absolutely ridiculous.
You stop caring what other people think. No matter who you are some people are going to like you and some people aren't. So be yourself. Be the person that's different because that's the person people really want to meet. The real you forms the best relationships because they're real. The real you thinks differently from everyone else and has a fresh new perspective that nobody else has.
Don't fall into the trap. Don't conform to be like everyone else. Dare to be different.
For more posts like this check out my blog Motivate Your Life: https://motivateyourlifeblog.wordpress.com/