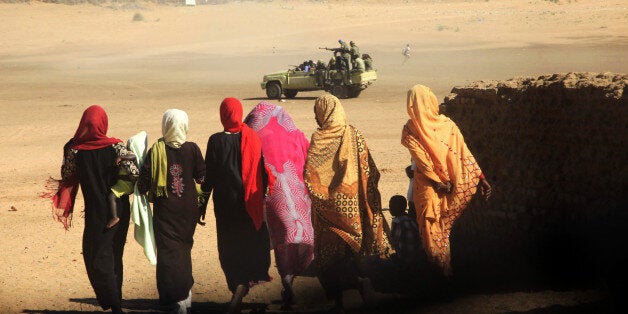 By Michelle Nichols and Louis Charbonneau
UNITED NATIONS, Feb 11 (Reuters) - A U.S.-based human rights group on Wednesday accused Sudanese soldiers of raping at least 221 women and girls in Sudan's Darfur region late last year after the United Nations said U.N.-African Union attempts to investigate were blocked by Khartoum.
New York-based Human Rights Watch said the mass rape took place during three days of attacks.
The group said 15 survivors, one female witness and 23 other credible sources had given it information of mass rapes committed between Oct. 30 and Nov. 1 in the Darfur town of Tabit. It said it had collected names and other information on 221 victims.
"The mass rape of women and girls in Tabit may amount to crimes against humanity," it said.
Sudanese army spokesman Alswarmi Khalid rejected the accusations as "absolutely wrong" and described them as a bid to pressure Sudan to keep a joint U.N.-African Union peacekeeping force (UNAMID) in Darfur.
"All the accusations about Tabit area came as reaction after the Sudan government request for UNAMID to leave Sudan," he told Reuters. "Some bodies are using these false accusations as pressure to keep UNAMID in Darfur."
Law and order have collapsed in much of Darfur, where mainly non-Arab rebels took up arms in 2003 against the Arab-led government in Khartoum, accusing it of discrimination. UNAMID has been deployed in Darfur since 2007.
Tensions have increased between Sudan and the peacekeeping mission and Khartoum said in November it had asked UNAMID to prepare an exit plan.
The United Nations said investigators from the peacekeeping force in Darfur visited Tabit in November under heavy military and police presence, but had been denied further access by Khartoum.
Also unable to visit Tabit, HRW conducted phone interviews.
U.N. diplomats and officials say on condition of anonymity that authorities have made it impossible to investigate the incident, meaning UNAMID may never be able to confirm HRW's findings.
Sudan says no one was raped.
The United Nations has said rape was used as a weapon of war in Darfur.
According to former UNAMID spokeswoman Aicha Elbasri, who accused the mission of deliberately under-reporting to U.N. headquarters and the Security Council on attacks against civilians and peacekeepers by government-aligned forces in Sudan, UNAMID has a history of not reporting rapes.
Elbasri provided Reuters with UNAMID documents about what she said were unreported rape incidents in 2012 and 2013, including the alleged gang rape of a 17-year-old pregnant girl.
The Darfur conflict began when mainly non-Arab tribes took up arms in 2003 against the Arab-led government in Khartoum, accusing it of discrimination.
The United Nations, which says the conflict has taken up to 300,000 lives and displaced millions, has acknowledged UNAMID's under-reporting but denied there was a deliberate cover-up. (Additional reporting by Khalid Abdelaziz; Editing by Tom Brown)