Darin Henderson and Carl Cox of Washington, D.C., feel strongly that the LGBTQ community is an untapped resource for children and that agencies could do more to target their demographic. In this week's installment of the Huffington Post Queer Voices RaiseAChild "Let Love Define Family®" series, contributing writer Beth Hallstrom tells their story.
Darin, 51, the Director of Operations for Xerox and 48-year old Carl, who is the Senior Manager of Creative Services for The Chronicle of Higher Education, have been together since 2006. Their wedding was held on March 4, 2011, on the fifth anniversary of their first date.
The joyous, gala wedding, which took place at the Metropolitan Community Church in D.C., was courtesy of the organization Freedom2Wed to mark the one-year anniversary of legalized same-sex marriage in the District of Columbia.
According to event organizer Michael Kress, the wedding and reception was the grand prize of a nationwide contest. Entrants told their love stories on video, which were then posted on YouTube for three months to garner votes.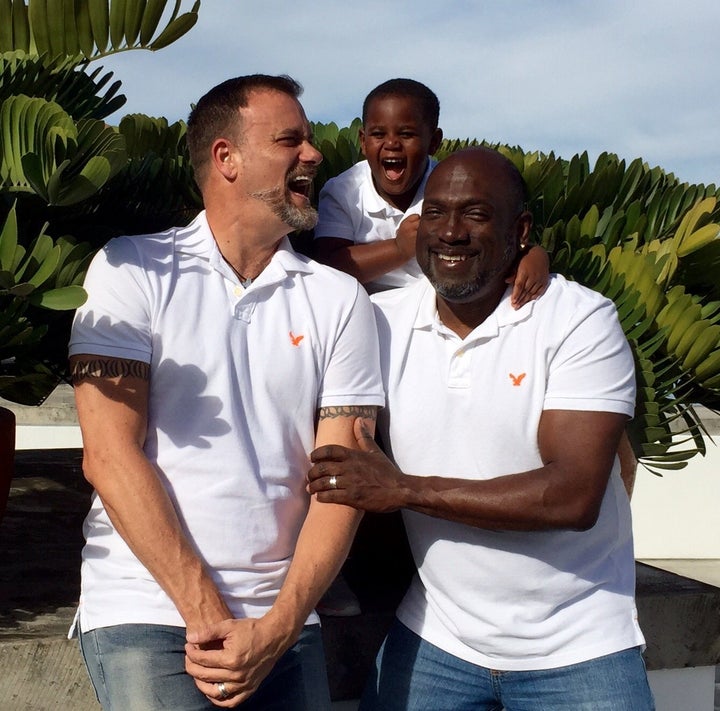 "Yes, it was about the wedding but also about getting our story out there ― the story of love enduring and the story about love surmounting all odds," Darin said.
Carl added, "Having so many people standing in your corner saying 'what you're doing is wonderful,' that 'we're proud of you and we will stand up for you,' meant so much.
Darin said he and Carl always intended to build their family through adoption.
"We naively thought that we would instantly have a child placed with us," Darin said. "Things weren't moving very fast, so we decided to take a look at Children and Family Services.
"We took the courses and completed the home study. We wanted to adopt a two or three-year old and were told kids in that age group were few and far between because most kids in the system were older than that."
Then, a series of disheartening occurrences (for example, their social worker called and told them their home study had been lost) left Darin and Carl depressed and in need of support.
They joined a group called The Mockingbirds, a support group for potential parents, and a social worker suggested Darin and Carl expand their parameters and be open to the idea of an emergency placement of a child.
"There is always a chance for reunification (reuniting the child with his or her biological family), but if that doesn't work out, the social worker told us that nine times out of ten they will look to the foster parents first to adopt," Carl said.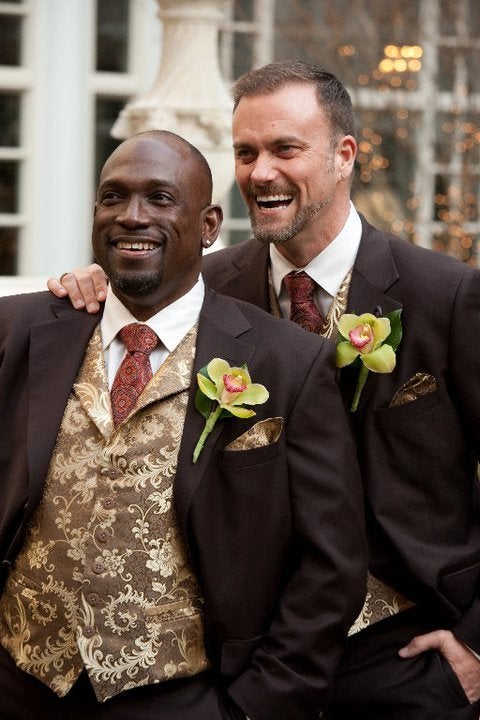 In some cases, emergency placements don't require caseworkers to follow all of the steps of a typical placement. So sometimes, opening your home to emergency placements can mean an instant family.
And that is exactly what happened to Darin and Carl. They said, "At noon on April 26, 2013, we got a call about a two-year old boy. I remember we were both working from home that day, which was good because he was in our home by twenty minutes of three.
"He came with a backpack, a couple shirts and a pair of jeans. We really depended on our fellow Mockingbird members. They got us through those first few days and we can't thank them enough."
For 18 months, until he was adopted, Timothy Sequan Cox-Henderson remained in temporary placement, but that designation never crossed Darin and Carl's minds.
"They tell you about reunification, that you need to brace yourself for a long process, but the moment he walked in the door, all that went right out the window," Carl said. "We had to prepare ourselves that he could leave, but we also had to treat him like he was our own and not think about the future."
Eventually, Darin and Carl met Sequan's birth mother. After six months, she told them that she would like it very much if they were interested in adopting the little boy.
"We think she knew she didn't have the ability to care for him," Carl noted.
A hitch in the adoption plan developed when the child's biological father stepped up to take Sequan, but he could never fulfill all the court's requirements for reunification.
"Eventually, the father signed off and we went to court Dec. 23, 2014 to finalize the adoption. After having him for 18 months, he had become an important part of both our families. That was evident when more than 50 family members were in court to cheer us on. What a Christmas present!" Darin said.
Sequan was small for his age and at first was non-verbal, but now he's working and reading above grade level. "It just goes to prove what love, attention and dedication can do," Darin said.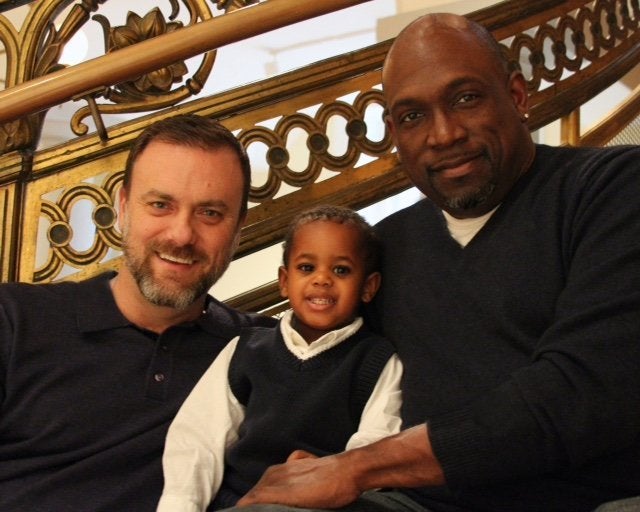 Darin and Carl are seriously exploring the idea of adding another child to their family, possibly by adopting in another state. Both agree, public and private agencies in every state need to step up their recruiting of parents from the LGBTQ community.
"Our belief is that no child should age out of care. No child should be bounced around between temporary or traditional placements when there are families available to provide the love, care and attention needed for kids to thrive.
"There's such a huge capacity to love out here in our community and, unfortunately, for most in our age bracket and perhaps a decade or so younger, we're not accustomed to government support. Rather, we're used to having to fight and advocate for our rights, " Carl said.
In many cases, gay people are still fighting for their rights, especially where practice doesn't catch up to policy and personal feelings of government officials or caseworkers interfere with placing children with gay families.
"The policy may dictate that anyone or any couple meeting specific criteria would be suitable to care for a child, but a worker's personal belief that two men shouldn't raise a little girl may influence placement," Carl noted.
LGBTQ-specific marketing is one way to remedy some of these issues, as Darin said, "Maybe all it takes is that one push, that one message that gays can be foster and adoptive parents, too."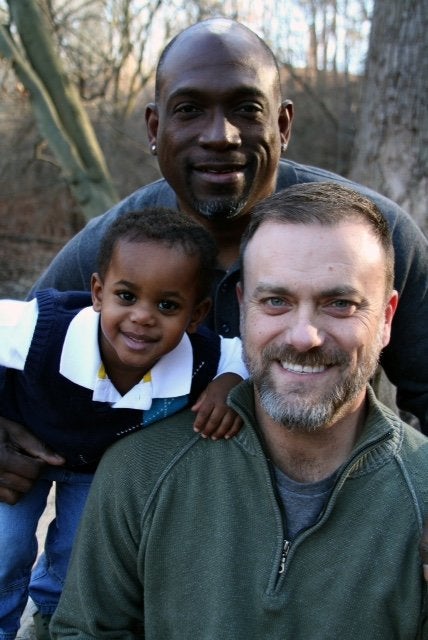 Carl added, "Agencies aren't sounding the sirens that they have children in need. I don't believe they are advertising in our publications, speaking at our houses of worship and aren't on our social media pages, blogs or radio shows.
"But, then again, the LGBTQ community is just being granted those legal rights. With that comes the opportunity for us to plan the courses of our lives. There wasn't much of a choice before. Now there is."
As seasoned veterans of the foster-adopt world, Darin and Carl's advice to prospective parents is to ask questions, get answers and challenge preconceived blueprints of the future.
"We never knew we had as much love to give. Nor did we know how it would feel to receive so much love. People are capable of giving so much love and the LGBTQ community has been restricted in the kind of love we provide and in how our love is recognized.
"None of us knows how our stories will unfold... none of us," Carl added.
RaiseAChild is the nationwide leader in the recruitment and support of LGBT and all prospective parents interested in building families through fostering and adoption to meet the needs of the 415,000 children in the foster care system of the United States. RaiseAChild recruits, educates and nurtures supportive relationships equally with all prospective foster and adoptive parents while partnering with agencies to improve the process of advancing foster children to safe, loving and permanent homes. Take the Next Step to Parenthood at www.RaiseAChild.US or call us at (323) 417-1440.
Popular in the Community