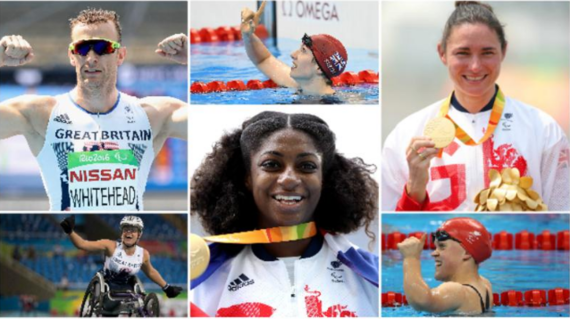 As a kid (and as an avid tennis player and supporter) I used to feel a sense of loss on the second Monday of July every year -- the day I would wake up and realize Wimbledon was over and I would have to wait another year before it returned. This morning I felt that way again, only this time the wait is for four years. The Paralympic Games are over.
Now before I go further, let's be clear: I am in no way an expert on any of the sports, on any of the Paralympians, or on Brazil. I barely caught more than 20 minutes of the Olympics this year and I have to confess that I have hitherto made little effort to follow other sporting events for disabled athletes (although this is certainly going to change). I am also not a fan of the cliché, yet I feel it is true to say that the past two weeks have been somewhat life-changing. For there can surely be few things more inspirational, humbling or awesome (in the genuine sense of the word) than watching these 'superhumans'.
Over the past few days I've been moved to tears and covered by goosebumps again and again, humbled by the stories of fear and loss which have been somehow turned into stories of achievement, excellence and triumph. The physical prowess is obviously incredible, but what truly astounds me is the mental and emotional capacity: the strength, resilience and courage to take a personal tragedy and turn it into the ultimate positive experience, into the opportunity to excel: this is remarkable.
Yet whilst observing such stories is overwhelmingly positive and life-affirming, it's hard to watch and not to question your own mental strength, your own ability to find the positives and pursue the dreams, regardless of the obstacles thrown at you. For these athletes, somehow, there is no 'can't'. I can't help wondering why I can't take 'can't' out of my vocabulary (three in one sentence!), and out of Hannah's life, too.
Several times over the past week, somewhere in the early hours of the morning as we've stayed up for 'just one more race', I've turned to my husband and asked him 'why can't Hannah do these things?' It's a rhetorical, genuine question, because although I know the answer I also can't quite articulate it fully. In the face of a medal-winning equestrian without either of her legs, a man without arms becoming the most decorated Paralympic male swimmer in history, a world-record breaking gold medallist sprinting without her sight, Hannah's physical disabilities seem relatively mild and the notion of 'can't' seems defeatist. I'm not suggesting that she could be a Paralympian (because the answer to the question is that Rett Syndrome has stolen Hannah's ability to control her movements and therefore the decision to train or to race or to participate is not a choice she can make) but it does make me question whether the 'can't's in Hannah's life are hers, or ours. Is it possible to create a 'can't', simply by saying it?
I'm not crazy; I know that no amount of me saying 'Hannah CAN talk' is going to make it happen, but is saying she 'can't' doing her a disservice too? Because actually, Hannah can talk, just not in the traditional sense of the word. She talks with her eyes, with her laugh, with her shout, with her whole being. The fact that she doesn't use words doesn't mean she doesn't speak, perhaps in the same way that just because Jonnie Peacock doesn't run on two feet doesn't mean he doesn't run! And perhaps this is the key - the old adage of when one door closes another window opens - when a 'can't' is imposed on us we need to find an alternative which creates a 'can'.
Our alternative, I suppose, apart from grasping at eye-gaze technology and therapies and splints and anything else which might ENable Hannah, is to choose to pursue a goal ourselves. Unlike Ellie and Jonnie and Richard and Ali and Libby and Sarah and every single other one of the 147 GB medal winners, Hannah cannot make that independent choice to pursue a goal, to train hard, to dedicate her time and energy to achieving something which seems out of reach. And so, instead, I think we make OUR choice to pursue a goal, to dedicate time and energy to achieving something which we know is within reach, so that one day, she CAN.
Because, I've realized, I do (as the Paralympics slogan goes) 'dare to believe'; believing has underpinned my world for five years and has now become my day job. I dare to believe that one day Hannah will be free from Rett Syndrome and will be able to run around a track, throw a javelin, swim a length, vault a bar, shoot a hoop and maybe even climb a podium. I've realized, too, that superhumans are everywhere. People who have turned a problem into a positive, a crisis into an opportunity, and people who have overcome the odds to triumph. I know plenty. The single mum who has turned a messy divorce into an opportunity to start her own successful business; the friends who turned redundancy into the chance to travel the world, the colleague who turned her own loss into a reason to set up a life-changing charity, and the little girl who, despite being unable to speak or use her hands or walk across the room, knows exactly how to light it up. My ultimate superhuman, Hannah.
There's been a lot of talk over the past few days about the 'legacy' of these athletes, of the social progress which comes from events like these and of the lessons they teach us all. It would be nice to think that their legacy is global and profound, that it challenges perspectives, shifts attitudes and redresses relationships. It would be wonderful to think that in four years' time, every country's mainstream channels will give these athletes the coverage and the attention they so thoroughly deserve, and that in the meantime more of us (me included) will follow their journeys, hold them in equal regard to their able-bodied peers and show our children that difference is not disability. In our house I think their legacy will be about finding open windows, focusing on everything the 9 year old superhuman who lives with us can do, and keeping on daring to believe. Can we cure this thing? Yes. We. Can.
To find out more about Rett Syndrome and the research to help speed treatments and a cure, please visit www.reverserett.org.uk