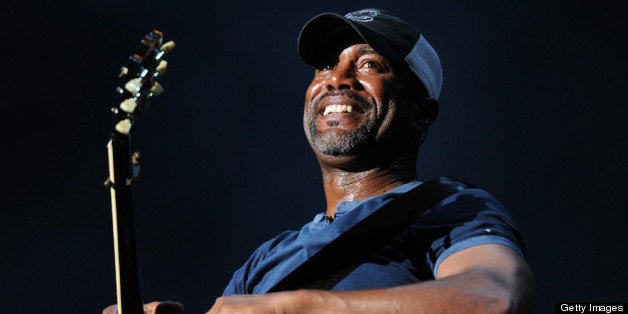 Country singer Darius Rucker questioned what century it is after receiving a racist tweet earlier this week.
The "Wagon Wheel" singer from South Carolina -- who just released his third studio album, "True Believer," on Tuesday -- was the target of a racist tweet from a user who thinks he should leave country music "to the white folk." The Grand Ole Opry member was left pretty astounded from the message Sunday.
The racist tweet and Rucker's response quickly made headlines, and one user asked why he would retweet such a hateful message, Yahoo! Music notes. "So the world can see them," the musician responded.
"I was absolutely shocked," he said. "Sometimes people will say, 'You're not country,' and I know what that means, because they can't be talking about the music. But when somebody says to leave country music to the white folks, that is unbelievable to me... But that's life. That's something that I'm going to have to deal with the rest of my career, because I'm a black guy in country music and there are people who don't like that. But it's not going to make me quit."
Previously the frontman for 1990s rock band Hootie and the Blowfish, the 47-year-old made a foray into country music in 2008 with the single "Don't Think I Don't Think About It." Vibe magazine notes Rucker's transition has been hugely successful. He is the "biggest African-American country singer" since Charley Pride climbed the charts more than 40 years ago.