Martin Powell, is a comic book genius having worked in the industry since 1986, writing for such establishments as Marvel, DC, Malibu, Caliber, Moonstone, and Disney, among others, and has been nominated for the coveted Eisner Award. His writing credits are over 300 publications spanning across multiple genres and publishers. Titles include Scarlet in Gaslight, The Verdict, A Case of Blind Fear, Necroscope, Return of the Devil, Gravestone, Disney's Aladdin, Pilgrim's Progress, Alien Nation, The Spider Chronicles, The Avenger Chronicles, Gaslight Grimoire, The Phantom Chronicles, The Hound of the Baskervilles, Red Riding Hood, Rumpelstiltskin, and more.
In 2009, he completed a then new graphic novel of Alice in Wonderland, Wizard of Oz, and his first Superman and Batman books followed by writing an adaptation of Fredric Brown's classic sci-fi novel Martians, Go Home for Sequential Pulp Comics, a new company founded by Michael Hudson, to be marketed and distributed by Dark Horse.
In describing his life, in the writers own words, he says, "real mummies, fossil dinosaur skeletons, and live gorillas lurk nearby and bats flutter around the street lamps. I feel quite at home" sums up the uniqueness of this creative living like a real-life comic book character! Working with many writers, feature film comic book artists collaborate an immense effort churning out masses of oozing beautiful graphic novel artistry where the action is jam-packed never letting you down. Come take a leap with me into the mind of a real-life veteran comic book man...beware you may end up in one of his novels so be nice and get yourself one of his books!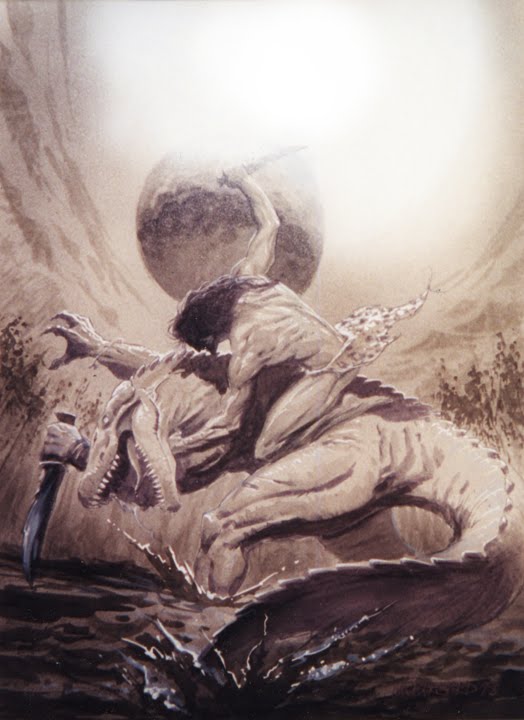 Alexandra Holzer: How did you become involved with the amazing epic Tarzan gig?
MARTIN POWELL: My goodness. That's a long story, but I'll try to shorten it. Michael Hudson, CEO and President of Sequential Pulp Comics, Dark Horse's new imprint, contacted me some years ago to supply the box text for his company's statue of the pulp hero The Spider, which I had been writing in both prose and comics. We found we shared a lot of the same interests and became friends. A year or so later, Michael told me he intended to create a new comics publishing company that would focus on classic pulp fiction adaptations as well as original concepts, and he invited me to write for him. I became involved with a number of Edgar Rice Burroughs graphic novel projects, (Burroughs is my favorite author) and one day I mentioned to Michael that I'd always felt Tarzan at the Earth's Core, with its dinosaurs, gorilla-men, and prehistoric high adventure, had all the elements to be a great hit, either as a graphic novel, or a feature film, or both, and that we should try to obtain the license. Fortunately, Michael had an amiable relationship with not only Dark Horse Comics, but also Edgar Rice Burroughs, Inc. There was a brief, rather tense time of waiting after he made the pitch, but then one evening he phoned me, voice shaking with excitement, saying we had the official permission to proceed. Obviously, I was--and am--ecstatic! The artist is Tim Burgard, who was born to draw this kind of thing. Tim was the story board artist on last summer's Rise of the Planet of the Apes. He loves Tarzan as much as I do, and has amazing ideas for this. Over the past twenty-five years, I've been lucky enough to write many of my favorite fictional characters, from Sherlock Holmes, to Superman and Batman, but Tarzan tops them all. I can't recall a moment in my life when Tarzan wasn't a part of it. My older brothers must have introduced me to the Tarzan movies and comics when I was very young, but I don't remember that. It seems Tarzan has always been with me. He was at the very top of my list of characters I wanted to write. Dreams do come true. (Now, if I could write a Popeye story, someday...)

A 25th Anniversary Edition of your Sherlock Holmes meets Dracula graphic novel, Scarlet in Gaslight, is being published in December. How does that make you feel?
Very lucky! Scarlet in Gaslight has been, in many ways, my most significant book since it was the start of everything for me. This was during the Black and White Glut of the 1980s, as it was called, and I never ever thought the book would survive beyond that time. This will be its seventh printing. Miraculously, it's never been out of print, and continues to enjoy a new life. The Washington Post recently gave the book a very flattering review. Sherlock Holmes has been very good to me.
The Halloween Legion published by Wild Cat Books is one of your newest additions to your line where you say, "Evil--beware, the World's Weirdest Heroes!" Can you tell us how you got to finally execute this book, and why it's so different than the others and about its characters?
They're a little group of weirdos I originally dreamed up many years ago, way back in high school. I was in a poisonously boring semantics class and I started doodling pictures of a Skeleton, Witch, Devil, Ghost, and Black Cat, sort of escaping into a Halloween daydream. Autumn has always been my favorite season, and Halloween is my favorite holiday. I wanted to capture that sense of magic and mystery, the sort of thrill you got as a kid when the falling red, orange, and yellow leaves followed you down the street. For me, that's paradise. I wanted to have that feeling with me always, so that's why The Halloween Legion was created. It was purely for me. Last year, Ron Hanna, publisher of Wild Cat Books, kindly invited me to write a book for him, telling me that I could, essentially, write anything I wanted. That was a very generous thing no other publisher had offered before. With literally all possibilities in front of me, I was rather overwhelmed, and I took a couple weeks to think about it. Then, one day, The Halloween Legion popped back into my brain and I knew that was what I had to write. Although I wrote the book for teen readers, and perhaps even a bit younger, grown-ups also seem to be drawn to its colorful nostalgia, perhaps as remindful of times in their own childhood when things were less complicated and magic was real. It's probably my favorite thing I've ever done.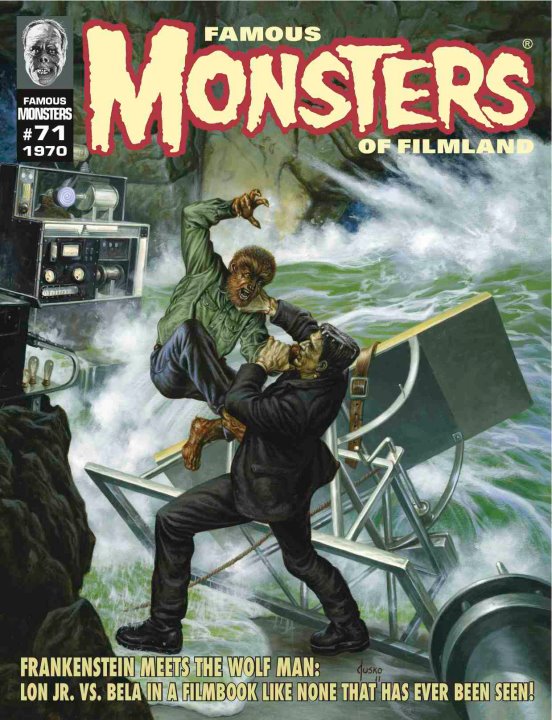 Famous Monsters of Filmland Issue # 71 states it's not just a re-telling of Frankenstein Meets the Wolf Man, but rather Lon Jr. versus Bela in a Film book like none other than has been seen. Elaborate more on this for me as to why?
Well, the second Frankenstein film I ever saw was Frankenstein Meets the Wolf Man -- and it was also my first encounter with the Wolf Man -- when I was six years old. This movie got into my blood on a genetic level and I've never been the same since. I proposed the idea of a film book, which is really a prose novella translation of the original movie script, to the newly resurrected Famous Monsters magazine and they gave me the nod to proceed. I also brought Joe Jusko along with me, who provided a spectacularly iconic cover painting. I was able to internalize on the characters, something that often works wonderfully in prose, but not so well on film, so fans of this movie can get into the heads of the Wolf Man and the Frankenstein Monster, and the others, and understand their motivations more fully for a richer experience. Getting to write for the legendary mag was extraordinarily exciting. I was sick a lot as a little kid and Famous Monsters of Film land magazine served as a sort of security blanket for me every dreaded time I went to the doctor's office. FM never, ever failed to make me feel better.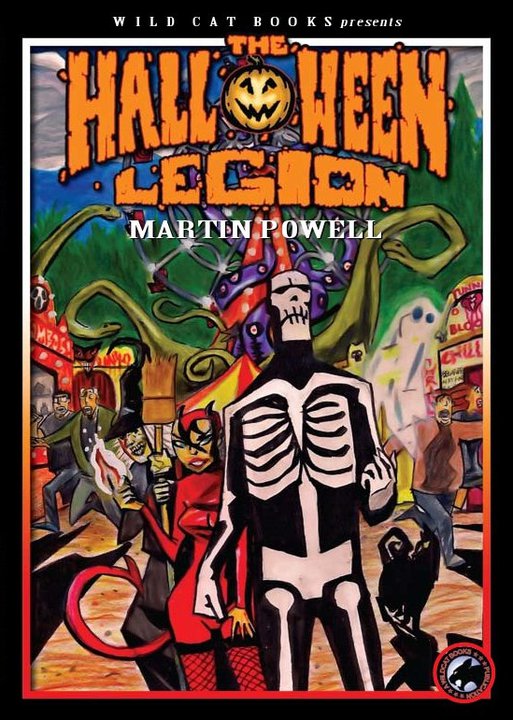 What are you working on today and is there any Paranormal-related themes and/or characters on the horizon?
Always! I just had a special Halloween issue of The Spider vs. The Werewolf released, with art by Jay Piscopo, published by Moonstone. Currently, I'm writing a Frankenstein graphic novel, illustrated by Nik Poliwko, for Sequential Pulp/Dark Horse Comics, which is inspired by the classic Dick Briefer pre-code horror comics of the 1950's, and Mary Shelley, too, of course. It's going to be a lot of fun. Most people don't know that I've studied and investigated UFOs and hauntings for over two decades. It's not something I write about professionally, but it keeps me busy. I do it because I'm profoundly fascinated with the paranormal, and I'm motivated by several very strange experiences I've personally been involved with, which defy plausible rationalization. Of course, there are always people who will dismiss such things as flights of imagination and the illusions of swamp gas--and most of the time those skeptics are right. But sometimes, a comparably rare real weirdness happens. It's completely unscientific to pronounce a phenomenon as unreal and ridiculous without going out into the field to actually see for yourself. I have a scientific background, but I also maintain an open mind. Also, Sequential Pulp/Dark Horse comics will be publishing my new Halloween Legion graphic novel, with art by Thomas Boatwright, and I'll be writing more prose novellas for Wild Cat Books, as well. Ultimately, I want Halloween Legion action figures, model kits, Halloween masks and costumes, lunch boxes, children's books, coloring books, animation, live action films, t-shirts, candy, puzzles, art prints, and a zillion other things. Someday, I want my "World's Weirdest Heroes" to be as much a personal a part of everyone's Halloween as Charlie Brown's Great Pumpkin. A kind of wild dream, I'll admit, but I'm living proof that dreams come true.

To learn more about Martin Powell and his Comic Books please visit his blog here.
Calling all HuffPost superfans!
Sign up for membership to become a founding member and help shape HuffPost's next chapter