The most surprising cameo appearance in "The Dark Knight Rises"? Not this one or that one, but Thomas Lennon. The comedy stalwart -- who has popped up in everything from "Reno 911" to "I Love You, Man" to "What To Expect When You're Expecting" -- appears in Christopher Nolan's Batman finale as a droll doctor tasked with informing Bruce Wayne that he can no longer go heli-skiing because of physical injuries.
"I've been sworn to secrecy for over a year," Lennon told HuffPost Entertainment about the role. "I've never mentioned it. I never said anything about it. I never wanted to mention it. No one was more surprised than me when Warner Bros. put out that TV spot where I was the main character. I was under the impression that I was supposed to keep a very tight lid on that."
With the cat out of the bag, however -- both in marketing materials and at the multiplex -- Lennon chatted with HuffPost Entertainment about the scene and how it might connect to Lennon's appearance in Christopher Nolan's second film, "Memento."
Note: This interview was conducted before the Aurora, Co. shootings at a "Dark Knight Rises" screening on Friday morning that left 12 dead. Commenting on Twitter, Lennon said he was "devastated" by the news, before linking to BradyCampaign.org, an organization "devoted to creating an America free from gun violence, where all Americans are safe at home, at school, at work, and in our communities."
So, you're in "The Dark Knight Rises."There were a lot of people on the Internet and Twitter saying, "This is crazy! How'd you get in 'The Dark Knight Rises?'" As a person who is usually in much different kinds of movies, it's throwing people for a loop. But the fact is that there's a very, very specific reason I'm playing that character in "The Dark Knight Rises." There's a lot of layers in Nolan movies. For example in "Following," his first movie, there's very specifically the Batman logo on the door -- which I thought was very interesting; a harbinger of the future. The call that I got [said] "There's a scene with a doctor, and Nolan really wants you." Basically, I guess -- I kinda of think it's the same character from "Memento." The doctor who's testing Sammy Jankis in that movie. I like to think I'm exactly the same doctor and it's all happening inside Guy Pearce's mind. Whether or not that's true is probably for Nolan to say. I'd like to think that's happening.
How was filming your scene?"The Dark Knight Rises" was shooting in five or six parts of the world for over half a year. I ended up going to London for a week. It was really cool. I never got to see the entire script. In fact, all I got was one script page on that red paper that you can't Xerox, and only my scenes. Even the the beginning of the next scene was blacked out. It was super secret. It was hand delivered to me from somebody from Chris Nolan's office.
What was Christian Bale like? He has a serious reputation, but he's also very funny in "The Fighter" and "American Psycho."I was super, super misled about what he was like. He was very sweet. I tried to joke with him to see how it would go. He had just won an Academy Award. I was like, "Let's test to see what his sense of humor is like." He laughed so hard. He also immediately said, "Oh, yes, you're usually in the shorts." Something like that. As soon as we both laughed at a joke and he seemed to be aware of Jim Dangle [Lennon's character from "Reno 911"], I thought, "This is probably going to go pretty well." I was really nervous but he couldn't have been a sweeter person. He was absolutely charming to work with.
Did you guys do any improv?There was zero ad-libbing in that scene in the cut version of the movie. There was one more thing that I said to him, but I should probably wait [to reveal it]. I don't want to spoil anything. [However], there were other things that were very funny.
You've written blockbusters like "Night at the Museum." What do you think when you watch a movie scripted by Nolan -- especially one as intricately plotted as "The Dark Knight Rises"?I love watching movies written by Chris and Jonathan Nolan, because it is so put together. I guess they spend a lot more time thinking about stuff? Me and my writing partner [Robert Ben Garant] probably spend more time drinking. But different strokes for different folks.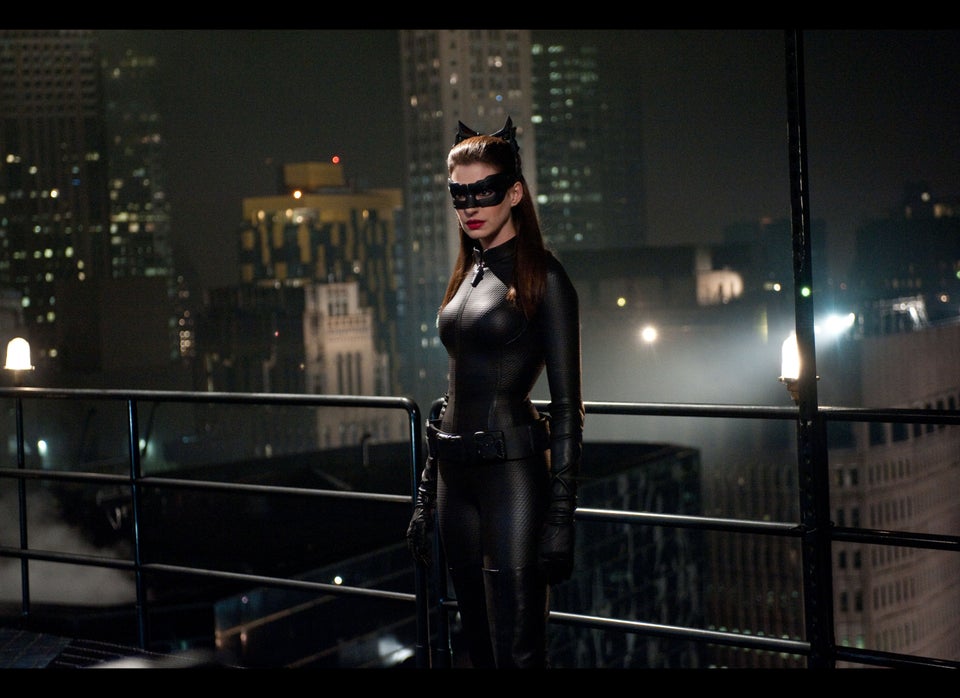 'Dark Knight Rises' Photos
Popular in the Community