WASHINGTON -- Four conservative nonprofits and the business industry's lead trade association have spent nearly $300 million on political efforts over the course of the past two years, accounting for 70 percent of the so-called "dark money" reported to have been spent since the beginning of 2011.
The Karl Rove-founded Crossroads GPS, the Koch brothers' Americans for Prosperity, Grover Norquist's Americans for Tax Reform, the shadowy American Future Fund, and the U.S. Chamber of Commerce have spent $295 million since the beginning of 2011, targeting candidates from President Barack Obama on down to the most contested House and Senate races, all without disclosing the names of their donors to the public.
These groups are organized as either social welfare nonprofits under section 501(c)(4) of the tax code or, in the case of the Chamber of Commerce, as a trade association under section 501(c)(6). Since these groups qualify for tax-exempt status, they are also exempt from disclosing their donors, which political committees are required to do.
In total, these "dark money" groups have combined to spend $416 million on the 2012 election, up from $172 million through July 26 of this year. This accounts for 37 percent of all money spent by independent, non-party outside groups in the 2012 election and was identified by The Huffington Post through reports filed with the Federal Election Commission (FEC), press releases and news reports.
"The role played by outside groups that don't disclose their donors is bigger than its ever been before and is historically significant," says Adam Skaggs, senior counsel to the Brennan Center for Justice's Democracy Program.
"Dark money" has exploded at the federal level after a series of Supreme Court decisions -- culminating with the 2010 Citizens United ruling -- freed corporations, including nonprofit corporations, and unions to spend freely on elections. The amount spent by "dark money" groups and reported to the FEC is already more than twice as much as was spent in 2010. When unreported "dark money" is included, the 2012 total is more than three-times as much as in 2010, the only other post-Citizens United election.
"Any time you have large campaign expenditures in which nobody knows who's funding them that's not a particularly good thing for democracy," says Sunlight Foundation senior fellow Lee Drutman, who has tracked "dark money" in the 2012 campaign. "We depend on a certain amount of transparency so that voters can make the best choices possible."
The majority of this "dark money" has focused on the race between Obama and Republican presidential candidate Mitt Romney. "Dark money" spending on the presidential race reported to the FEC totaled $106 million as of Nov. 1, and spending that went unreported but was able to be tallied reached $95.5 million.
While the money in the presidential race will have to compete with large sums from the candidates, party committees and other outside groups like super PACS, "dark money" spending in the Senate and House races can put a thumb on the scale in more significant ways as the candidates raise far fewer dollars down-ballot.
In some races, "dark money" groups have spent more than the candidates being targeted have raised for their entire campaign.
In Ohio's 6th District, where Republican Rep. Bill Johnson is in a rematch against former Democratic Rep. Charlie Wilson, Americans for Tax Reform, the Norquist led group, reported spending $3.12 million in just the past three weeks to attack Wilson. That amount makes Wilson the biggest target of "dark money" among House candidates and is more than double what his campaign had raised as of Oct. 17.
Wilson's campaign manager JR Starrett said in an email to The Huffington Post that Johnson, a signatory of Norquist's anti-tax pledge, voted along with House Republicans to block the extension of the Bush tax cuts for the middle class without also extending the cuts for upper income earners.
"How was Congressman Johnson rewarded for his vote against his own constituents?" Starrett said. "A $2.1 million dollar ad buy for his campaign from Grover Norquist."
Wilson has been relieved with support from Democratic groups that do disclose their donors. This relief, however, doesn't equal the amount spent by Americans for Tax Reform.
The conservative nonprofit American Action Network and the Chamber of Commerce have combined to spend huge amounts in California's 10th District congressional race, the second largest target of "dark money" among House races. The two groups have spent $3.1 million to help Republican freshman Rep. Jeff Denham keep his seat against Democratic candidate Jose Hernandez. That $3.1 million is twice the $1.45 million raised by Hernandez through Oct. 17.
"It's not something that you necessarily prepare for," said Hernandez campaign manager Dan Krupnik. "It's that you lay your plan for your campaign and you hope that the actions that you take to educate people about your candidate -- in our case Jose -- you execute your plan."
Hernandez' campaign has seen help from the Democratic Congressional Campaign Committee (DCCC) and Democratic super PACs. Denham has also received support from the National Republican Congressional Committee (NRCC). Overall, thanks to the "dark money" spending, Denham still has and outside spending advantage in excess of $500,000.
Wilson and Hernandez aren't alone in being outspent by "dark money." There are a total of 10 House candidates, all Democrats, who have raised less money through Oct. 17 than "dark money" groups have spent attacking them.
The powerhouse Crossroads GPS is the top "dark money" spender in 15 House and Senate races. Its top target is the Virginia Senate race between the Democrat, former Virginia Gov. Tim Kaine, and Republican former governor and Sen. George Allen. "Dark money" groups have spent $19 million against Kaine, with $10 million coming from Crossroads GPS.
Kaine press secretary Lily Adams says that Kaine has been able to counter the flood of "dark money" by projecting a positive message. "In the face of tens of millions of dollars in outside money spent, though, Gov. Kaine has been able to keep this race tight because he has come straight to Virginians with a positive message about how to create jobs, how to balance the budget and how to find common ground," she said.
The Chamber of Commerce, the main conduit for corporate political contributions, is also the lead "dark money" spender in 15 House and Senate races, according to a report by the watchdog group Public Citizen's Chamber Watch and the left-leaning advocacy group Main Street Alliance.
Rob Weissman, president of Public Citizen, explained that the Chamber's lack of disclosure allows it to cloak its spending, which is presumed to be funded by large corporations, in the veneer of small business.
"Unlike some of the other outside spenders it has a brand name, but the brand is associated in the public eye with small businesses, not the giant multi-nationals that the chamber serves and who are undoubtedly providing the money that's being spent on the 2012 election," Weissman said. "When the source of the ad is unknown [voters] can't even properly filter the messages that are hitting them."
The Chamber has been spending money on elections for the better part of two decades, but, thanks to the Citizens United decision, the 2012 election is the first time the group has run explicit electoral advertisements.
Before You Go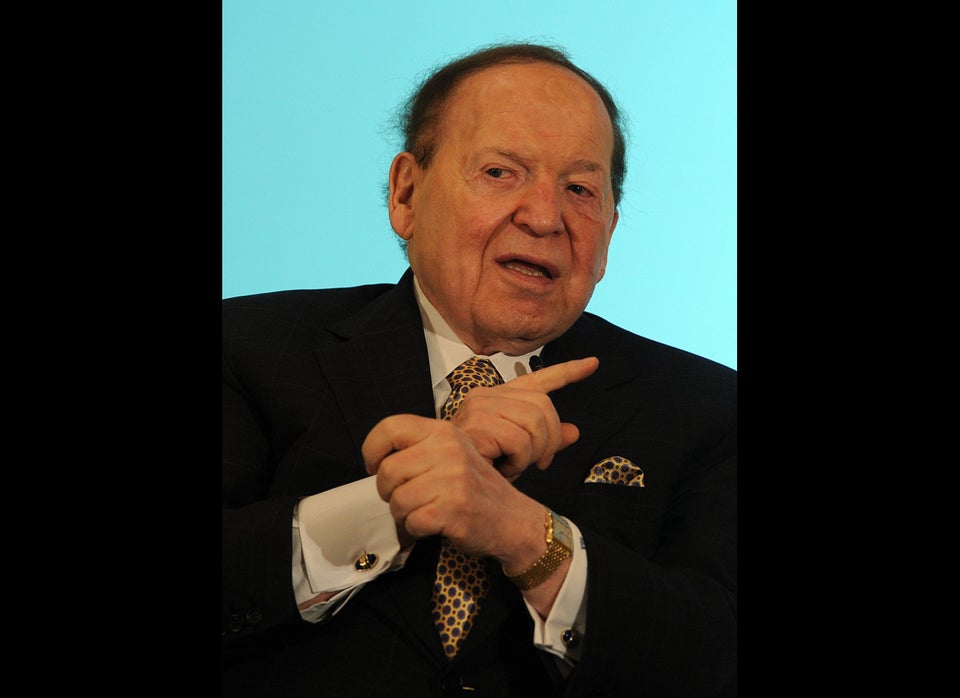 Donors Giving $500,000-Plus To Super PACs
Popular in the Community