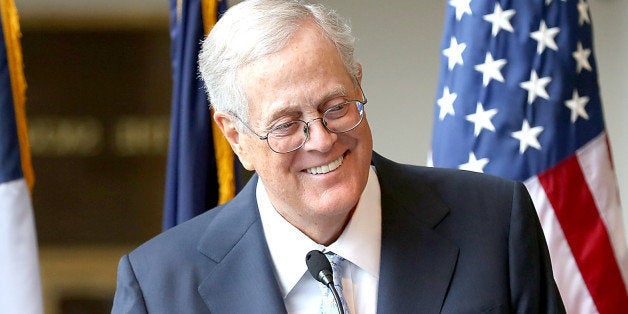 WASHINGTON -- The Iowa-based conservative nonprofit group American Future Fund released new advertisements nearly every week from the spring of 2012 through Election Day that year, hitting President Barack Obama or Democratic Senate candidates in competitive races. By mid-September, the group had spent $9.5 million. It went on to spend north of $30 million on federal races after receiving massive funding from the network operated by the billionaire brothers Charles and David Koch.
This year, with eight weeks before the 2014 midterm elections, American Future Fund advertising is nowhere to be seen on the air. The nonprofit, which does not disclose donors, has spent less than $250,000 in federal campaigns and has announced little in the way of issue advocacy targeting candidates.
The American Future Fund is not the only nonprofit disappearing act. The conservative nonprofits 60 Plus Association, Americans for Tax Reform, and Americans for Job Security also have largely evaporated from the federal election scene after spending millions in both 2010 and 2012.
The disappearances show how nonprofit political networks use groups with the capability for electoral action as fronts for their own campaigns and, when they are no longer useful or become a distraction, how easily they can be cut loose.
Nonprofit groups have been a major feature of political campaigns since the Supreme Court's 2007 Wisconsin right to life ruling, and they proliferated after the 2010 Citizens United decision. The groups can raise unlimited sums from corporations, unions and individuals, with the added bonus of keeping donors' identities secret -- so long as they abide by barely enforced rules requiring them to spend the majority of their time and money on the purpose they claimed to obtain tax-exempt status. Collectively, nonprofits have spent more than $142 million on campaigns targeting federal candidates in 2014.
Running afoul of federal and state laws and regulations, or the desires of their funders, appears to be a prime reason for this year's lack of spending from these nonprofits.
The disappearance of American Future Fund and Americans for Job Security, responsible for more than $15 million in reported 2012 election advertising, came after they were caught laundering campaign contributions into two California ballot initiative campaigns. This revelation by California's Fair Political Practices Commission led to a record settlement requiring the groups to disgorge improperly donated funds and to release a donor list that revealed identities of some secret funders. Neither group responded to inquiries.
American Future Fund was almost entirely funded by the Koch political network. The group raised $68 million in 2012, with more than $60 million from Freedom Partners Chamber of Commerce and the Center to Protect Patient Rights. This total included $7 million passed from Americans for Job Security through the Center to Protect Patient Rights. Of that amount, $4 million landed in a California ballot campaign committee.
The Center to Protect Patient Rights, run by then-Koch point man Sean Noble, was used by Americans for Job Security to funnel money into the California ballot campaigns. The Virginia-based group sent $24 million through the Center to Protect Patient Rights. This contribution was split into the $7 million to the American Future Fund and $13 million to Americans for Responsible Leadership, both of which then passed contributions onto California groups.
Another disappearing group, the 60 Plus Association, formed in the early 1990s as a conservative counter to the AARP, was largely funded by the Koch network. The organization received more than $18 million from Freedom Partners and the Center to Protect Patient Rights in 2012, and spent $13 million on election and issue ads attacking federal candidates.
In 2014, the 60 Plus Association has spent $525,000 on advertising that targets members of Congress and other congressional candidates. The group's big advertising campaign opposing a mortgage reform bill sponsored by Sens. Mike Crapo (R-Idaho) and Tim Johnson (D-S.D.) led to a rebuke by its funders. According to The Associated Press, political advisers in the Koch network were "frustrated" by the advertisements. The 60 Plus Association didn't respond to a request for comment.
Anti-tax advocate Grover Norquist's Americans for Tax Reform, meanwhile, has gone from spending $15.8 million in the 2012 election to less than $40,000 on the 2014 midterms. Crossroads GPS, a nonprofit founded by Karl Rove, provided $26.4 million to Americans for Tax Reform in what was supposed to be non-political spending. Norquist's group, however, spent more than half of its funds on electoral advertisements, while claiming on tax filings to the Internal Revenue Service to have spent less than one-third of its funds on election ads.
The controversial spending by Americans for Tax Reform has seemingly led to the end of its role as a dark money front. The group didn't answer an inquiry from The Huffington Post. In an email conversation with New York Times reporter Tom Edsall, Crossroads spokesman Paul Lindsay wrote that the group has "implemented stricter due diligence" in determining which groups to fund.
Lindsay provided a statement to The Huffington Post: "Like labor unions, we invest in a number of organizations that have complementary missions that help us advance our issue agenda. Our grants to other 501c4's, which are made public in our 990, are predicated on a review of their financial records and a stipulation that the funds only be used for their exempt activity and not for political purposes."
While American Future Fund, Americans for Job Security, Americans for Tax Reform and 60 Plus Association appear to have stopped being conduits for big sources of undisclosed money in federal elections, they remain a useful resource for other sources of money.
For Americans for Job Security and Americans for Tax Reform, the plan has been to simply go back to engaging in their declared social welfare purpose: Advancing a conservative anti-tax, anti-union and pro-business agenda.
Americans for Job Security is registered as a business trade association and has a long history of serving as a hired gun for corporations. Americans for Tax Reform has its staple of anti-tax policies to promote, including Norquist's Taxpayer Protection Pledge, and has also done work for industry lobbying campaigns, including tobacco companies.
The two pro-business groups have, however, found themselves on opposite ends of business lobbying battles in Washington. Americans for Job Security, a routine ally of the retail industry, supported rules limiting swipe fees imposed on stores for customer debit card purchases in 2011, and backs the current proposal to allow states to impose a sales tax on online purchases. Americans for Tax Reform took opposite positions on both issues.
In Iowa, the American Future Fund continues to operate as a front for whomever has the funds. It received $750,000 from the Judicial Crisis Network, a conservative group promoting a right-wing judiciary and supporting Republican candidates in state attorney general races, and promptly gave $670,000 to the Republican Attorneys General Association, according to IRS documents.
After pro-gun control groups ran ads blasting Sen. Kelly Ayotte (R-N.H.) for opposing background check legislation, the American Future Fund launched an advertising blitz on her behalf. Prior to and during the ad campaign, the nonprofit received $125,000 from the leadership PACs of Ayotte's Senate Republican colleagues.
The group spent $287,000 to boost Nebraska state Sen. Beau McCoy's campaign for the Republican gubernatorial nomination -- likely at the behest of McCoy's sole donor: Nebraska businessman Charles Herbster. When asked by the Omaha World-Herald whether he funded the American Future Fund ads, Herbster said, "That's one of the questions I'm going to take the Fifth Amendment on, OK?" McCoy ultimately lost the GOP nomination to Pete Ricketts.
American Future Fund's most recent advertising campaign is a far cry from its history of backing conservative candidates. For the past three months, the nonprofit has run ads in newspapers including Politico and The Wall Street Journal as part of a lobbying campaign by Doral Financial Corp., a Puerto Rican bank. The bank is in a spat with the commonwealth government over a refund for overpaid tax bills it says it is due, and hired the DCI Group, a PR firm with longstanding ties to the American Future Fund, to pressure Congress to intervene on its behalf.
And so the world of dark money nonprofits turns.
Before You Go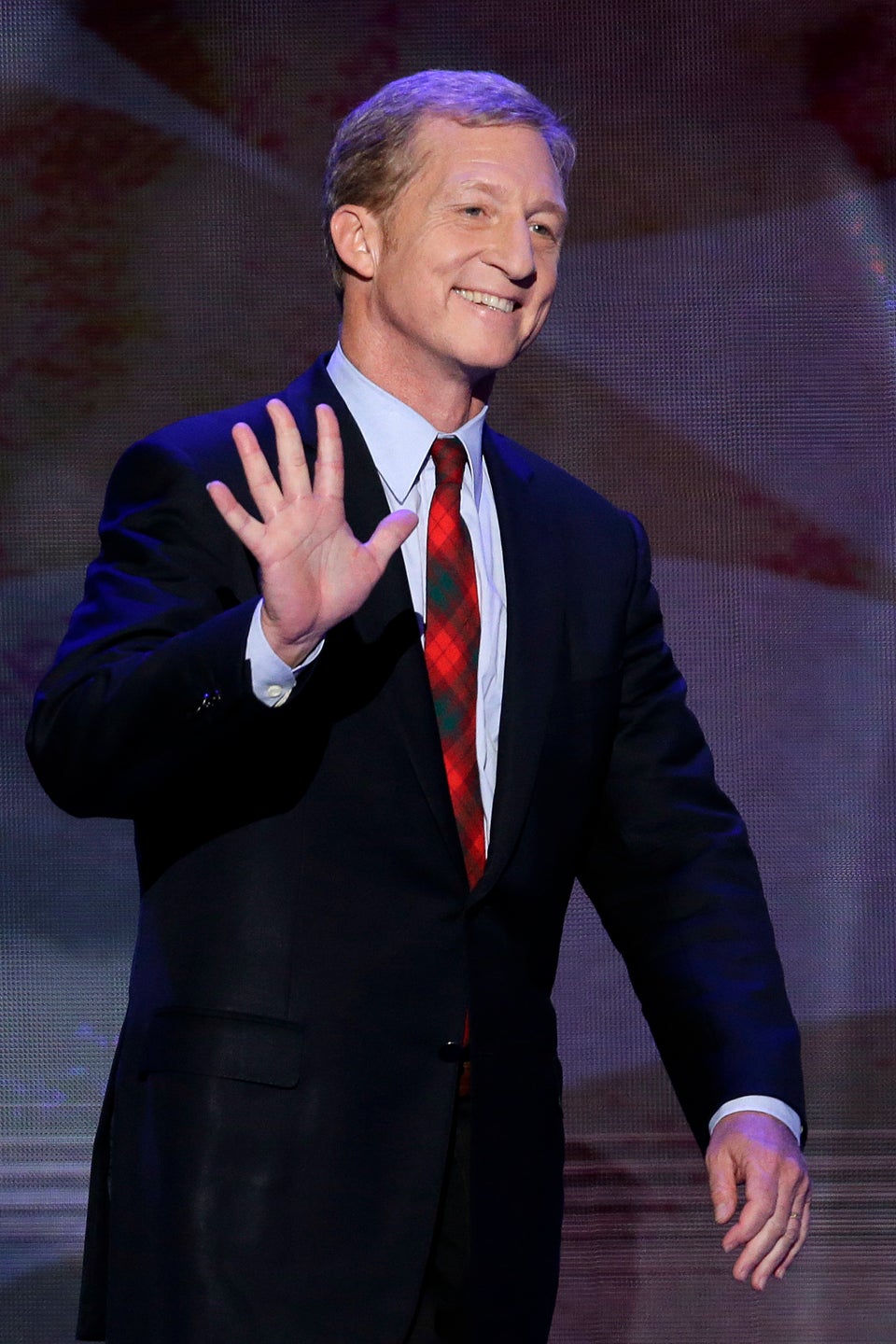 2014 Election: $500,000-Plus Super PAC Donors
Popular in the Community