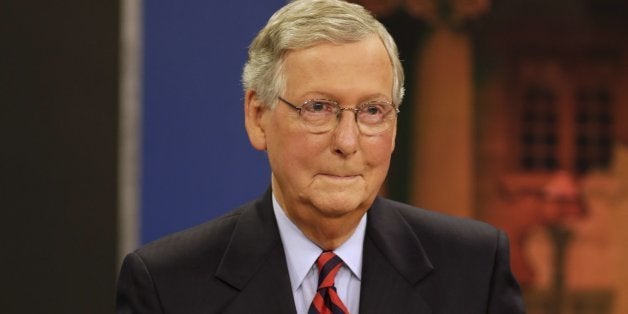 WASHINGTON -- As independent spending by nonprofit groups that fail to disclose their donors approaches $200 million in the 2014 midterm elections, it is increasingly evident that this spending is meant to influence only a handful of races.
This dark money spending -- so-called because it is not covered by federal disclosure rules meant to inform the public of who is paying to influence their vote -- is heavily concentrated in the key Senate races that will determine which party controls the chamber in January.
According to a review by The Huffington Post of campaign finance records collected by the Federal Election Commission, the Center for Responsive Politics and press releases and news reports regarding spending by these groups, the Senate races in Alaska, Arkansas, Colorado, Kentucky and North Carolina account for nearly half of all dark money spent to target 2014 candidates.
Overall, expenditures by groups not disclosing their donors has soared to at least $190 million in the 2014 campaign. The five Senate races with the most dark money have attracted $92.8 million of this total, while the top 10 Senate races account for $130 million. These amounts include express electoral advocacy calling for the election or defeat of a candidate, as well as issue-based advertising that touts or assails the record of a given candidate while stopping short of asking for viewers to vote for or against them.
Disclosure opponents like to argue that dark money spending is just a drop in the bucket compared to the projected $5 billion cost of all federal races in 2014. But a more direct examination of the dark money spent in individual races shows how big of an impact this spending has had on the most important races of the cycle.
Most notably, in each of these races, dark money has come almost exclusively to the aid of Republican Party candidates.
With more than $32.6 million spent, the North Carolina Senate race has seen more dark money than any other federal election this cycle. Sen. Kay Hagan (D-N.C.) has been been the primary target, with no less than $29.2 million in dark money attacking her or boosting her Republican opponent, state Rep. Thom Tillis. This unsourced spending accounts for 49 percent of all independent spending on the race, and easily exceeds the $19.2 million Hagan has raised for her own campaign from the beginning of 2011 through the end of September.
In Kentucky, Senate Leader Mitch McConnell (R), a forceful opponent of campaign finance disclosure, has been buoyed by more than $18 million in dark money. This amounts to 99 percent of all dark money spent in his race against Democrat Alison Lundergan Grimes, Kentucky's secretary of state, and accounts for 57 percent of all non-party independent group spending in the race.
The primary backer of McConnell's campaign has been a dark money group called the Kentucky Opportunity Coalition. The group has spent more than $12 million without disclosing a single donor. It is run by Steven Law, a former aide to McConnell and the head of Karl Rove's Crossroads groups. The Kentucky Opportunity Coalition has done nothing in 2013 or 2014 except tout McConnell's accomplishments and attack Grimes.
Nonprofit groups like the Kentucky Opportunity Coalition are ostensibly formed to advocate for a social welfare purpose, such as a cleaner environment or -- depending on one's definition of social welfare -- lower tax rates for corporations and the wealthy. Such groups are not allowed to spend the majority of their time advocating for political candidates, although the case of the Kentucky Opportunity Coalition illustrates that this limitation is, at best, difficult to enforce.
Sen. Mark Udall (D-Colo.) has been targeted by $14.1 million in dark money attacks, or 85 percent of all undisclosed money spent in the campaign. The Colorado Senate race between Udall and Rep. Cory Gardner (R) is also one of a small handful where more than 50 percent of all non-party independent group spending has come in the form of dark money.
Rounding out the top five races with the most dark money spent are the Arkansas contest pitting Sen. Mark Pryor (D) against Rep. Tom Cotton (R) and the Alaska race between Sen. Mark Begich (D) and Dan Sullivan (R), former commissioner of the state Department of Natural Resources.
The Arkansas race has seen the influx of $13.5 million in dark money, with at least $10.4 million of that aimed at unseating Pryor.
Begich is one of the few Democratic candidates to come close to receiving as much support from dark money as his Republican opponent. Total dark money in the Alaska race exceeds $11.7 million. Sullivan is backed by $6.6 million, while Begich is supported by $5.1 million in dark money.
Not all dark money comes directly from nonprofits. In some cases, as in support of Begich in Alaska, nonprofits donate to super PACs, which are required to disclose their donors. These nonprofit contributions to supposedly transparent super PACs, however, simply offer dead-end disclosure.
Take, for example, the pro-Begich Alaska Salmon PAC, which is funded entirely by the League of Conservation Voters and its affiliate in Alaska, or the super PAC of the National Association of Realtors, which is funded entirely by the parent nonprofit. In Arkansas' Senate race, Cotton has received the support of the Government Integrity Fund Action Network, a super PAC funded entirely by dark money nonprofits.
The other major Senate races that have attracted large amounts of dark money include Iowa ($11.6 million), Louisiana ($8.3 million), Michigan ($7.4 million), Georgia ($5.6 million) and New Hampshire ($4.3 million).
The biggest source of dark money in nearly all of these races has been the political network created by the billionaire brothers Charles and David Koch. This constellation of groups, which includes Americans for Prosperity, Freedom Partners Chamber of Commerce, Concerned Veterans for America, Libre Initiative, American Energy Alliance and Generation Opportunity, has already spent a combined $52 million on advertising in both Senate and House races in 2014.
Other big spenders include the conservative U.S. Chamber of Commerce, with more than $28 million in spending, and Rove's Crossroads GPS, with $26.2 million.
There are a handful of dark money groups operating in support of Democratic Party candidates, although they're spending far less than their conservative counterparts. The League of Conservation Voters is the leading dark money group backing Democrats, with $13.5 million spent when including the group's contributions to the Alaska Salmon PAC. The environmental group has not been entirely partisan in its spending, as it also provided some support to Republican Sen. Susan Collins (Maine).
The second most prolific Democratic Party dark money group, Patriot Majority USA, has spent just $8.5 million.
Further vast expenditures of dark money are likely yet to come. According to the Center for Responsive Politics, independent spending increases dramatically in the final weeks of an election campaign. And on Wednesday, Americans for Prosperity released a suite of online advertisements calling on viewers to "fire" 11 different Democratic members of Congress. There is no word yet on how much this new salvo will cost.
Before You Go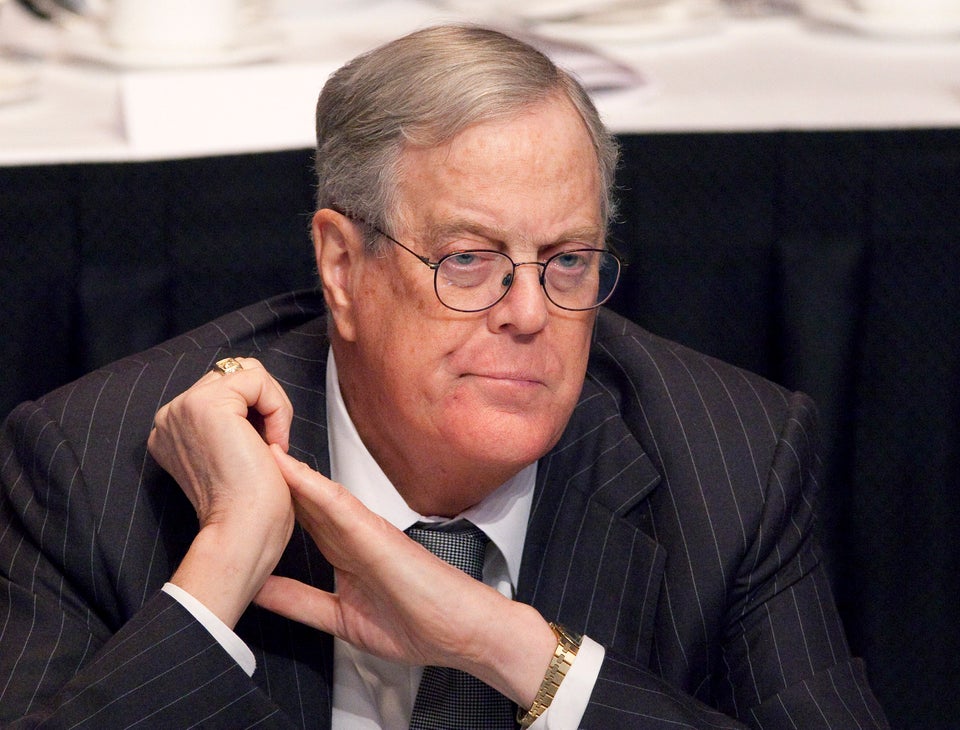 David Koch
Popular in the Community