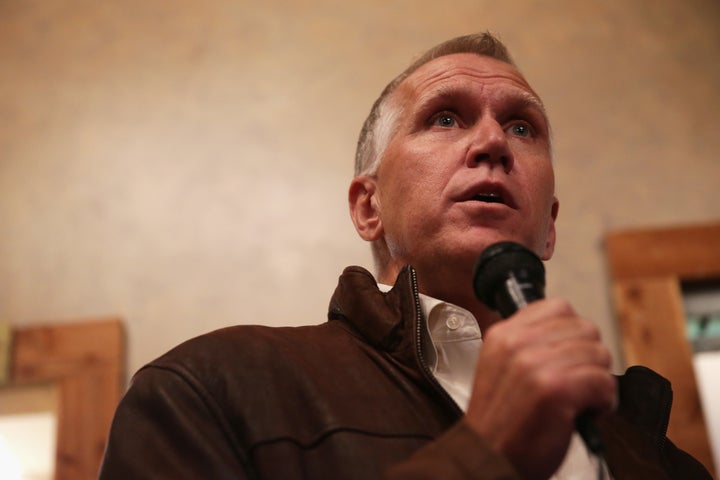 WASHINGTON -- Crossroads GPS, the politically active nonprofit co-founded by Republican political strategist Karl Rove, raised $69 million and made large contributions to other groups in 2014, according to a tax form disclosed on Tuesday.
The group's fundraising was far down from the $180 million it raised in 2012, when it spent large sums to oppose President Barack Obama's re-election. In 2014, the conservative nonprofit reported to the Federal Election Commission that it spent $26 million on express electoral efforts to defeat congressional Democrats.
Aside from its own direct spending on elections, Crossroads GPS directed $13.6 million to other groups aiding Republican campaigns in 2014. None of the original donors aiding these Republican campaigns through Crossroads GPS are required to be disclosed.
This included entirely funding the nonprofit group Carolina Rising with a $4.8 million donation. As reported by the Center for Responsive Politics, Carolina Rising spent all of its money promoting Sen. Thom Tillis (R-N.C.) in his successful campaign to unseat Democratic Sen. Kay Hagan.
Carolina Rising was not the only group involved in the North Carolina Senate race funded by Crossroads GPS. The American Future Fund received $2 million from Crossroads GPS and spent $420,000 on advertisements touting North Carolina Libertarian Party candidate Sean Haugh's support for legalizing marijuana and his anti-war stance. The ads were designed to appeal to young voters that Republicans wanted to steer away from voting for Hagan.
Haugh was not pleased with the intervention, although his enmity was slightly misplaced. "While I appreciate the support, I now have a whole new reason to despise Koch brothers & their dark money," he tweeted after the ads went up. American Future Fund had previously taken money from the political network operated by the billionaire Koch brothers.
Another $390,000 from Crossroads GPS went to the nonprofit group Kentucky Opportunity Coalition. This group spent all its money to support and promote Sen. Mitch McConnell (R-Ky.) in his successful 2014 re-election campaign against both his tea party-backed primary opponent, Matt Bevin (now governor-elect of Kentucky), and his general election opposition from Democrat Alison Lundergan Grimes.
Crossroads GPS also sent $5.2 million to the U.S. Chamber of Commerce, the largest business lobby and a major political force in the Republican Party. Other contributions included $900,000 to National Right to Life; $125,000 to the National Rifle Association; $50,000 to Ethics & Public Policy Center; $50,000 to The John Hay Initiative; and $40,000 to Center for Individual Freedom.
While Crossroads GPS is not required to disclose its donors, it did reveal the number and size of each contribution it received. The nonprofit group raised $69 million from 68 listed donations. Eighty percent of those funds came from just 11 donations each of $1 million or more. The largest two donations to the group were $20.6 million and $14.5 million.
Popular in the Community