 WASHINGTON -- A "dark money" non-profit that funneled $11 million into two ballot initiative fights in California revealed to the state's campaign finance oversight board that it had received the money after the funds passed through the hands of two other "dark money" groups.
A press release from the FPPC called the scheme, "the largest contribution ever disclosed as campaign money laundering in California history."
"In California, money laundering is a crime," FPPC chair Ann Ravel told The Huffington Post. "It's a misdemeanor and so it can be charged this way."
"Dark money" groups are organized as either social welfare nonprofits under section 501(c)(4) of the tax code. Since these groups qualify for tax-exempt status, they are also exempt from disclosing their donors, which political committees are required to do.
Ravel explained that the attorney general's office would be responsible for bringing criminal charges, or that civil charges could be brought, resulting in a fine of equal value or in excess of the amount laundered, in this case $11 million.
"We're definitely going to pierce through [these non-profits] and find out what we can and take appropriate actions," Ravel said.
California Attorney General Kamala Harris, who would be responsible for starting any criminal inquiry, said previously, "This case is simply about protecting the transparency and integrity of elections in California."
The Center to Protect Patients' Rights is a well-known pass-through for "dark money" in elections with connections to the billionaire Koch brothers. A report by the Center for Responsive Politics found that the group, "gave more than $44 million in 2010 to other tax-exempt groups, many of which spent millions on TV ads attacking Democrats running for the House and Senate and have begun spending for the same purpose this year."
Americans for Job Security is a corporate-backed "issues advocacy" group that has been running political advertisements since it was founded in 1997. The group reportedly was founded by a $1 million contribution from the American Insurance Association. In 2007, the Federal Election Commission (FEC) found that AJS had violated campaign finance laws by not registering as a political committee, which would require it to disclose its donors, but Republican commissioners forced a deadlock vote on enforcement of the violation.
AJS has ties to Karl Rove and was founded by Republican power players Mike Dubke and Dave Carney. The pair now run Crossroads Media, which handles the advertising operations for Rove's American Crossroads, the biggest gun in the massive campaign arsenal that Rove assembled in 2010. Americans for Job Security, meanwhile, is currently led by a young operative named Stephen DeMaura, who physically works out of Crossroads Media's Alexandria office.
In a lawsuit against the FEC, Rep. Chris Van Hollen of Maryland names AJS as a major recipient of undisclosed corporate cash.
But that's about as much as anyone knows about AJS. "We don't have clients. We have members," said AJS head DeMaura. "Like all organizations of our type, we're not required to disclose or discuss our members."
The contributions into California were intended to influence two top priorities of conservative activists both inside and outside the state. Americans for Responsible Leadership passed the contributions it received to a campaign to defeat Proposition 30, which would raise taxes, and to support Proposition 32, which would ban unions from making payroll deductions for political contributions.
California's Supreme Court took the unprecedented step of forcing Americans for Responsible Leadership to disclose its donor list in a 7-0 vote on Sunday.
Aside from sending $11 million to California for the ballot initiatives campaigns, Americans for Responsible Leadership has also spent $2.5 million on federal election races. Almost all of that was spent on phone calls targeting President Barack Obama.
Another "dark money" group, Western Tradition Partnership, was forced to disclose its donors by a court in Montana. That disclosure was forced after a joint ProPublica/Frontline report showed that the group may have lied to both Montana courts and the Internal Revenue Service (IRS) in its application for tax-exempt status.
Before You Go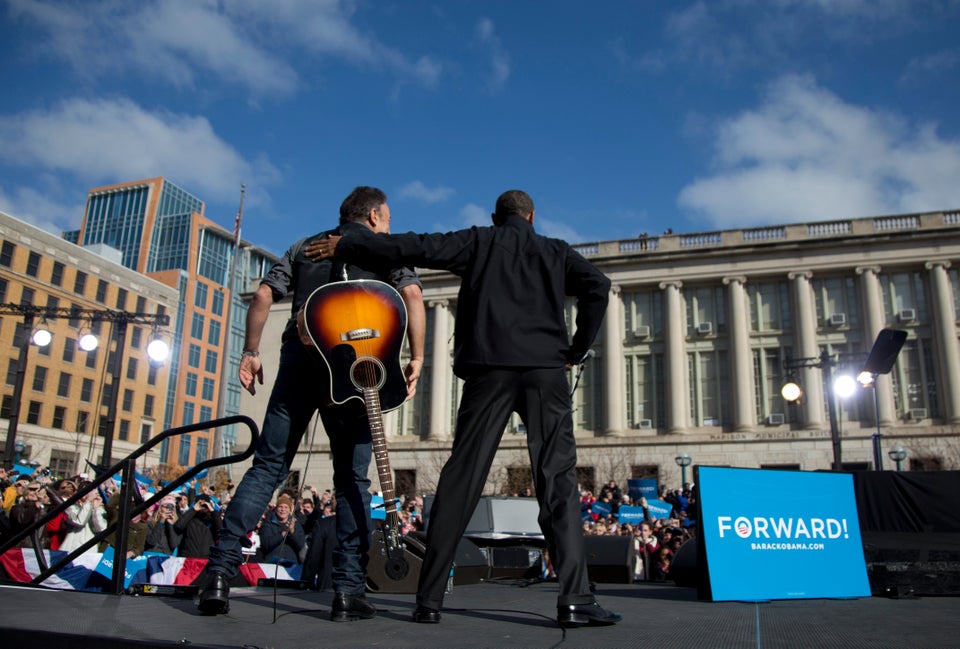 Madness In The Final Hours
Popular in the Community