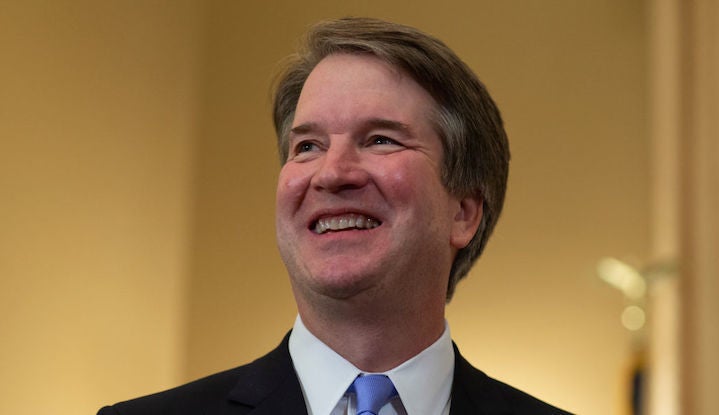 By Andrew Perez, MapLight
The secretive dark money organization leading the campaign to confirm President Donald Trump's latest Supreme Court pick wasn't authorized to operate in Washington, D.C., for much of the past year.
The Judicial Crisis Network (JCN), which says it has spent $4.5 million promoting Brett Kavanaugh's confirmation to the nation's highest court, had its local business registration and certificate revoked last September for failing to file its biennial report and paying all required fees.
Lori Parris, the deputy director at the D.C. Department of Consumer and Regulatory Affairs, said JCN filed its biennial report after MapLight began investigating the issue.
"Filing a biennial report is a necessary step in the reinstatement process," Parris said. "Any additional licensing requirements will be outlined for the Judicial Crisis Network to follow during the reinstatement process."
A spokesperson for JCN did not respond to multiple inquiries from MapLight about its corporate registration issues, though the organization appears to have been reinstated by DCRA following publication of this story.
JCN dropped $10 million last year to help secure Supreme Court Justice Neil Gorsuch's confirmation after spending $7 million to block President Barack Obama's Supreme Court pick, Merrick Garland. The organization is closely tied to the Federalist Society, the conservative lawyers network, and the society's executive vice president, Leonard Leo, who has been advising Trump on judicial selections.
While JCN is incorporated in Virginia, the organization has listed various addresses and post office boxes in the nation's capital in its past tax returns and state records. The Washington Post reported in June that JCN has an office in downtown Washington, in the same building as the Federalist Society.
JCN was established in 2004 to support President George W. Bush's judicial nominees. Most of the organization's funding in recent years has come from the Wellspring Committee, another Virginia nonprofit that has listed a D.C. mailbox as its primary address. For years, both organizations were led by the same family ― Neil Corkery led JCN, while his wife, Ann, led Wellspring. Neither group discloses its donors.
With the Kavanaugh nomination, JCN has an opportunity to secure a conservative majority on the court for decades. Democrats worry that a Republican majority on the court threatens abortion and LGBT rights and would mean fewer limits on corporate power.
Last month, JCN's chief counsel Carrie Severino refused to name who is bankrolling its efforts to confirm Kavanaugh. "I feel like I have a duty to my donors to give them confidentiality," she said.
Popular in the Community