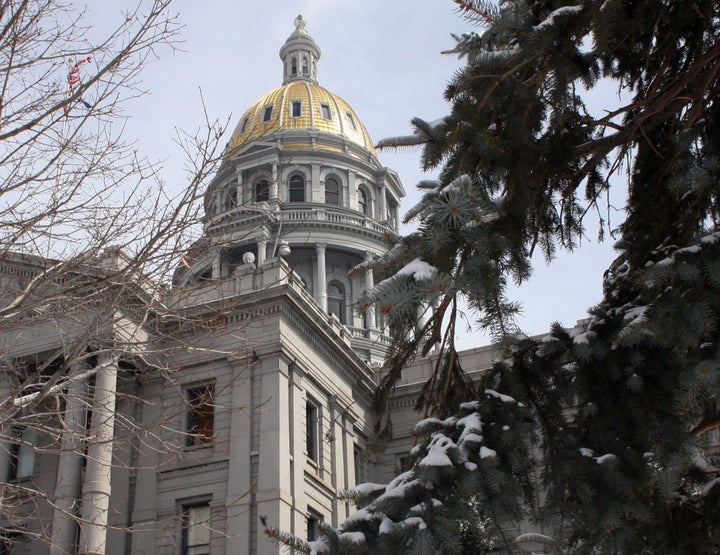 It's no surprise money can play an important role in winning elections, but where that money comes from is often difficult to ascertain.
One example of this "dark money" influence can be found in the results of the Colorado state House of Representatives election last year. All 65 district spots were up for grabs and in the end the Democrats remained in the majority, securing three additional seats.
Eighteen Democratic candidates in the Colorado elections received monetary support from Common Sense Values, an independent expenditure committee that can raise and spend unlimited amounts of money in elections. Of the candidates who were favored by this IE committee, nearly three-fourths of them won their respective elections.
The Democratic candidates who received the most support were Rep. Jeff Bridges (more than $202,000); Rep. Thomas "Tony" Exum, Sr. (nearly $190,000); and Rep. Barbara Hall McLachlan (almost $160,000). They represent Colorado's third, 17th and 59th districts, respectively.
According to the Colorado state campaign finance disclosure website, the Common Sense Values IE committee was started in August 2016 and then terminated the following December after the election was over. In just a few short months, it raised nearly $2.6 million and spent the vast majority of that supporting or opposing candidates in the Colorado House elections, with the remainder going toward "consultant and professional services," among other items.
So how did the Common Sense Values IE committee raise more than $2.5 million in five months? Almost all of the money — $2,558,968.03 to be exact — came from its partner organization with the same name: Common Sense Values. But since the other group is a 527 "issue advocacy" organization it needed an IE committee to be able to advocate for or against political candidates. The two groups also used each other to pass funds back and forth.
Although both the 527 organization and the IE committee were primarily state-focused during the 2016 election cycle, the IE committee did engage in limited federal activity. As a result, the IE committee did report some electioneering communications to the FEC.
Brendan Fischer, director of federal and FEC reform for the Campaign Legal Center, said it looks like the Common Sense Values 527 organization set up the IE committee as an entity it could route its electioneering communications through. He added that although the Common Sense Values IE committee may sound like a super PAC, it did not appear to register with the FEC as such.
Similar to its IE committee, the Common Sense Values 527 organization also terminated shortly after the 2016 election, although it was originally started in November 2014.
Both the 527 organization and the IE committee had the same two registered agents: Ashley Stevens and Julie Wells. According to the Colorado registered agent search, Stevens is tied to a total of 18 different independent expenditure committees and 527 committees. Of these committees, only five remain active with Stevens as the registered agent. Wells has her name associated with more than 60 committees — all of them terminated, except one of which she is no longer the active agent.
The same email and phone number are listed for both Stevens and Wells on federal and state documents for their committees. Neither Stevens nor Wells responded to requests for comment on their work as registered agents for the two Common Sense Values groups.
Two of these top contributors — Education Reform Now Advocacy and America Votes — are nonprofit 501(c) social welfare organizations, which means they do not have to disclose their donors to the public. These groups are not supposed to have politics as their primary purpose, but quite often spend heavily in elections at both the state and federal level. And because they do not have to disclose their donors, the money trail often dead ends here. There is very little way of knowing the identities of these donors, who — at least partially — supported the campaigns of several Democratic candidates running for seats in the Colorado House of Representatives.
The identities of the original donors — whether they be individuals or corporations — are almost impossible to uncover. However, research conducted by the Center for Responsive Politics has added some clarity as to where organizations like America Votes receive their money. For example, a CRP analysis of tax filings from 2014, show that two of America Votes' largest donors were the League of Conservation Voters and Patriot Majority USA, a non-disclosing group run by Democratic operatives that has spent millions in federal elections.
Data from the Department of Labor also indicates unions heavily supported America Votes. In 2016, the nonprofit organization received almost $2.6 million from 13 different unions.
The 990 form for America Votes for the 2015-16 fiscal year was the first piece to this dark money puzzle. The tax document showed America Votes gave grants to four different Colorado-based organizations, including Common Sense Values (the 527 organization). The $138,750 Common Sense Values reported it received from America Votes was through one of these grants. America Votes' super PAC also gave Common Sense Values an additional $46,250.
While America Votes is a national organization, it does have state-based affiliatesacross the country. Although Colorado is one of America Votes' "core states," it is still noteworthy that the national organization decided to devote so much attention to this one state, rather than any of their other 20 state affiliates. Following the money trail ultimately revealed the elections in Colorado as the likely reason committees based in the state were receiving extra attention from America Votes.
In the 2015-16 fiscal year, America Votes spent more than $8.4 million. As a 501 (c)(4) organization, America Votes is not supposed to dedicate more than 49 percent of its expenditures to political spending. Sometimes these groups can get around this requirement by reporting certain spending as "educational." The grants given to the four Colorado-based organizations were all marked as "general support" and also reported as political spending in the Schedule C of America First's 990. In all, America Votes gave $333,750 in grants for the 2015-16 fiscal year, bringing its political expenditure total to $1,308,352 — well under the 49 percent limit for political spending.
Put simply, the money funding these Colorado elections came from secret sources and changed hands many times before actually reaching the candidates. Nevertheless, the support seemed to help as 13 out of the 18 candidates who received money won their respective elections and now hold seats in Colorado's House of Representatives. As for the true origins of this dark money, unless regulations around 501(c) groups change, we may never solve the donor mystery.
Calling all HuffPost superfans!
Sign up for membership to become a founding member and help shape HuffPost's next chapter