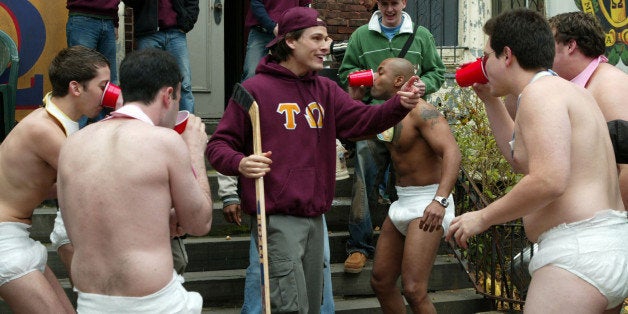 One warm spring night in 2011, a young man named Travis Hughes stood on the back deck of the Alpha Tau Omega fraternity house at Marshall University, in West Virginia, and was struck by what seemed to him—under the influence of powerful inebriants, not least among them the clear ether of youth itself—to be an excellent idea: he would shove a bottle rocket up his ass and blast it into the sweet night air. And perhaps it was an excellent idea. What was not an excellent idea, however, was to misjudge the relative tightness of a 20-year-old sphincter and the propulsive reliability of a 20-cent bottle rocket. What followed ignition was not the bright report of a successful blastoff, but the muffled thud of fire in the hole.
Also on the deck, and also in the thrall of the night's pleasures, was one Louis Helmburg III, an education major and ace benchwarmer for the Thundering Herd baseball team. His response to the proposed launch was the obvious one: he reportedly whipped out his cellphone to record it on video, which would turn out to be yet another of the night's seemingly excellent but ultimately misguided ideas. When the bottle rocket exploded in Hughes's rectum, Helmburg was seized by the kind of battlefield panic that has claimed brave men from outfits far more illustrious than even the Thundering Herd. Terrified, he staggered away from the human bomb and fell off the deck. Fortunately for him, and adding to the Chaplinesque aspect of the night's miseries, the deck was no more than four feet off the ground, but such was the urgency of his escape that he managed to get himself wedged between the structure and an air-conditioning unit, sustaining injuries that would require medical attention, cut short his baseball season, and—in the fullness of time—pit him against the mighty forces of the Alpha Tau Omega national organization, which had been waiting for him.
REAL LIFE. REAL NEWS. REAL VOICES.
Help us tell more of the stories that matter from voices that too often remain unheard.