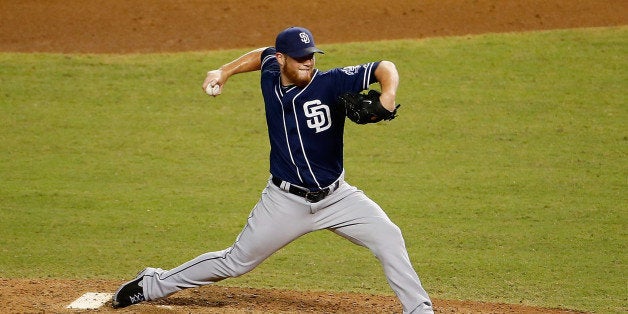 As a member of Red Sox nation, my heart soared upon hearing news that we had traded for Craig Kimbrel. Kimbrel's four-year stretch in Atlanta from 2011 to 2014 brought back flashbacks of Eric Gagne's beautiful three-year stretch with the Dodgers in the early-aughts, and he has a chance to be the best in a generation of incredible late-inning flame-throwers. He may have had a slight down year with the Padres last season, but he was still a well above average closer. The idea of watching him succeed Koji Uehara as the next great Sox closer was undeniably exciting, new GM Dave Dombrowski had made a serious splash in his first major move with the Sox. However, it didn't take long to realize this wasn't a trade to be excited about at all.
To preface, Kimbrel had a 1.50 ERA from 2011-2014 as a Brave, a stint that included four All-Star appearances, four top-ten Cy Young finishes, and two MVP down ballot appearances. It was a borderline historic run that was mostly overlooked by national media, most likely because the Braves never made a deep postseason run with him on the roster. He was part of the mass exodus from Atlanta to San Diego after the 2014 season as a result of the Braves rebuilding process. His numbers declined, a 2.58 ERA and a career low 13.2 strikeouts per nine innings, but he was still a very useful closer.
San Diego's all-in season was a bust, and now Kimbrel will be pitching in the AL for the first time. In his time with the Tigers, Dombrowski was famous for his willingness to trade multiple top prospects for what he considers stars, and this is textbook. He took full advantage of the Red Sox's deep farm system and traded two of their top six prospects, plus two other serious ones, for a player likely to contribute about 65 innings a season. Manuel Margot and Javier Guerra, the two top prospects, were also top-100 overall in the league, checking in at #25 and 76 respectively, according to MLB.com.
The argument can be made that the Red Sox's abundant farm system and logjam on the major league roster make seemingly top prospects easier to part with than they might be on other teams. The argument goes something like this; with Hanley Ramirez moving to first base after last years aborted experiment in left field, and Pablo Sandoval stuck at third base until David Ortiz is elected governor of Massachusetts, even All-Star Brock Holt is stuck without any sure source of playing time, let alone the promising young corner infielder Travis Shaw. The outfield is a similarly sticky situation. Mookie Betts has center field locked up, with promising young players Rusney Castillo and Jackie Bradley Jr. having the inside track on the other two positions for years to come. The only need for another outfielder in the next five years is if one of them goes bust. With so many young guys and guys with long contracts already on the roster blocking prospects, we should be aggressive in trading a commodity other teams tend to hoard.
It's a shaky argument at best. Committing to starting Hanley Ramirez and Pablo Sandoval for the foreseeable future is a very unnerving proposition. Those two didn't just have road bumps last year; their 2015 seasons were unmitigated disasters. And they are far from a lock to bounce back. Ramirez is a career-long malcontent with durability issues and no defensive ability. Sandoval was overrated even before signing an absurd contract, and his conditioning is a very serious issue. It's easy to point at Juan Uribe as a model of a seemingly overweight third baseman continue to produce late in his career, but Uribe is an absolute athletic freak in a way Sandoval has never been, and Sandoval is much heavier than Uribe has ever been.
Instead of committing to a future with those two heavily involved, the Red Sox may be better served by holding onto the prospects in the chance that they are able to offload Ramirez and/or Sandoval in a Carl Crawford to the Dodgers type trade, or if they are able to use them as bargaining chips in that sort of deal. And even if Dombrowski for whatever reason was convinced he had to move these guys this offseason, it seems much more reasonable to target their actual area of need, the rotation.
The Royals proved that every rule has an exception, but it generally doesn't make much sense to focus on building a great bullpen without a worthy rotation. The Red Sox rotation last year was horrendous, and seeing them divert assets away from fixing that issue is a bit concerning. Last year's only competent starting pitchers were rookie Eduardo Rodriguez, who just managed to eek out an above average ERA, and Clay Buchholz during his brief 18 game stint. Eduardo seems likely to improve, but Buchholz is notoriously inconsistent from game to game and season to season. An unbelievable true fact, he has yet to post a season where his ERA was within one run of the year before or after.
Things get uglier fast. Last years acquisitions of Wade Miley, Joe Kelly, and Rick Porcello seem extremely ill fated, and all posted ERA's over 4.40. Porcello is making $20 million a year for the next four years in what could be one of the most inexplicable contracts of all time. Miley and Kelly aren't making huge amounts of money, but their contracts don't expire anytime soon and they are most likely untradeable. Young guns Henry Owens and Steven Wright disappointed in small appearances at the major leagues. The top three pitching prospects: Brian Johnson, Michael Kopech, and Trey Ball are unlikely to make it to the major league level anytime soon.
Things are truly bleak on that front; the only way forward seems to be to through free agency and trades. The current free agent pitchers group is truly excellent, with David Price, Zach Greinke, Johnny Cueto, and Jordan Zimmerman headlining. The idea of the Red Sox signing two of the aces seemed like a cute luxury option, but peering into the future it might have to be a requirement. The next set of free agent pitchers is extremely unexciting. The oft-injured Stephen Strasburg and Andrew Cashner look to be the stars, certainly nothing franchise altering. Jake Arrieta arrives as a free agent the off-season after that, but that's about it in that summer too. So if the next two free agency years don't offer anything good, this one becomes far more important than we would normally anticipate.
Signing only one of this year's aces will improve the team, but won't turn this into a good rotation by his lonesome. Two certainly would seem to though! The problem with this is all the money the Red Sox are already paying to terrible pitchers. If two aces join the team, two of the big money guys are getting pushed into the bullpen or being cut, which could be a really hard sell to the management. It's easy for us to see these guys as sunk costs that should be disregarded, less so for the guys actually cutting the checks.
That leaves the only realistic move to improve the rotation through trading prospects. And now they'll be starting with two of our top six gone already. The opportunities to trade for starting pitching we may be missing out on is really scary, and browski has already stated that he is "probably" done with big trades (although Dombrowski said a similar thing hours before swapping Prince Fielder for Ian Kinsler while at the helm of the Tigers). The opportunity cost of swapping those two guys out now, instead of waiting to see if they can turn into a front of the line guy, is real.
All of this doesn't even address the fact that Koji Uehara is already a top closer, who even outperformed Kimbrel last year! Yes, if the Red Sox are in the playoffs having a 1-2 punch of Uehara and Kimbrel could make the difference, but it certainly won't matter as much if they're handling three-run deficits at the hands of Miley, Kelly and Porcello. True, Uehara is 40 and sure to decline soon, but Kimbrel is only under three more years of team control.
When the Red Sox hired Dombrowski I was elated, never mind the critics who say he had no regard for prospects, he's just an aggressive guy! Look at how often the Tigers were in the playoffs, and where would the Blue Jays be if they were afraid to part with prospects? It didn't take too long for the honeymoon to end and for Red Sox nation to have to face the ugly side of Trader Dom.
REAL LIFE. REAL NEWS. REAL VOICES.
Help us tell more of the stories that matter from voices that too often remain unheard.