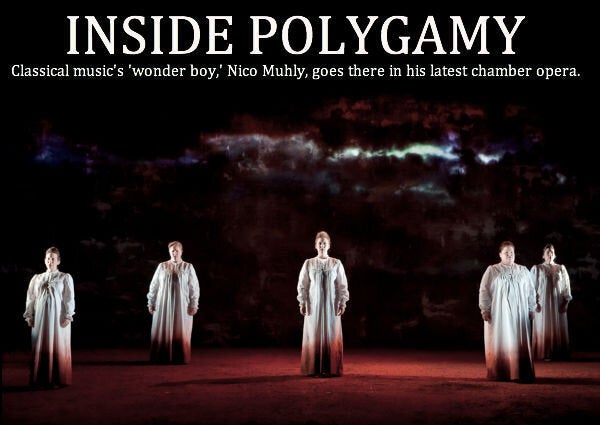 "In order for a chamber opera to have legs, you want to have more women's voices than men's and you want to keep it seven or eight people," Nico Muhly says. "I was like what's seven or eight people, more women than men ... Oh yeah, polygamy."
And so, "Dark Sisters", Muhly's new chamber opera was born -- polygamy as practical thinking.
Making its world premiere Wednesday, "Dark Sisters" explores the lives of five sister-wives in the Fundamentalist Church of Jesus Christ of Latter-Day Saints, in the days following a massive raid on their community that leaves them without their husbands, or their children.
FLDS, one of the Mormon Church's largest fundamentalist splinter groups -- still holds plural marriage up as a main tenet of devotion. "Dark Sisters," with libretto by playwright Stephen Karam, depicts not only the religious tumult these five FLDS women face, but also the hysteria of the national media in reaction to the raids.
Muhly, who just turned 30, has been seized upon by the classical music press as a musical wunderkind and is frequently referred to by terms like "prodigy" and "wonder boy." His work includes everything from soundtracks to movies like "The Reader," to collaborations with indie bands like Grizzly Bear, along with a long catalogue of works for voice, piano, chorus and orchestra.
At 32, Karam is another artist who has found success young -- his second play "Sons of the Prophet," just had its world premiere, while his first, "Speech and Debate" has been produced over 100 times since it debuted in 2006.
The Huffington Post sat down with Muhly and Karam at Muhly's New York apartment to discuss the opera -- Muhly's second, following this summer's debut of "Two Boys" and Karam's first -- and the history "Dark Sisters" portrays.
Both have visited Colorado City multiple times in preparation, an isolated FLDS community in Arizona with an estimated population of over 4,000 people.
Karam rented a car to drive out to the area, which is almost completely privately owned. Residents of the town farm the land, build the houses, tithe almost all of their money to the church and live what, according to Muhly, is basically a self-sufficient, fully socialized community.
"You are definitely making an entrance and you stand out like a sore thumb," Karam says of his recent visit there. "The women who can drive don't have licenses or license plates. If they try to get the hell out they get pulled over automatically. All the sheriffs are FLDS."
To research, the two read through all of the limited, but available, literature on modern FLDS, which consists of about 60 texts, including memoirs written by ex-sister-wives, as well as instructional pamphlets for children.
"There's this deliciously soap opera-ish thing," Muhly recalls. "In one, this woman has left the compound, she's remarried, all of her kids are out but one. She's talking about one of her former sister-wives who at this point is dead and she's still remembering in 1989 that this bitch had taken a hotel conditioner and hidden it in her encouragement box -- So crazy!"
"There's literally a 40-page meditation on this Kotex box," Muhly added, of one of the texts.
"It'd be the best aria ever," Karam chimes in.
"The Kotex box aria," Muhly says.
"Definitely a missed opportunity," Karam says.
But, as Muhly says, "Dark Sisters" is "not like 'Real Housewives.'" Recent and historical events inform the opera: Like the uproar over former FLDS president Warren Jeffs, who was arrested in 2006 for charges that included sexual conduct with minors and incest, and later convicted.
"We're not making this literally Warren Jeffs, who all the hoopla is surrounding," Karam says. "Did we draw from all of this? Of course. We drew from fact."
"Reported fact," Muhly adds.
But Karam and Muhly are more interested in portraying a highly-specific realization of the day-to-day lives of the women involved than in making grand statements about the right and the wrong of the FLDS community, or in sensationalizing their lifestyle.
"It's hard to write a piece like this from New York City and not have it feel judgmental," Muhly says. "That's something we really tried to avoid."
"For every woman who leaves, there are a lot of women who could leave and don't," Karam adds.
Women who leave the faith have often already had multiple children by the time they reach their early twenties, and legally, cannot simply take those children from their husbands. These are women who have no real work experience, and face real roadblocks to providing for any children they might escape with.
"Every inch of leaving is incredibly difficult," Karam says.
"It's not like you leave and move into a happier polygamist institution," Muhly adds.
But Karam and Muhly want to portray the characters of "Dark Sisters" from their own perspective, not just from the media's interpretation.
"There's the flip side of everything," Karam says. "Is this a super pure form of religious freedom or is it kind of slavery?"
"You have to make sure that the culture of the piece reflected all those things," Muhly says. "It'd be easy to do like, 'WOMEN ENSLAVED.'"
Reading his past reviews, it becomes evident that the criticism of Muhly's work is so often intertwined with his age that many writers can't refrain from comment.
"Such is the hype around the young American composer Nico Muhly that it's difficult to judge his first opera squarely," wrote Rupert Christiansen at The Telegraph, opening his "Two Boys" review.
But for Muhly, and Karam, fussing over what the press might say, and will say, has nothing to do with the task at hand.
"Any new opera, especially by a young person is always going to be framed in this narrative -- the future of the art form," Muhly said. "It's great that people are paying attention and l love that opera has people who care enough to be awful. It's hard because the evaluative terms that they're dealing with, it's always this bigger story and it always has some meta narrative."
But, as Muhly and Karam say, it's not their job to think about that.
"We're talking about 'Should she say 'from' or should she say 'to'?" Muhly says. "It's not like, 'Stephen, let's you and us change the world.' We just said, 'Let's just make this thing from scratch.'"
Related
Popular in the Community