Diversity has played a huge ― and necessary ― role in the doll industry this year. Toy creators, like Mala Bryan who created an Afro-Caribbean inspired doll collection named Malaville, have been praised for making their dolls more reflective of society and representing kids of all backgrounds.
Bryan ran into criticism for this, however, when someone told her one of her dolls had a bit too much melanin.
"I think that one doll is a bit too dark," a commenter, who wrote under a SABC Digital News segment on YouTube, said about the doll with the darkest skin tone, Maisha, on Tuesday. The critic wrote that the doll was probably Bryan's least selling item and suggested she get rid of it.
Another commenter, ZoZoZu, responded to his in the best way.
"I don't believe a doll can be too dark," she said. "Black, in all shades, is indeed beautiful and that's what Mala Bryan is trying to communicate to the world."
Bryan posted a screenshot of the exchange on Instagram and praised ZoZoZu for acknowledging the beauty of black skin. She noted on her personal page that she considered ignoring the comment but decided to share it so people can see the prejudice people with darker complexions still face.
"Sending lots of love to the beautiful dark skinned people out there, especially to those that share the same complexion as our #MaishaDoll just know that you black is beautiful," she wrote. She also noted that Maisha is her second best-seller, contrary to what Lincoln assumed.
The original commenter's beliefs are the exact reason why a doll as dark as Maisha needs to exist. There are plenty of little girls with the same complexion who feel empowered when they see themselves in their toys.
"I believe that diverse representation is extremely important," Bryan previously told The Huffington Post, adding that dolls with curly and kinky hair and different complexions were a priority when creating the line.
Bryan's Malaville collection, which includes dolls representing four different shades of black, fills a void in an industry that still has a long way to go before it's truly representative of all backgrounds.
And with the increasing demand of dolls for little black girls, dolls with darker complexions will probably become even more popular.
Before You Go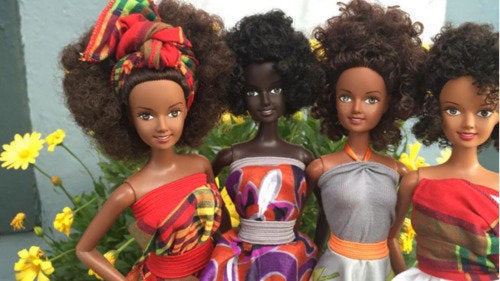 11 Dolls Besides Barbie That Celebrate Diversity
Popular in the Community