Here's the trouble with Hollywood's franchise machine, in a nutshell: Studios are so dependent on big-budget adaptations that they will greenlight several years' worth of movies before a series' first installment has even hit theaters.
This weekend, "The Mummy" inaugurates Universal Pictures' Dark Universe, a streak of films centered on famous monsters that first appeared onscreen in the 1920s and '30s. But the studio didn't even wait for the Tom Cruise spectacle to find success before moving forward with its Dark Universe initiative.
Gunning for a Marvel-esque connected universe, Universal had already announced "Bride of Frankenstein" (starring Javier Bardem as Frankenstein's monster) and "The Invisible Man" (starring Johnny Depp as Dr. Griffin). "The Mummy" director Alex Kurtzman has said a "Van Helsing" script is in the works from Jon Spaihts ("Passengers") and Eric Heisserer ("Arrival"). Kurtzman also revealed last year that the Creature from the Black Lagoon and Wolf Man could be incorporated, as well. Russell Crowe's Dr. Jekyll will link these films.
In a new interview with Fandom, Kurtzman casually added a few additional titles to the Dark Universe queue: "Dracula," "Frankenstein," "Phantom of the Opera" and "The Hunchback of Notre Dame." Especially notable: "Phantom of the Opera" and "The Hunchback of Notre Dame" had not yet been mentioned among chatter about the Dark Universe's development. Meanwhile, "Dracula Untold," the 2014 fantasy starring Luke Evans, was originally intended to kick off the Dark Universe, but Universal has since sidelined that film as a standalone, opting to launch the sequence with "The Mummy" instead.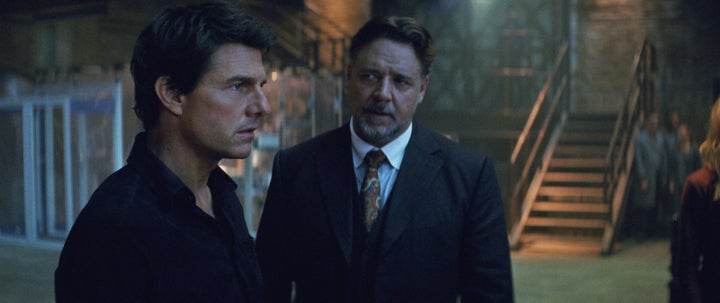 The specifics almost don't matter. It's long been suggested that Universal would crank out mythology-expanding spinoffs as this updated franchise continues, and continue it will. (HuffPost asked Universal reps to clarify the studio's plans, but we didn't not receive an immediate reply.) 
Here's the rub: Universal has no idea how "The Mummy" will perform, yet it's already staking hundreds of millions of dollars on a franchise that will stretch well into the 2020s. (The next installment, "Bride of Frankenstein," is slated for 2019.) In other words, there is no verifiable proof that audiences are interested in these monster flicks, beyond the blanket notion that the characters are already household names. To boot, early box-office tracking for "The Mummy" has been tame. Costing a reported $135 million, the movie is forecasted to lose the No. 1 slot to "Wonder Woman" after earning a lukewarm $35 million domestically this weekend. Like many contemporary franchises with established marketability, that puts the onus on foreign grosses, making patrons in these movies' home country an afterthought. Even if "The Mummy" were to bomb outright with American audiences, the Dark Universe will continue, with a little Parisian pizzazz tossed in, thanks to "Phantom" and "Hunchback." 
Of course, we should all hope these movies are excellent and worthy of sequels. Most of the originals are classics, and there is ample creature fear to be had in rejiggering the stories with modern filmmaking tactics. But it would be nice to confirm their profitability and quality before we reach the point of no return. How many original stories died so this endless derby of reboots and spinoffs could live? Despite Universal finding wild domestic success with "Get Out" earlier this year, the company (like most Hollywood studios) remains knee-jerkingly reliant on pre-established properties that draw international masses, even though many sequels' American grosses don't match their predecessors' success ("Fifty Shades Darker," "Alice Through the Looking Glass," "Independence Day: Resurgence," "X-Men: Apocalypse," "Teenage Mutant Ninja Turtles: Out of the Shadows," "Zoolander 2," the list goes on). 
Alas, this is the Hollywood culture that's taken hold. In the major-studio world, quantity tops quality at every turn. At least we can see some more gravity-defying Tom Cruise stunts along the way?
At its organizing principle, Dark Universe films are connected by a mysterious multi-national organization known as Prodigium. Led by the enigmatic and brilliant Dr. Henry Jekyll, Prodigium's mission is to track, study and—when necessary—destroy evil embodied in the form of monsters in our world. Working outside the aegis of any government, and with practices concealed by millennia of secrecy, Prodigium protects the public from knowledge of the evil that exists just beyond the thin membrane of civilized society…and will go to any length to contain it.
UPDATE: In case anyone needs further evidence of this slippery development slope, the "Mummy" embargo lifted this afternoon and early reviews are not positive. But here's to a dozen more like it, right?

You can be highbrow. You can be lowbrow. But can you ever just be brow? Welcome to Middlebrow, a weekly examination of pop culture. Read more here.
REAL LIFE. REAL NEWS. REAL VOICES.
Help us tell more of the stories that matter from voices that too often remain unheard.
BEFORE YOU GO
PHOTO GALLERY
2017 Summer Movie Preview