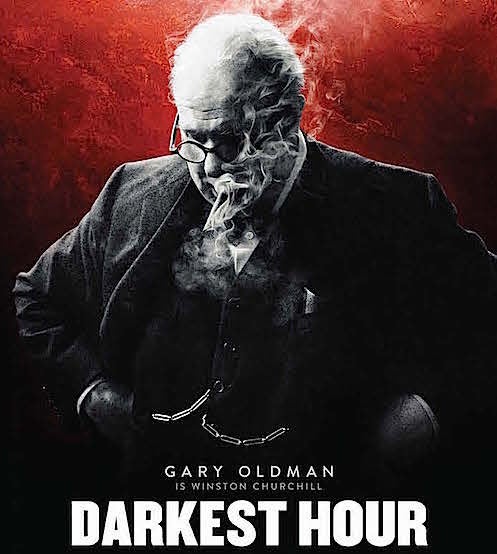 The awards accrue, the questions abound:
How much of the movie, Darkest Hour, is accurate? Did Winston Churchill really descend into the London Underground to poll the hoi paloi about negotiating with Hitler? Did he really drink that much? Did he really say that? Did he really do that?
The answers, in brief (as I understand them), are:
-In Darkest Hour too often no, especially not the movie's most appealing but wholly misappropriated quote (from George Bernard Shaw apparently): "Those who never change their mind never change anything."
-Yes. Winston Churchill did lead England to victory during World War II almost entirely by the considerable force of his considerable will.
Darkest Hour is a terrific movie. The performances are riveting, including and especially Gary Oldman's Golden Globe-winning Winston Churchill, mobilizing the English prosthetic and sending it into battle. The cinematography is gorgeous. The story-telling is gripping. The impact is inspiring.
The facts, however, are juggled, rejiggered and, at times, dispensed with altogether in the name of dramatic license. Which is fine, in my opinion, because a movie is not history. If you want to learn what Winston Churchill actually said and did during his first dire weeks as England's wartime Prime Minster, you must read a book. Or two.
And I am here to help you.
Darkest Hour opens with Winston Churchill awaiting word as to whether, in the wake of Hitler's invasion of Holland and Belgium, Neville Chamberlain will resign and Churchill will be appointed Prime Minister. To understand this critical transition, one should read "Winston Churchill: The Wilderness Years," by Churchill's official biographer Martin Gilbert. Even better, for anyone with the appetite, read the official biography itself; at the very least Volume VI, subtitled "Finest Hour." Another must is the book, "Troublesome Young Men", by Lynne Olson, a superb behind-the-scenes chronicle of Churchill's torturous journey to Downing Street during the run-up to war. Churchill's own six-volume "War Memoirs" (Volume I right through into Volume II) provide a quintessential play-by-play of his unlikely ascent.
Darkest Hour introduces us to Winston Churchill in bed, where he most preferred to work. The full ritual of his late-waking habits, including the scope of his breakfasts, the true scale of his morning drinking (such as it was), his devouring of the morning newspapers and his ensuing dictation sessions with a rotating crew of stenographers, were, of course, best described by those who were actually there.
No one saw more of Churchill during the first year of the war, or wrote better about what he saw, than his principal private secretary, John Colville, in his personal diary — which was finally published years later as a book entitled, "The Fringes of Power."
"He lay there in his four-post bed with its flowery chintz hangings," Colville wrote of Churchill in the throes of composing a speech, "while he chewed a cigar, drunk frequent sips of iced soda-water [note: sans alcohol], fidgeted his toes beneath the bedclothes and muttered torturously under his breath what he contemplated saying."
With writing like that, who needs a movie?
As a writer, Churchill's closest collaborators were the young ladies who took down his dictation – always young, because Churchill's relentless, nocturnal work habits burned out even the most youthful and vigorous. The kid typist depicted in Darkest Hour, Elizabeth Layton, wrote a book herself, "Mr. Churchill's Secretary," published in 1958. Though many in Churchill's circle frowned on this book as a violation of protocol, decorum and privacy, it is well worth reading. Young Miss Layton did indeed grow up working alongside the Prime Minister for the entirety of the war — she did not, however, begin working for him until May 1941, a year after the events depicted in Darkest Hour.
Ultimately, centrally, there is "Five Days in London," without which there would be no Darkest Hour. It was historian John Lukacs's masterstroke in the late-1990s to undertake this short, intensely focused study of Winston Churchill's first weeks as Prime Minister, narrowly concentrated on the five days in May 1940 during which Churchill debated with his War Cabinet whether to negotiate with Adolph Hitler or fight on, alone.
"Five Days in London" was, in fact, optioned by the producers of Darkest Hour and adapted for the film, though credit for Lukacs's contribution is not conspicuous. His book can be read in a night. It is nearly impossible to put down.
A final recommendation — page through "Winston and Clementine: The Personal Letters of the Churchills." For the duration of their 56-year marriage, Mr. and Mrs. Churchill wrote to each other incessantly. Though the regularity of their correspondence was reduced by Churchill's workload during the war (and by his near proximity at No. 10), the couple's wartime letters are especially revealing. See if you can spot the most infamous letter that Clementine Churchill ever wrote to her husband, addressing his increasing incivility to his staff during the first pressure-filled weeks of his Prime Ministership; a letter that she clearly feared speaking aloud to him and reportedly tore up before finally sending.
"I hope you will forgive me if I tell you something that I feel you ought to know," Clementine began. "...My Darling Winston — I must confess that I have noticed a deterioration in your manner; & you are not so kind as you used to be."
Screenwriter Anthony McCarten repurposed this letter verbatim for one of Darkest Hour's best face-to-face dialogue scenes. The letter thus represents a perfect example of art amplifying life, even as it misrepresents the facts of that life. In other words, it is a perfect movie moment.
Calling all HuffPost superfans!
Sign up for membership to become a founding member and help shape HuffPost's next chapter
This post was published on the now-closed HuffPost Contributor platform. Contributors control their own work and posted freely to our site. If you need to flag this entry as abusive,
send us an email
.