Front woman of Bay Area's dark, doom and dreamlike King Woman, Kristina Esfandiari, talks growing up in a spiritually oppressive environment, music as a form of therapy, and the band's first EP: the haunting and addictive "Doubt"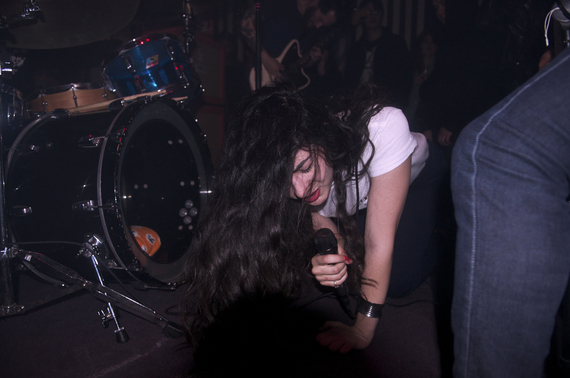 Photo by Gabriela Espinosa

Kristina Esfandiari is popularly known as the former vocalist of shoegaze band Whirr, but more recently has gained her own fanbase from both her solo project Miserable as well as our focus: King Woman. Her voice, ethereal and exquisite, matches the band's drony sound as much as the honest and intimate lyrics do. King Woman is quickly getting the recognition they deserve with positive reviews by Pitchfork and their recent interview with Rolling Stone.
King Woman's "Doubt" has been compared to a doomy Mazzy Star with Black Sabbath influences, and although the inspiration can be heard throughout the EP, the sound they've created is truly one of a kind and it stems from profoundly personal experiences you'd have to see to believe, but listening to the EP is a second close:
theflenser.bandcamp.com/album/doubt
What feels different about King Woman in comparison to your other and past projects - regarding both emotion and sound?

I feel most like myself when I write for King Woman. King Woman songs are very moody and dark. It's cathartic as hell. I write to tell my story and the story of people who couldn't find their voice in this world. As you can imagine, I've heard so many horrific and generally insane stories from fans about their upbringings. I wasn't anticipating this kind of reaction from the EP, yet here I am.

What or who inspired Doubt?

Doubt outlines my struggle of leaving religion (the manipulation within that community) and being on a trek to deprogram from it. It's also about leaving a three year relationship (King Of Swords) which felt like a divorce and was the hardest decision I've ever made in my whole life.

I read about some of your experiences during childhood which you described as a spiritually oppressive environment, would you tell me a little bit more about that?

In regards to my childhood experiences with religion, I can't really disclose much information about that. I don't want to point fingers toward anyone in particular. Many of the adults involved were innocent in the fact that they really had no idea what they were doing. I want to make it clear that I love my family and friends, regardless of their beliefs, and sharing my story is pointed in no offense to anyone.
I can say that a lot of my thoughts growing up were confusing and scary; I suffered from night terrors most of my life. Everything was demonized; a simple television show, song, product. Each part of everyday life had a connection to the supernatural (God vs. Lucifer) much like a false reality. In retrospect, it's terrifying because the most adamant and militant personalities in the community were the ones whose lives were absolute messes. It was like they couldn't fix what was wrong for them, so they put blame on these evil references in religion as a form of coping with their own struggles, then projected this onto others by offering prayer and guidance. People in church always tried to "cast demons out of me," felt like a guinea pig. I guess you could say I was exposed to a lot of darkness disguised as light.
Do you feel like creating King Woman has served as a successful outlet for the emotions you have surrounding this?

Absolutely, and it isn't just for me. Most of the young people emerging from this community don't feel they can tell others some of the things they have witnessed, or are dismissed as being confused for finally thinking for themselves. I want to make this a conversation, and King Woman opens the door for that.

How have past projects, like Whirr, influenced who you are as an artist and the sound you've created with King Woman?

I can't say that Whirr has influenced my sound at all. I usually get songs from within my own struggles and experiences. Though I did learn a lot about working in a studio while I was in Whirr.

Does much of your inspiration come from within, grappling with your past, or your current surroundings including other artists you spend time with?

My inspiration really comes from within; I write in an intuitive manner. Outside influences, like social issues, relationships/friendships can contribute as well.

You guys are kicking off your West Coast tour (which I will be catching a show or two of), so what's next for King Woman when you return?

We appreciate it! We will be writing and recording, planning more tours, and playing some festivals this summer. I have been incredibly busy with a recent move, working on King Woman and other projects, this year is going to be wild.

If you get a chance, go catch a show or at least put "Doubt" on the top of your to-listen-to list because a creation this brilliant can be as therapeutic and cathartic for the listener as it was for the writer, and trust me, you don't want to miss out on a sound like this. It may awaken a part of your consciousness buried deep inside, inspire you to fight your own demons, or you just might catch yourself floating into the empyrean, all consumed by the strumming and humming King Woman is sure to hypnotize you with.
Popular in the Community