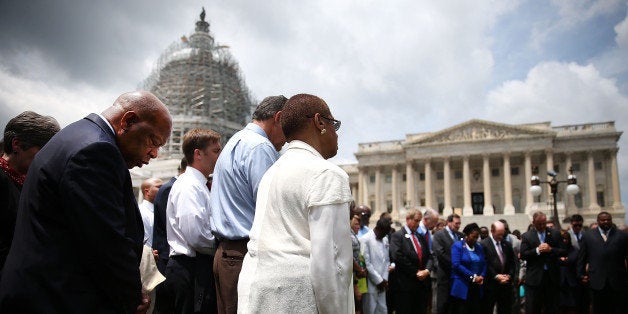 In Charleston last night, they gathered at "Mother Emanuel" to study Scripture.
The congregation, born out of the fight over slavery and whose first pastor, a slave, was put to death for leading a slave revolt, knew darkness and the deliverance of God's light of justice that shown brightly when the walls of the Confederacy fell, when the Voting Rights Act passed, and when the United States elected our first African-American president.
Last night, darkness returned to the church, in the form of a young white man who came, he said, to kill black people. "You rape our women and you're taking over our country. And you have to go," said the alleged killer, Dylann Storm Roof, a white South Carolinian, according to media reports.
South Carolina Governor Nikki R. Haley asked for prayer and said, "We'll never understand what motivates anyone to enter one of our places of worship and take the life of another," according to The New York Times.
Governor Haley could not have been more mistaken.
Racism caused this. Easy access to guns caused this. Hate caused this.
It would surprise no one if it were determined that mental illness played a role in the events of last night. But this event did not begin last night. It started with the slave trade. It will be remembered and marked as an ugly stain in America's on-going struggle for justice.
To that small minority who see this crime against humanity as a victory: Know that God is with the people of Mother Emanuel. God is with those working to end gun violence. God is with those seeking to create more just systems of accountability. God is with those working for economic justice. Yes, God takes sides and calls those of us who follow that call to take sides with both humbleness and a fierce desire for justice.
"The light shines in the darkness, and the darkness did not overcome it."
-- (John 1:5 NRSV)
Calling all HuffPost superfans!
Sign up for membership to become a founding member and help shape HuffPost's next chapter