For years, many people have only known Darlene Love as that singer who performs "Christmas (Baby Please Come Home)" every year on The Late Show with David Letterman. They didn't know that for years she sang with the biggest names in the music industry, including Elvis Presley, Aretha Franklin and Dionne Warwick. They didn't know it was her voice on the hit records "He's a Rebel" and "Da Doo Ron Ron." And they probably didn't know the struggles she went through, including cleaning houses to stay financially afloat.
That all changed when Love received a standing ovation at last year's Academy Awards as she belted out "His Eye is on the Sparrow" while accepting an Oscar for Twenty Feet From Stardom, a documentary about the lives of background singers. Now at 73, Love is in demand. She will attend the Grammy Awards next month for the very first time where Twenty Feet From Stardom is nominated for Best Music Film. OWN has begun production on a movie based on her memoir, which will star Toni Braxton as Love, and this spring she'll release her first solo album in 16 years.
Produced by E Street Band guitarist Steven Van Zandt, the album will feature songs by Elvis Costello and songwriting duo Cynthia Weil and Barry Mann, who wrote such songs as "You've Lost That Loving Feeling" and "Somewhere Out There." Love says the album is going to let the world know who she is.
"There are a couple generations of people who have never heard me sing as a recording artist," she says. "Those who have heard me are old fans who continue to buy all of the things they redo. A lot of the people who saw me in the Lethal Weapon movies didn't even know I was a singer. So, there are a lot of people who are going to hear a whole other Darlene Love. It's going to be a visit to the past and brought up to the present."
I caught up the Rock and Roll Hall of Famer to talk about the past, the lessons she's learned in life and how her personal and professional life often intersects.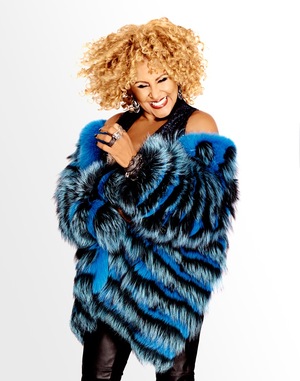 I love how active you are on social media. You recently posted on your Facebook page: "Life is perishable -- the quicker you consume it, the better it feels. Stop thinking, start living." What does that mean to you?
The whole idea is you can't sit around and do nothing. You have to get up and start living one day at a time. That's what I did my entire career. You can't sit around and say, "Oh, poor me. Nobody likes me. Nobody is giving me a job." You have to get up and go. If you sit at home and do nothing, that is what is going to happen.
At the time when many of your peers were having so much success, did you ever think, "Why is this not happening for me?"
When I was a backup singer, I enjoyed it. It wasn't about poor me or why is Dionne [Warwick] having so much success or why is Tom Jones having so much success? We had so much fun. They never treated me like a backup singer. They treated me like their peers. I ended up working with Dionne for so long. That's another trap you can get into-- you can get so comfortable. If that's what you want, fine, but there was something in me that said, "This is not all there is. I'm a great singer. I can do background, but people could see me in a better light if I was out in front." All the people I worked with were wonderful. They would always ask my opinion on things. I was never being put down like an old chair---"You sit down here until I need you." That also helped me to say there is something more to what I'm doing.
If you could go back in time, what would you say to the Darlene Love who was just starting out in the music business?
I would have started my solo career much earlier. I didn't start my solo career until I was 40. I had been through so much. I had lost my home. Nobody would hire me. If you go through tough enough times, you will make it if you keep believing in yourself. That's the bottom line for anybody pursing any career. Somebody will hire you eventually. Somebody will give you a chance. It's hard to find that one person who will say, "I'm going to roll the dice for you." That one person is there, though. You just have to find him.
How did you manage to keep pushing forward during the learner times?
It took a whole lot of faith in God. I know God loves me. I tell people all the time I'm one of his favorite childs. I had to believe in something bigger than me -- bigger than man. I had to believe that God would send somebody across my path to keep my dreams alive.
In your career you've truly paid your dues. What can the performers of today learn from you and your generation?
I don't think they really learned. I think they think they are better than we are. I really do because they didn't have to go through what we did. I'm not putting them down, but they have not had to live in reality. They become stars over night. When I came along with people like Dionne and Frank Sinatra, they weren't singing to 100,000 people at one time. The kids today are singing in stadiums. Most of the places where Dionne or Tom Jones played sat 2,000 or 3,000 people. Unfortunately, these stadiums they sing in are so big that there is no connection. I worked with Cher for a couple of years when she reemerged. She worked in places that held 60 or 70,000 people, but she didn't start out like that. She worked in Vegas for years. That's really up front and close. That's really different from the entertainers who are out there today.
What would you say is the greatest lesson you've learned in your life thus far?
To keep humble. Really and truly. When you think you're better than or all that, that really stifles you. If you can keep a humble heart and a grateful heart, everything will revolve around that. I'm thankful every day that I wake up that I can still sing and that I can still breathe.
I'm sure having your loving husband, Alton Allison, for close to 31 years helps!
He takes very good care of me. I'm two personalities. I'm Darlene Allison at home, but once I leave for work, I'm Darlene Love. He knows the difference, and he has to take care of both of them. When I'm fussing like you would with a manager or a lawyer, I go through that with him when I'm Darlene Love. But as Darlene Allison, I'm at home and a wife. Once I leave home and I put that Darlene Love hat on, I'm the artist, and it's a whole other ballgame. I don't want to be mean or anything, but you have to treat me like the artist I am. He knows not to come to me with any problems [before a show.] If there's anything we need to discuss, it can wait until after the show.
This is my husband, I'm going to tell him we're wrapping up -- "I'm doing an interview, and I'll be through in a few seconds. I'll call you right back, dear." See, you're getting Darlene Love and Darlene Allison at the same time!
REAL LIFE. REAL NEWS. REAL VOICES.
Help us tell more of the stories that matter from voices that too often remain unheard.