Prosecutors in Wisconsin have charged a man with five counts of first-degree intentional homicide after six people were killed when a driver mowed down a crowd at a Christmas parade with an SUV.
Darrell Brooks Jr. was charged on Tuesday in Waukesha County Circuit Court for the crash in Waukesha on Sunday that, in addition to the fatalities, injured at least 62 people. Brooks, 39, was originally charged on five counts, however prosecutors said a sixth will be filed because a sixth victim — a child — died Tuesday afternoon.
Under Wisconsin law, a conviction of first-degree intentional homicide carries a mandatory life sentence. Other lesser charges are expected to be filed against Brooks related to the dozens injured. Bail had been set for Brooks on Tuesday at $5 million.
As a result of the crash, at least six people died. Among the dead are 79-year-old Virginia Sorenson, 71-year-old LeAnna Owen, 81-year-old Wilhelm Hospel, 52-year-old Tamara Durand, 52-year-old Jane Kulich and 8-year-old Jackson Sparks.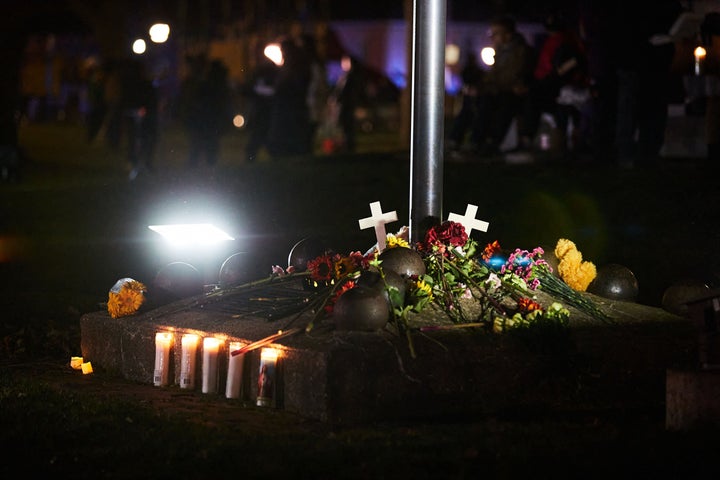 Jackson's family announced on their GoFundMe page that he died on Tuesday afternoon. Jackson, along with his 12-year-old brother Tucker, were both hit during the attack. The family's church, LifePoint Church, confirmed Jackson's death.
According to the page's organizer, the family is asking for privacy "to allow Tucker to continue to heal physically" and for the family to "mourn the tremendous loss of their sweet little boy who is now under the care of Jesus."
A Waukesha police officer, identified in the complaint as "Detective Casey," said that he heard a horn honking from an area filled with parade participants and upon investigating began to see people spreading apart as a red Ford Escape drove southbound.
"As the Ford Escape was at White Rock Avenue and East Main Street, Detective Casey stepped in front of the Ford Escape and pounded on the hood of the vehicle and yelled multiple times, 'Stop,'" the complaint read. Casey was also reportedly wearing multiple items that clearly identified him as police, including an orange safety vest.
The SUV continued driving, then at a slow speed, and brushed Casey off the front of the vehicle in a way that positioned the detective along the driver's side. Casey then pounded on the driver's door while continuing to yell, "Stop." He subsequently identified the driver as Brooks.
Casey chased the SUV on foot and observed the driver accelerating. The detective broadcast over the radio that the car had entered the parade route and that he needed emergency backup — but a few seconds later, Casey heard on the police radio that the SUV was striking people and continuing along the parade route.
"While the defendant was driving westbound on East Main Street, he struck numerous pedestrians, which included both parade participants and spectators located on the side of the street," the complaint stated.
Another member of the Waukesha police force, identified in the complaint as "Officer Butryn," said he saw the red Ford Escape traveling west and he began walking into the parade to try to get the driver's attention to stop the vehicle. The SUV then turned toward Butryn so that the officer was standing directly in front of it. Butryn also was wearing gear identifying him as police, and he put his hands up and repeatedly yelled for the driver to stop, according to the complaint.
Butryn reported that the SUV was initially staying in an open lane between the parade participants and spectators ― a move that was caught on video by multiple parade watchers. The driver looked straight ahead, and it "appeared he had no emotion on his face," according to the officer.
The driver then passed through an intersection where he could have turned away from the parade route, Butryn said, but he continued west and began to speed up. It appeared that the SUV was braking but then rapidly accelerated and abruptly turned left into a crowd of parade participants.
"At this point, it was clear to Officer Butryn that this was an intentional act to strike and hurt as many people as possible. Officer Butryn continued to run westbound on East Main Street, trailing the vehicle and its path," the complaint stated. "He observed the vehicle appeared to be intentionally moving side to side, striking multiple people, and bodies and objects were flying from the area of the vehicle."
Butryn said that he then "began to encounter multiple casualties," with people "pulling at him, saying that they needed assistance with injured parties." The officer told them to stay with the victims until ambulances arrived, and he continued to chase after the vehicle to try to prevent more casualties.
Casey told someone identified in the complaint as "Officer Scholten" where the SUV was headed and that it had run over people. Scholten then shot at the vehicle three times, according to the complaint.
NBC News published doorbell camera footage that appeared to capture Brooks' arrest. The footage showed Brooks, in just a T-shirt, knocking on a homeowner's door and asking for help in calling for a ride. Police soon after had surrounded the house and shouted for Brooks to put his hands up. Brooks then stood on the porch and held his hands up, shouting, "Whoa, whoa, whoa!"
Brooks had been free on $1,000 bail in a Milwaukee County case earlier this month in which he'd been accused of intentionally striking a woman with his car after a fight.
Members of the community gathered in Waukesha's Cutler Park on Monday night for a vigil. Several members of Milwaukee's "Dancing Grannies" were among the dead, and more than a dozen children were hospitalized. At least five children were in critical condition as of Tuesday evening, with injuries including facial abrasions, broken bones and serious head injuries.
Popular in the Community