OCEANSIDE, Calif. ― For the first time in 15 years, Republican Rep. Darrell Issa is fighting to hang on to his seat in Congress ― and it's probably as much Donald Trump's fault as it is his own.
Issa was taken by surprise when a former Marine colonel, Democrat Doug Applegate, had a strong primary turnout in June that propelled him onto the November ballot.
Applegate, 62, has never held political office before. He'd never even run for office before jumping into this race. Applegate is running as a progressive, one who's for repealing Citizens United and wants to implement a carbon tax. He's also a veteran who served in Iraq ― "a strategic blunder," he says ― and a retired trial lawyer who decries the "racist, unjust" U.S. criminal and civil justice system.
Despite being an unknown, Applegate came within 5.3 points of Issa in California's free-for-all primary system, where the top two vote-getters make it to the general election. The two will now face off again next month. In a normal year, Issa probably wouldn't have to worry. But as Trump falters nationally, there's a growing fear that he and other congressional Republicans ― even those from seemingly secure districts ― will be pulled down as well. Indeed, if 2016 is going to be a wave election, one where the Democrats potentially retake control of the House of Representatives, it will be by scoring once-inconceivable victories in races like the one in California's 49th district.
Political watchers see the Issa race as a barometer of broader political winds. For the first time in his career, the congressman's re-election is in doubt. The Cook Political Report, a nonpartisan newsletter that analyzes elections and campaigns, moved Issa's race from the "likely Republican" column to "toss up" last week.
An internal poll for Applegate's campaign conducted late last month had the Democrat up by 4 points, and found a favorable environment for Democrats in the district more generally, with Hillary Clinton 14 points ahead of Trump. Nationally, an NBC/Wall Street Journal poll ― conducted after the release of a 2005 tape of Trump saying he can get away with grabbing women "by the pussy" ― found Democrats with a 7-point advantage on generic congressional races. (Issa's own internal polling puts him up by 9 points, however, an aide told The Huffington Post.)
Democrats are riding the anti-Trump trend in this coastal district, home to the scenic beach towns of Orange County and palm tree-lined streets of San Diego County. They are not just highlighting Issa's Trump endorsement, or that the congressman is sticking by Trump until his bitter end. They're doing their best to cast Issa, the richest member of Congress with an estimated $254.7 million net worth, as an enabler of the Republican presidential nominee, a man cut from the same cloth.
Democrats have tried to further cement the image of Issa as a Trump clone by turning his reputation as one of President Barack Obama's most persistent pests into an electoral liability. Issa delighted in being the self-appointed gadfly during his time as the chairman of the Oversight and Government Reform Committee from 2011 to 2015, before he was term-limited out of the post. A 2010 New York Times profile quoted the congressman as saying he considers it a "compliment" when people "call me a pain." And he's kept up his annoying ― and annoyed ― demeanor since leaving the chairmanship. Last year, he tried to get into a private deposition on Benghazi, but Rep. Trey Gowdy (R-S.C.) kicked him out because he wasn't a committee member.
But what entertained and delighted Republicans critical of Obama may turn off voters tired of brash politicos.
"Issa was Trump before Donald Trump," said Applegate's spokesman, Robert Dempsey.
Issa's campaign remains confident he will win. His camp argues that Applegate's success in the June primary was largely due to the fact that Sen. Bernie Sanders (I-Vt.) and Clinton were still competing then, and therefore driving up turnout on the Democratic side. 8
Issa also has history and demographics on his side. The district leans heavily Republican, with an 8-point voter registration advantage ― though that's much less of an advantage than four years ago, when Republicans were up 14 points among registered voters. Issa won his eight previous races with no problem ― defeating his opponent by a 20-point margin in the 2014 race and a 16-point margin in the 2012 race. In the Orange County part of the district, the population is far more Republican, and allies of the congressman say it will serve as his firewall.
"Obviously, the primary result raised some people's eyebrows," said one national GOP operative who has been following the race closely, who spoke on condition of anonymity to talk freely about the state of the race. "But this is a Republican district; Republicans have a registration advantage."
Kurt Bardella, who was Issa's trusted congressional aide before leaving to run his own consulting firm, was adamant in a September interview that Trump would have little effect on House members. But Bardella's tune changed a week later when the Trump tape leaked.
"The lack of courage and leadership [within the Republican Party] is striking," he said in a follow-up interview. "The biggest effect Trump could have that is most concerning to everyone is on turnout. With dissatisfaction at the top of the ticket and the [California] Senate race being between two Democrats, there is less incentive for Republican voters to turn out than in years past."
But Bardella stood by his previous assessment that comparing Issa directly to Trump was unfair and wouldn't work. "For better or worse, Darrell's established his own political profile," he said.
Issa also has a cash advantage. At the end of the last filing period in June, his campaign had $3.7 million on hand to Applegate's $135,563. "There's no question we'll have the resources we need to win," said Issa's spokesman, Calvin Moore.
But Applegate recently got an assist from the Democratic Congressional Campaign Committee, which has included the race in its "Red to Blue" program targeting districts it believes it can flip. The DCCC put $2.1 million into television ads in the district in early October. The Rothenberg Report, a nonpartisan newsletter that tracks House, Senate, gubernatorial and presidential races, changed the race from a "safe Republican" designation to "Republican favored" earlier this month.
"The DCCC can keep wasting money in our district, but they're not going to get very far with a flawed candidate like Doug Applegate," Moore said of the committee's investment.
Issa's confidence is beginning to wane. While he's refused to revoke his endorsement of Trump, he is evidently anxious about being associated with him. New mailers sent out by his campaign showcase Issa's alliance with Obama to pass legislation that established a bill of rights for survivors of sexual assault.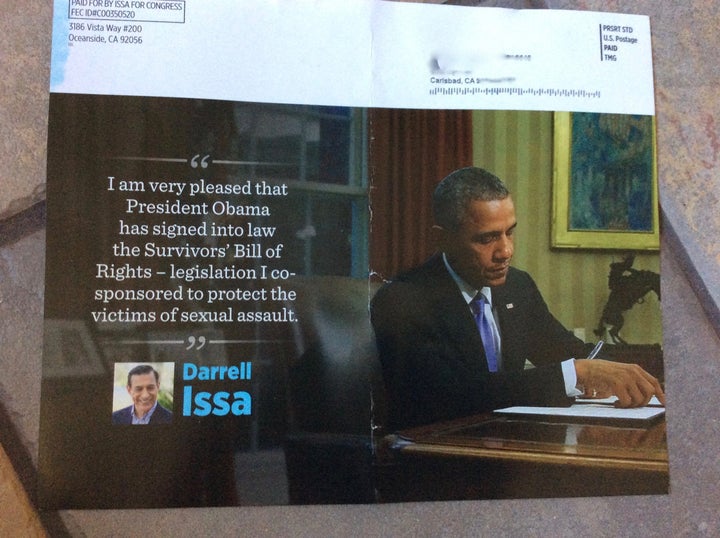 But relying on Trump to pull down other Republicans might not be enough for Applegate to score a major upset victory. He has to make a proactive case to get out those Sanders supporters that Issa's campaign believes will stay home.
The difficulties of getting those voters engaged were evident at a recent campaign event. Nearly every voter who came to hear Applegate speak in the home of an affluent Oceanside resident last month had voted for Sanders in the primary. Over cheese plates, Applegate and the group chatted about local issues. He was able to engage many of the attendees in one-on-one discussions as they trickled in after leaving work.
One attendee told another that while he couldn't bring himself to go out and campaign for Clinton, he would knock on doors for Applegate ― an indication that those who "felt the Bern" might not stay home just because they are unhappy with the top of the ticket.
"I'm running for Congress because I just got tired of Darrell Issa being an embarrassment," Applegate told the attendees, to laughs and cheers.
Applegate, dressed in a navy blue suit, stood in the center of the living room as the attendees huddled around him in chairs, nodding in approval as he laid out his platform. The crowd murmured some "amens" and "hear, hears" as he mocked Issa and touted how his campaign had come within striking distance in the primary without any money or help. He spoke confidently about the DCCC's decision to invest in his race during the stretch run.
"The DCCC doesn't decide to go all in and really start spending money against an eight-time incumbent, backing someone who's never held political office, unless they think the numbers are there," Applegate told the attendees. "The DCCC didn't make an emotional decision. That organization doesn't have any emotions."
But with the investment from the DCCC has come strategic tension. The national party wants to make the race about Trump, and while Applegate is happy to oblige, he appears more intent on directly going after Issa.
At the meet-and-greet, he talked up his plans for veterans, jobs and addressing climate change. While his talking points are mostly progressive mainstays, his real selling point is his military record. Issa is also a veteran, serving in the Army from 1970 to 1980 and reaching the status of captain. But Applegate did combat tours in Fallujah, Baghdad and Ramadi in the early 2000s and his career in the Marines spanned 32 years. He retired in 2006, and argues that his recent experience gives him insight that Issa lacks.
"I think that Congress needs more people that actually served a combat tour before they say, 'Well, we just need to send in the military, because this will be quick and easy,'" he said.
After completing basic training for officer school, Applegate got a deferment to return to college and then to attend law school. He returned to Quantico in 1982 to attend the Basic School for commissioned Marine lieutenants, but asked to be a "grunt" ― military speak for joining the infantry. He says that experience has given him "a different perspective."
It's a biography that has resonance in the district, with its 45,000 veterans and the Camp Pendleton Marine base.
Elizabeth Perez, a 38-year-old Navy veteran, was drawn to Applegate's story. She said she plans to vote for him largely because she thinks he would better serve veterans, specifically by pursuing health care options tailored to female vets. She's the third generation of her family to serve in the military, and said she's voted Republican in the past, though never for Issa.
"Yes, Darrell Issa is a veteran, but [Applegate] served in combat," Perez said. "There's a difference."
"If you aren't there, you don't directly know that risk of losing your life," she continued. "Issa doesn't know. He has no idea."
Perez runs an energy and water conservation construction company in Carlsbad that employs veterans. Since her interaction with Applegate at the September event, she's become a die-hard supporter, joining a protest at a recent Issa campaign event, and carrying Applegate campaign signs outside a Vista supermarket to help gin up support.
Applegate is banking on enthusiasm like Perez's to carry him in the 49th District. But to convince the veteran community to unseat a congressman who's represented them for 15 years, he will have to weather his own political battles, which have included attacks on his temperament as well.
Court documents surfaced in September that showed Applegate had been accused of "stalking" his ex-wife in 2002, and was charged in 2000 with driving under the influence. Issa's campaign went on the attack, sending out mailers and launching additional television ads. One of the ads featured veterans thanking Issa for helping them navigate the troubled Veterans Affairs, and another hit Applegate for supporting a carbon tax and the Affordable Care Act.
For a time over the fall, the Trump comparisons seemed unlikely to tilt the contest. But as the Republican nominee's missteps hurt the party nationwide, party leaders have grown increasingly concerned about down-ballot impacts, including for longtime members like Issa.
That means a campaign that once seemed like a true long shot could now become an emblem of a massive electoral wave. Applegate's campaign certainly feels like the momentum is on its side.
But Dempsey, his spokesman, said the dramatic shift in the race was inevitable, even without Trump. "Voters are seeing for the first time ever that they have a viable alternative to Issa," Dempsey said. He admitted, however, that it didn't hurt that Issa continues to stick by Trump, which he thinks speaks to Issa's "complete and utter lack of judgment."
"Clearly they're tied together, and we are making sure folks know that," Dempsey said. "But we are running on Issa's votes, his actions in Congress."
Popular in the Community