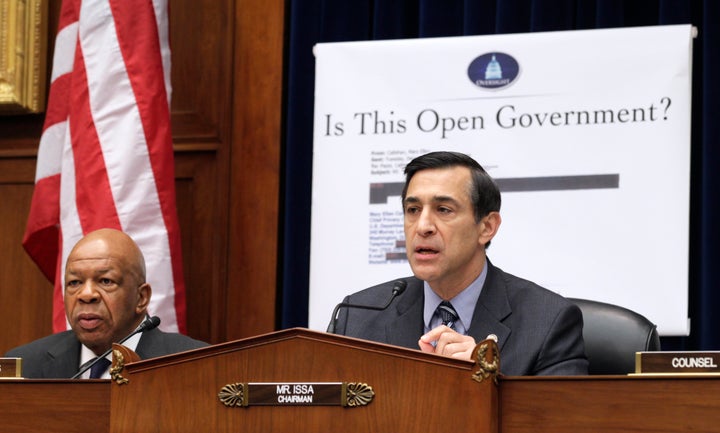 WASHINGTON -- The long-simmering controversy surrounding the Department of Justice's Fast and Furious program took on a new level of import Tuesday amid the publication of two major stories.
The first, and more damaging for the Obama administration, was a CBS report accusing Attorney General Eric Holder of making contradictory statements during a May 3, 2011 Judiciary Committee hearing when he said he had first heard about the program -- which allowed illegal guns to be sent into Mexico so that investigators could trace where they were going –- only "over the last few weeks." Internal Justice Department documents showed that Holder had, in fact, received memos discussing Fast and Furious almost a year before that hearing.
There were nuances to the story. Weekly DOJ reports like the one cited in the CBS story are stuffed with general information about a host of Department programs, making it possible if not excusable that Holder glossed over it at the time. Still, Tracy Schmaler, a DOJ spokesman, noted that Holder had said both in March and May of 2011 that he became aware of the "questionable tactics employed in the Fast and Furious Program in early 2011 when ATF [Bureau of Alcohol, Tobacco, Firearms and Explosives] agents first raised them publicly."
‪"As the documents provided to Congress show, not a single one of these reports referenced the controversial tactics that allowed guns to cross the border, and in fact, in one example provided to Congress consisted of a single sentence referencing a Phoenix-based operation," Schmaler added. "None of the handful of entries in 2010 regarding the Fast and Furious suggested there was anything amiss with that investigation requiring leadership to take corrective action or commit to memory this particular operation prior to the disturbing claims raised by ATF agents in the early part of 2011."
The distinction between knowledge that Fast and Furious exists and knowledge about the controversial aspects of the program may be a useful one. But it did little to assuage critics of the Justice Department's handling of the program, some of whom have called for an independent investigation into the Attorney General's testimony. (Full disclosure: my wife works for the Department of Justice.)
The second story to emerge on Tuesday provided some relief for the administration. The Associated Press reported that a program similar to Fast and Furious had been implemented under the Bush administration.
Far less is known about that program, Operation Wide Receiver -- which also allowed guns to be transferred to suspected traffickers for the purposes of tracking their movement -- mainly because it remained a secret during the previous administration. But to the extent that it was similar to Fast and Furious, it helped defuse the current controversy.
The chief driver of the Fast and Furious investigations, House Oversight Committee Chairman Darrell Issa (R-Calif.), had pledged to look into the Bush administration when circumstances demanded it, noting, "many of the issues we're working on began [with] President Bush or even before, and haven't been solved."
And during a CNN interview on Tuesday evening, he was pressed for the first time to address the work done by Obama's predecessor on arms trafficking.
"[W]e will get to the bottom of whether or not this practice in a smaller way may have begun on the Bush watch," he said. "We're not putting it past any administration and giving anyone a pass. The American people and the people of Mexico expect us to have a zero tolerance for letting drugs come into our country or weapons go into Mexico."
The remark certainly indicated a willingness to broaden the scope of the Fast and Furious investigation. But in a statement sent to The Huffington Post Tuesday night, Issa's press secretary on the Oversight committee, Becca Glover Watkins, hinted strongly that her office viewed throwing the Bush administration into the mix as a political distraction.
"The committee has received paltry few documents from the Justice Department about Operation Wide Receiver but Justice officials still have not made clear to committee investigators what did and did not take place in this operation," she said. "This far into the investigation, throwing out the 'Bush Administration did it too' defense reeks of desperation. If true, it would indicate that Obama Justice officials have engaged in an active effort to deceive Congress about gun-walking they knew had taken place but had strenuously denied until only recently."

REAL LIFE. REAL NEWS. REAL VOICES.
Help us tell more of the stories that matter from voices that too often remain unheard.