WASHINGTON -- One of the main purposes of the House Oversight and Government Reform Committee is to root out waste and duplication in government spending.
The goal is pretty clearly spelled out on the committee's website. "We exist to secure two fundamental principles. First, Americans have a right to know that the money Washington takes from them is well spent. And second, Americans deserve an efficient, effective government that works for them."
But one of the biggest offenders may be its chairman, Rep. Darrell Issa (R-Calif.).
Issa has cost the government millions of dollars through redundant inquiries into two matters: the 2012 terrorist attack on a U.S. consulate in Benghazi, Libya, and the IRS' targeting of political groups seeking tax-exempt status. Yet his probes have revealed little more than a political agenda behind them.
In the case of Benghazi, Issa has claimed that then-Secretary of State Hillary Clinton told former Defense Secretary Leon Panetta to "stand down" military units that could have been sent to Benghazi to prevent the deaths of four Americans. Military leaders and top Republicans have already confirmed that no such order was given, but Issa has spent the last year and a half investigating whether the U.S. government is engaged in a cover-up.
His demands for information and interviews from the Defense Department have cost the agency millions of dollars and thousands of hours, according to Rep. Adam Smith (D-Wash.), the ranking member on the House Armed Services Committee. Smith, who reached out to the Defense secretary to gauge those costs, raised concerns with Issa's "numerous and often repetitive congressional requests" in a recent letter to his committee chairman, Rep. Buck McKeon (R-Calif.).
"More than any other committee in Congress, this committee should understand the financial strain on the Department of Defense, which is being made worse by these ongoing and ridiculous investigations," writes Smith. "In light of the needless waste of our military's and committee's resources, I am requesting that we immediately end our involvement with this witch-hunt."
Issa so far has held three hearings, conducted 27 transcribed interviews and depositions, organized several Republican-only delegations to Libya, issued two GOP staff reports and reviewed tens of thousands of documents as part of his investigation, according to committee Democrats. No sign of conspiracy or foul play has been found to date.
Meanwhile, a panel of top military and foreign policy officials led their own independent review of the attack and concluded that there were "systemic" problems at the State Department, but no sign that individual officials had violated their duties. The panel also came up with 29 recommendations for better securing diplomatic posts overseas -- none of which have been taken up in Issa's committee.
Democrats say the investigation is driven by Issa's desire to smear Clinton ahead of a potential 2016 presidential run. All 17 of the committee's Democrats sent him a letter last week urging him to stop politicizing the incident and to focus on ways the committee can strengthen security at diplomatic posts. Their letter cites three times Issa earned "Four Pinocchios" from the Washington Post Fact Checker for his false claims about Clinton.
"To date, the Committee's investigation has been characterized by wild and unsubstantiated political accusations that turn out to be completely inaccurate," reads the letter. "Continuing this reckless pattern of launching wholly unfounded accusations on national television ... is undermining the credibility of our Committee and the seriousness of our work."
The costs of Issa's IRS investigation are even more staggering. His probe of that agency has cost at least $14 million and more than 97,000 hours, according to IRS Commissioner John Koskinen.
Issa launched that investigation in response to allegations in 2012 that the IRS was singling out and rejecting Tea Party groups applying for tax exempt status. But a closer review showed that the IRS was similarly targeting progressive groups, which invalidated GOP claims that the agency was pursuing conservative groups for political reasons. The review also indicated that the IRS was appropriately targeting all politically affiliated groups seeking tax-exempt status.
Nonetheless, Issa has been trying to make the case that President Barack Obama used the IRS to target political enemies in an election year. To date, the committee has reviewed more than 500,000 documents and interviewed 38 former and current IRS employees, but produced no evidence of any political motivation behind the IRS' activities or of White House involvement in such an effort.
Issa's latest plan is to hold the IRS Commissioner in contempt for failing to produce certain documents. That charge comes as another top Republican, House Ways and Means Committee Chairman David Camp (Mich.), recently praised the IRS for its cooperation with document requests. It also comes at a time when, as reported by Politico, more than half a dozen Republicans on those two committees are venting frustrations with Issa's handling of the IRS probe and have signaled it's time to move on.
"There is a perception that if your case is rock-solid, it doesn't need months to sort it out," Rep. Jason Chaffetz (R-Utah), a member of the Oversight committee and someone interested in replacing Issa as chairman, told Politico.
An Issa spokesman did not respond to a request for comment.
Michael Steel, a spokesman for House Speaker John Boehner (R-Ohio), defended Issa's investigations.
"Four Americans died in Benghazi, and the IRS targeting Americans for their political views is an attack on the core of our liberty," Steel said in a statement. "On both issues, the American people deserve the truth -- and House Republicans, including Chairman Issa and other Chairmen, are determined to get it."
Before You Go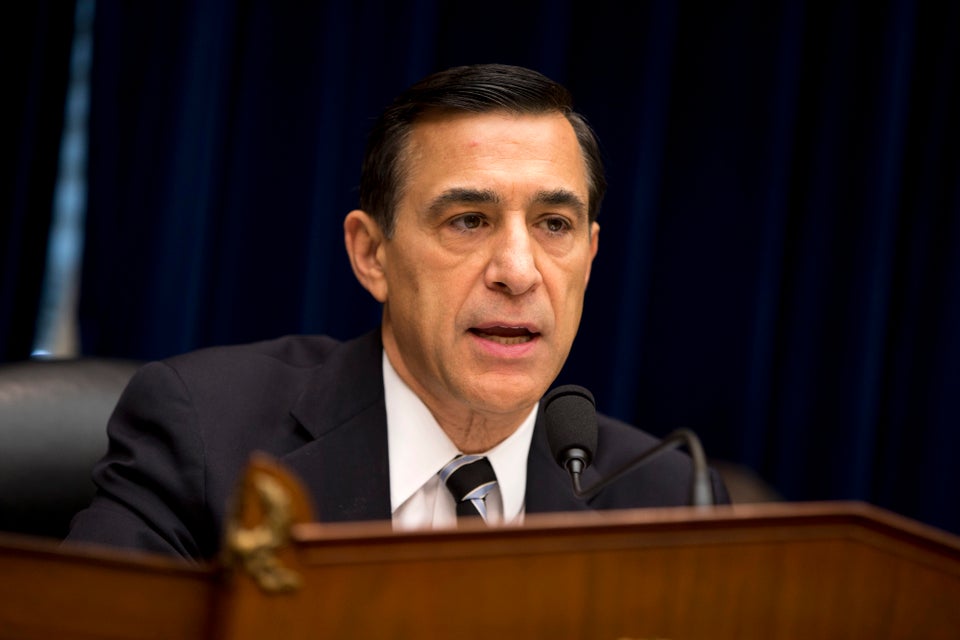 Darrell Issa
Popular in the Community