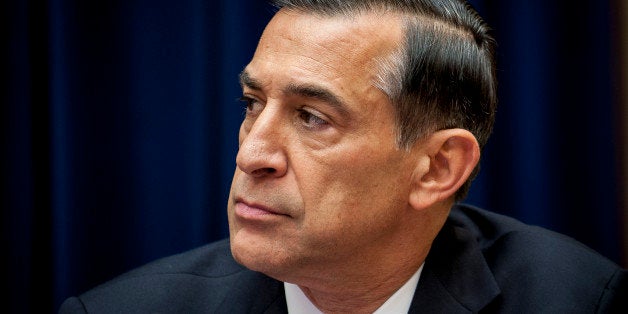 Rep. Darrell Issa (R-Calif.) and five other lawmakers wrote a letter to President Barack Obama lamenting "the continued role of James Clapper as Director of National Intelligence."
The lawmakers say Clapper lied to Congress during a Senate Intelligence Committee hearing on surveillance in March 2013. HuffPost reported earlier on that hearing:
During a Senate Intelligence Committee hearing on March 12, Sen. Ron Wyden (D-Ore.) asked the intelligence czar if the NSA gathers "any type of data at all on millions of Americans."

"No, sir," Clapper responded. "Not wittingly. There are cases where they could inadvertently perhaps collect, but not wittingly."
Clapper later said he gave the "least untruthful" answer possible to the NSA question, saying the matter is too complex to answer the inquiry "necessarily by a simple yes or no."
The letter said Clapper's role is "incompatible with the goal of restoring trust in our security programs and ensuring the highest level of transparency."
"Director Clapper continues to hold his position despite lying to Congress, under oath, about the existence of bulk data collection programs in March 2013," the letter to Obama said. "Asking Director Clapper, and other federal intelligence officials who misrepresented programs to Congress and the courts, to report to you on needed reforms and the future role of government surveillance is not a credible solution."
Read the full letter here.
Calling all HuffPost superfans!
Sign up for membership to become a founding member and help shape HuffPost's next chapter
BEFORE YOU GO
PHOTO GALLERY
Obama's Fist Bumps