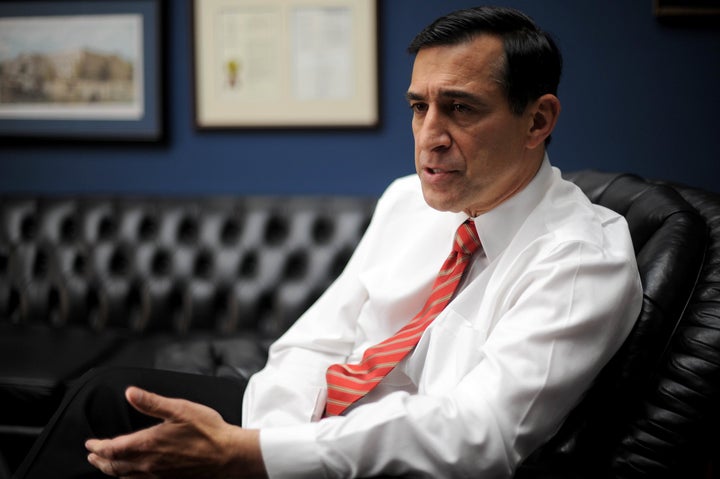 Following criticism from Republicans over a controversial gun-trafficking program, Kenneth Melson, the acting chief of the ATF, is facing pressure to resign. But it turns out that Rep. Darrell Issa (R-Calif.), the head of the House Oversight Committee and one of Melson's chief critics, was briefed about Operation Fast and Furious last year and did not express any opposition to it at the time.
The Washington Post reports:
At the briefing last year, bureau officials laid out for Issa and other members of Congress from both parties details of several ATF investigations, including Fast and Furious, the sources said. For that program, the briefing covered how many guns had been bought by "straw purchasers,'' the types of guns and how much money had been spent, said one source, who spoke on the condition of anonymity because the briefing was not public.
"All of the things [Issa] has been screaming about, he was briefed on,'' said one source familiar with the session.
The ATF program was designed to monitor the illegal sale and transfer of guns from the U.S. to Mexican drug cartels. At a House Oversight Committee hearing last week, ATF agents told lawmakers that instead of arresting the small-time buyers, they were instructed to stand by and watch to see where the guns went in an effort to build a case against bigger arms dealers.
Doing so, however, meant that U.S. guns wound up in the hands of the Mexican drug cartels. And after Border Patrol agent Brian Terry was murdered in a shootout along the Arizona-Mexico border in December, two weapons found on the scene were linked that the "Fast and Furious" program.
"He was part of the bad judgment. And when I say bad judgment, it wasn't just him," Issa said. "They had to go to Justice to get money, to get FBI agents, all of the other people that helped coordinate this, and to get the wiretaps they used. This was a program so stupid from the start."
Attorney General Eric Holder met on Tuesday with Andrew Traver, President Obama's choice to head the bureau whose nomination is currently stalled in the Senate, fueling speculation that Melson would soon be out. But Melson has not indicated any plans to resign, sources told the Washington Post.
According the the Daily Caller, even if Melson resigns, the Oversight Committee is looking to hold a much higher appointee accountable for the Fast and Furious program as well.
"The investigations are far from over," Issa spokesman Frederick Hill told the Daily Caller. "It's quite certain that Kenneth Melson was not the principal architect of this plan nor was he the only high-ranking official who knew about and authorized this operation."
Calling all HuffPost superfans!
Sign up for membership to become a founding member and help shape HuffPost's next chapter