WASHINGTON -- Democrats stepped up their condemnation of Rep. Darrell Issa (R-Calif.) Thursday, offering a second resolution to reprimand the Oversight Committee chairman for a pattern of "offensive" behavior against lawmakers from their party.
They tried once before to get the House to condemn Issa for cutting off the top Democrat on his committee, Rep. Elijah Cummings, in a hearing over IRS scrutiny of political groups last week.
And like that bid, this one failed, 217-173, with six Republicans and four Democrats voting present.
Nevertheless, the move highlighted the deep, lingering anger that Democrats feel for the Californian, who they believe has abused his role atop a committee meant to ferret out waste and abuse in the federal government. It was high-lighted even further in the way Democrats tried to proceed, with many holding up iPads and phones with pictures of Issa cutting off Cummings.
Rep. Mike Simpson (R-Idaho), who was presiding over the session, gaveled the reading of the so-called "privileged resolution" by Rep. Dan Kildee (D-Mich.) to a halt until members put their devices away, saying the display was a "violation of the House rules."
"Members are not allowed to stage an exhibition," Simpson said, before Democrats relented and Kildee settled for holding up an old-school photograph. "Regular order would be putting the iPads down," Simpson said.
The new resolution sought to expand the claims of abusive behavior by Issa, including trying to prevent a witness from answering questions from Rep. Carolyn Maloney (D-N.Y.), and turning off the microphone of Rep. John Tierny (D-Mass.) during a dispute.
"Chairman Issa's conduct in committee and his repeated attempts to silence Democrats is offensive and needs to be condemned," Kildee said in a statement. "We live in a democracy, one that allows for open debate and dissension. That's the way our framers intended for our legislative process to work, where there would be respectful debates in Congress about the important issues we face as a nation.
"However, it seems that Chairman Issa is more interested in a one-sided political spectacle rather than having an actual impartial hearing," Kildee added. "That's exactly the kind of partisan behavior my constituents are fed up with."
The resolution made a point of hitting Issa for behavior beyond his microphone follies, including the exclusion of Democrats from committee investigative meetings, and leaking details to the press that were not shared with Democrats.
Issa apologized to Cummings after the March 5 spectacle at a hearing in which former IRS official Lois Lerner refused to testify. But the resolution would have demanded a more formal mea culpa, with Issa making amends from the floor of the House. It also would have declared that Issa broke the House's code of conduct, which says members "shall behave at all times in a manner that shall reflect creditably on the House."
"Chairman Issa owes the American people a public apology so we can start to restore a sense of civility in Washington," Kildee said. "Chairman Issa –- and the House Republicans who continue to stand behind his actions –- simply can't suspend democracy when it's advantageous for them. Doing so is an abuse of power."
Issa's office didn't immediately respond to a request for comment.
This article has been updated to include the vote.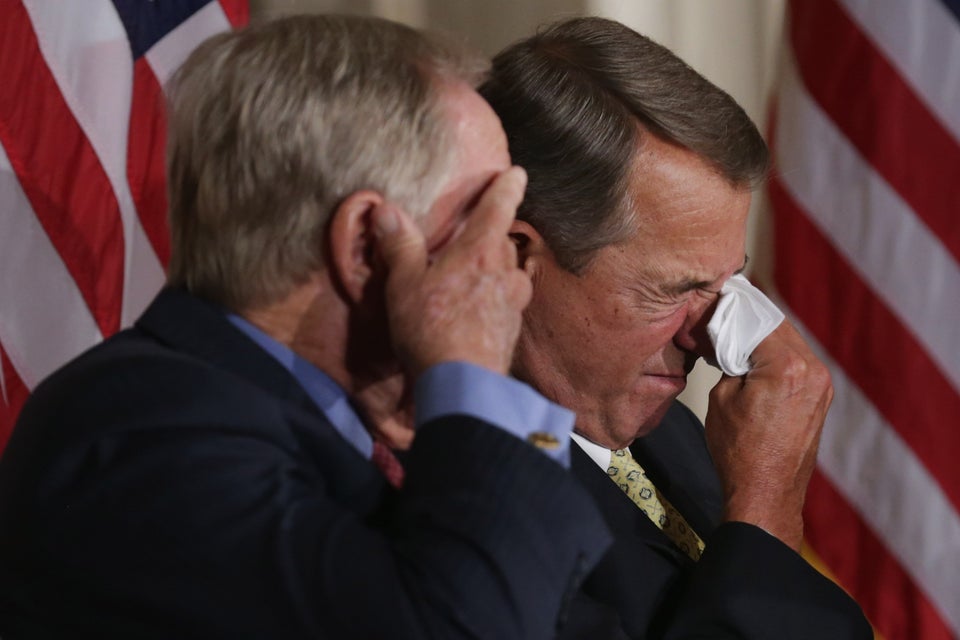 John Boehner Cries
Popular in the Community