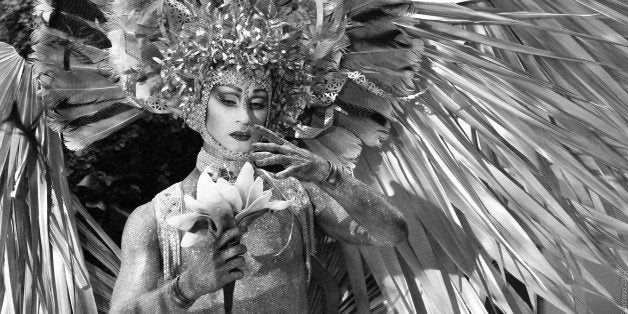 This is the twenty-second installment in HuffPost Gay Voices Associate Editor JamesMichael Nichols' 30-part series "After Dark: NYC Nightlife Today And Days Past" that examines the state of New York nightlife in the modern day, as well as the development and production of nightlife over the past several decades. Each featured individual in this series currently serves as a prominent person in the New York nightlife community or has made important contributions in the past that have sustained long-lasting impacts.
HuffPost Gay Voices believes that it is important and valuable to elevate the work, both today and in the past, of those engaged in the New York nightlife community, especially in an age where queer history seems to be increasingly forgotten. Nightlife not only creates spaces for queers and other marginalized groups to be artistically and authentically celebrated, but the work of those involved in nightlife creates and shapes the future of our culture as a whole. Visit Gay Voices regularly to learn not only about individuals currently making an impact in nightlife, but those whose legacy has previously contributed to the ways we understand queerness, art, identity and human experience today.
The Huffington Post: What did your journey to becoming an integral part of queer nightlife in New York City entail?
Darrell Thorne: My first experience working in nightlife was actually in Los Angeles -- I started out as a go-go boy in a few different clubs. When I moved to New York 12 years ago I didn't have any inclination that I would be working in nightlife. However, I do remember being very excited by the number of costume-themed events which seemed to happen constantly. At that point, my only experience with costuming was around Halloween, and I had barely touched makeup.

Derek Jackson was an artist working in the city at the time, and he approached me to do a photo shoot shortly after I arrived in town. It was to be shot on Easter weekend and I was also go-go dancing at the Slide that same day -- I suggested that I do the shoot costumed as Jesus. Derek agreed, did my makeup for the shoot and it was a thrilling and liberating experience for me. Over the course of the next year we did several collaborative performances, with Derek designing my costumes and makeup. Eventually he left town and I realized that I wanted to continue the journey, so I started creating my own costumes and applying my own makeup. I was hooked. I would go anywhere that a costume was encouraged or accepted: parades, parties, clubs. As time passed, my skills improved and I met more people and eventually started to get bookings for work. I've been fortunate to catch the eyes of some well-connected people -- such as Earl Dax, Muffinhead, Susanne Bartsch, Brandon Voss -- all of whom afforded me opportunities to work more, gain exposure and further develop my craft.
How would you describe your aesthetic and the work that you produce?
I always find this a little challenging to answer, but I tend to say that I'm a performance artist who works in costume and makeup. My work revolves around creating a highly-detailed visual character or characters -- usually with fantasy, tribal, futuristic, urban, organic, cinematic, or religious influences -- and then inhabiting those characters in a performance. Certainly my work is concerned with creating the "look," but performing the character (whether through a durational installation or movement or dance) is equally as important and enjoyable in my creative process. Outside of nightlife, I have a range of expressions for my work, including producing events with multiple performers in my costumes/makeup, performing installations in gallery settings, cabaret and theater performances, and appearances in music videos and fashion editorials.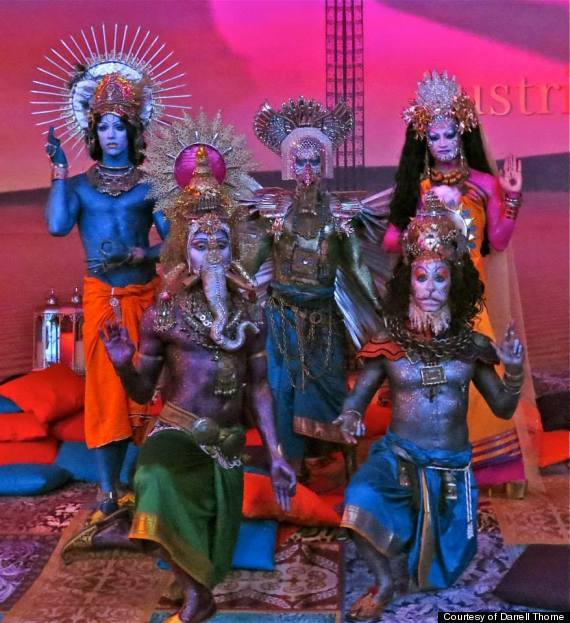 You've been involved in NYC nightlife for some time. How have you developed as an artist over the years?
I think I've had the opportunity to hone my skills quite a bit. The more I produce and perform, the tighter (and looser) things can become. Over the past few years I've been working on a much more regular basis, and often creating looks for multiple people quite frequently. The time crunch and pressure to continually deliver has actually been fantastic for the creative process. Shortcuts and mistakes -- and outright panic -- can lead to some wonderful discoveries that I might not have happened upon otherwise. I've learned to trust myself more, and am able to be a bit more relaxed in the studio and not quite as controlling. Additionally, different clubs/nights call for different moods, and for my own stimulation I try to push myself outside my boundaries as much as I can.
How does nightlife inform your work as an artist -- and vice verse?
Nightlife in some ways is like stepping into a fantasy world. Once you're on the stage, with theatrical lighting, pounding music and a crowd that is typically prepared and hoping to be dazzled, you have an opportunity that is very difficult to create in a theater, gallery or museum. On a good night the energy is palpable and you can channel that right into your performance. Through regularly inhabiting that space week after week -- because it is expected, as well as to avoid burnout or boredom -- you can do just about anything you like as a performer. The more bizarre or unexpected the better. I'd say that simply go-go dancing on a regular basis has made me a much better performer. Not to mention that the visuals/costumes/makeup that one can create are without any boundaries -- it's a tremendously free forum, which is always demanding more, more, more.
How has your work in nightlife given you a platform to draw awareness to HIV and combat HIV stigma?
Honestly, there hasn't been a huge crossover there. As a spokesperson for the HIV Stops With Me Campaign that I've been involved with for the past eight years, we've discussed creating one of my ads with me in costume. Certainly I could have done that, but it never felt quite right. My main objective with the campaign is to combat stigma by being out about my status, and having my name and face associated with that. For me it's about transparency and openness, showing that being HIV positive is just one part of my experience. Conversely, when I'm in a club and in a look, I'm ultimately performing something that is outside of/greater than/other than my day to day existence. I always maintain an openness about my status, should it ever come up, and there have been occasions backstage to have chats with other performers. Aside from that, interviews or exposure like this -- which wouldn't have happened without nightlife -- do provide a platform.
Domonique Echeverria said in her feature: "I think the truly innovative people that I'm seeing are playing around with gender and sexuality. I think that's what our generation has to offer -- the idea of acceptance and blurred lines of gender. It's causing discussion, debate, new laws to be made and it's causing more art. THAT is the movement that's happening" -- How do you see this playing out in nightlife?
I quite agree that gender and sexuality are on the forefront of the winds of change during our time, and I certainly see that manifested in a myriad of ways in nightlife -- through looks, identities and performance. However, and I may be a bit naive here, I don't know that nightlife will necessarily change the world. It's fantastic for those who wish to participate, but I see nightlife as one microcosm in an ocean of many. I think the importance of nightlife might be more for those who find in it a place to feel accepted, a place to live out some fantasies or experiences they might not be able to in other settings, and a chance to dance it out a bit. Of course, I suppose it's what people take away from their experience in nightlife which may affect change in their circles -- large or small.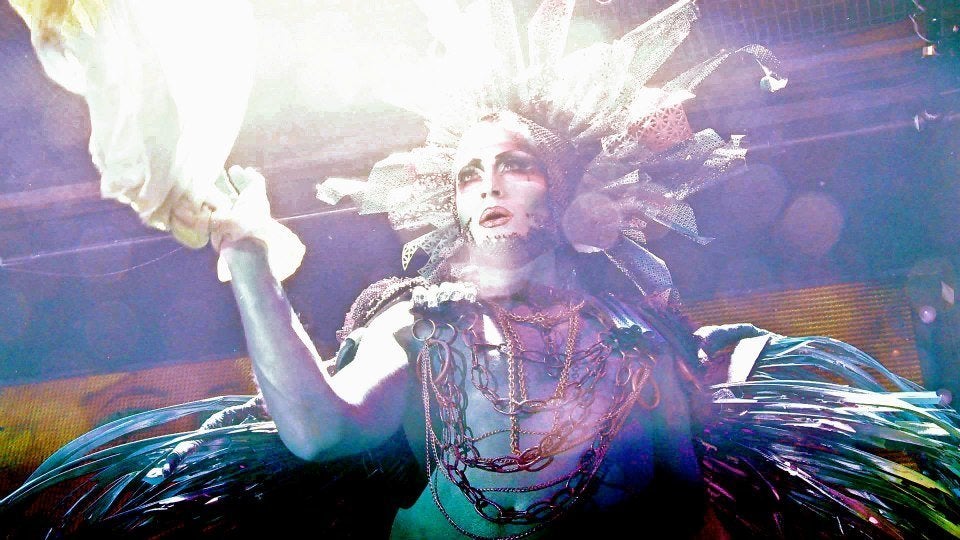 Darrell Thorne
What projects are you working on? Where are you currently booked?
At the moment I'm at Berlin every Friday, Space Ibiza NY on Saturdays, Up & Down on Sundays and Marquee on the occasional Thursday. I'm also designing costumes for a new musical and working with an independent pop artist on costumes for an upcoming video. This month a number of my pieces are featured in Paper Magazine's Cartoon Villains and Japan Vogue's Into The Woods, and I'm looking forward to Night of the Living Drag with a lot of the "Drag Race" gals on the Oct. 25.
What do you hope to see as the future of nightlife in NYC?
Oh good lord, I wish I knew. In some ways it seems to be -- like our culture at large -- ever more exclusive, segregated and vapid. In other reflections of our culture at large, there are glimpses of community, revolution and awareness… I can tell you what I love to see, and you get to on occasion: I love to see a room full of people, living, dancing, being their authentic selves and communicating with each other through their very presence. Perhaps the future will have more of that in store.

For more from Darrell Thorne head here visit the artist's website. Missed the previous installments in this series? Check out the slideshow below.
Popular in the Community