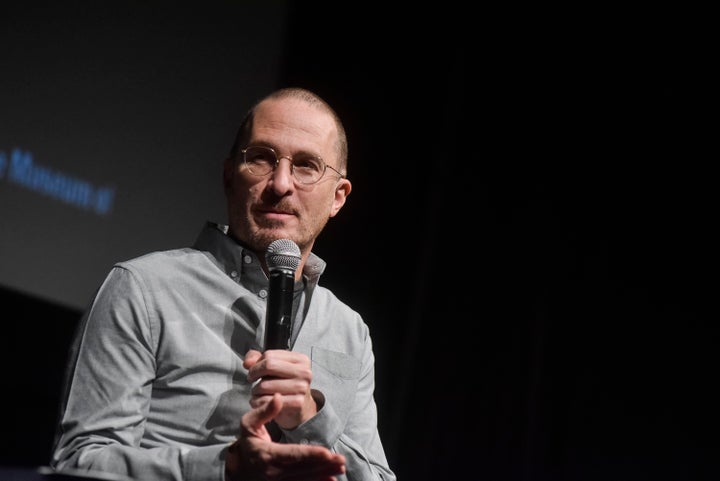 The documentaries are didactic. Former Vice President Al Gore's 2006 blockbuster, "An Inconvenient Truth," was basically a movie version of the PowerPoint lecture series he used to describe the dangers of runaway greenhouse gas pollution. Leonardo DiCaprio's 2016 "Before the Flood" chronicled the actor's meetings with policymakers and visits to collapsing glaciers in retreat. The fiction is apocalyptic. Movies like 2004's "The Day After Tomorrow" and 2017's "Geostorm" depict the changing climate as the "new supervillain."
The 49-year-old filmmaker, best known for directing psychological dramas "Requiem For a Dream" and "Black Swan," released "Noah" in 2014, which depicted the great biblical flood in a way meant to serve as a warning about sea level rise. His 2017 thriller "Mother!" was a thinly veiled reflection on humanity's unabated greenhouse gas emissions as told through an impassioned, praise-hungry poet who caters to the desires of a mob of worshipful guests who destroy their home as his wife watches in horror.
But now Aronofsky is trying something different. On Monday, National Geographic will air the first episode of the 10-part series "One Strange Rock," narrated by actor Will Smith. The documentary series holds up the same stunning lens to earth science that the BBC's "Planet Earth" and "Blue Planet" focused on wildlife and marine animals. Episodes document life in acid lakes, chronicle the organisms that cruise the jetstreams on dust blowing from Africa to South America, and show the Earth from the perspective of American and Canadian astronauts in the International Space Station.
"It is a celebration of our home," Aronofsky told HuffPost in an interview at a New York press screening this month. "This is the great Architectural Digest spread of planet Earth."
"Mars is a barren wasteland, yet we have tropical islands and polar ice caps and such a variation of wealth and environments that are inspiring and beautiful," he added. "We're very, very lucky to have it, so hopefully we can all appreciate it more."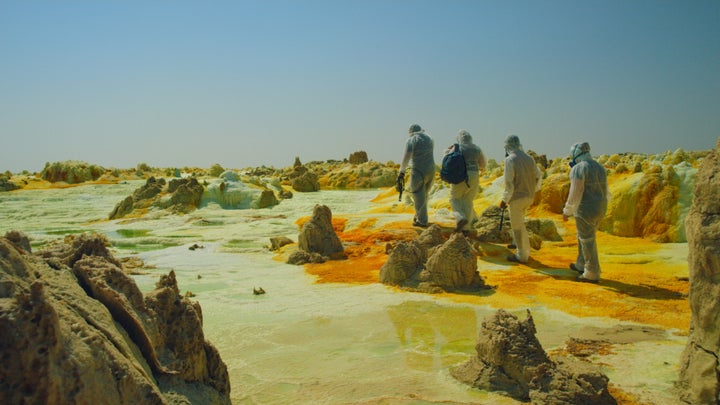 Aronofsky, who produced the show, said the lush shots, ranging from slowed-down video of the creation of oxygen underwater to panoramic views of the planet from space, are intended to make the complex and fragile processes that make the Earth inhabitable more intimate. At the screening this month, co-producer Jane Root quoted David Attenborough, the legendary naturalist and "Planet Earth" narrator, as saying that, to save the planet, you have to first fall in love with it. This, Aronofsky said, is his love letter to the planet.
But to understand climate change, you'll have to read between the lines. The show makes no mention of the human-caused emissions warming the planet.
"It's like what they teach you in art class about negative space," Aronofsky said. "Negative space is assumed when you start looking at the beauty of the clockwork, the mechanics that are occurring in front of you."
Confronting viewers with some of the Earth's most astonishing ecosystems "reveals unconsciously for people, oh my gosh, this is an incredible system that we're blessed to have, and we need to take care of it," he said.
"But it's not a call to arms," he said.
"Film has a huge role to play in climate communication. Science can communicate facts, but unfortunately, that only gets us so far."
Aronofsky, who grew up in South Brooklyn, New York, first became enamored of nature in high school. He was accepted into the School for Field Studies, a nonprofit study abroad program focused on environmental sciences, and spent six weeks in the Kenyan bush studying ungulates, counting wildebeest and gazelle populations. The next summer, he went on another trip to Alaska's Prince William Sound, where he studied harbor seals and monitored icebergs and glaciers. That was in 1987, two years before the Exxon-Valdez tanker spilled 10.8 million gallons of oil into the waterway. After the spill, government scientists used the data Aronofsky helped collect to measure the impact on wildlife.
"Being in those environments and reading Darwin and learning the awe that you experience every day when you wake up in the natural world just blessed me with this lifelong appreciation for it," Aronofsky said.
Hollywood's forays into climate change have, at times, backfired. Putting celebrities out front allowed conservative media ― given to parroting the climate change denialism that Republicans have cemented as a platform issue over the past decade ― to discredit warnings about global warming by noting, for example, DiCaprio's past penchant for fuel-guzzling private jet flights. But the awareness that movie and TV stars raise about climate science still outweighs any narratives of perceived hypocrisy.
"Film has a huge role to play in climate communication," John Cook, a researcher at George Mason University's Center for Climate Change Communication, told HuffPost. "Science can communicate facts, but unfortunately, that only gets us so far. We need art to shape the facts of climate change in narratives and frames that resonate with the general public."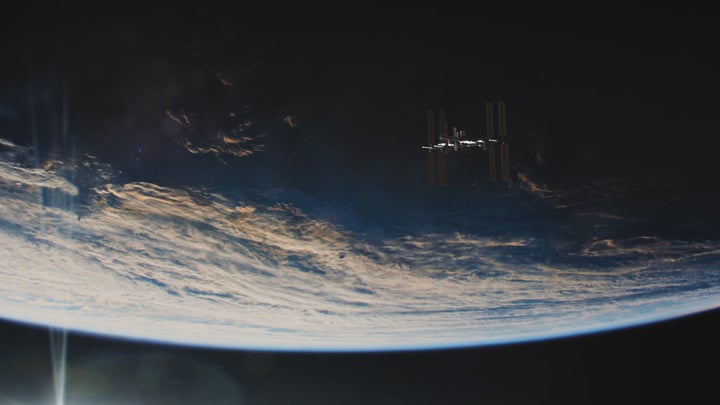 A November 2004 study into how "The Day After Tomorrow" affected viewers' understanding of the threats posed by climate change found that people who saw the movie had a significantly higher risk perception than those who didn't. But Hollywood depictions of climate change that focus too much on scientists' most dire warnings risk alienating viewers, according to Alex de Sherbinin, an associate director at Columbia University's Center for International Earth Science Information Network.
"In general, I think movies need to be careful about the shock value, which can breed a kind of helplessness or 'Why bother?'" de Sherbinin told HuffPost. "I have seen art exhibits that create a sort of sadness. That may be a more effective emotion to trigger, as long as it is not completely hopeless."
Yet Aronofsky's work, famous for theatrical plots and artful cinematography, is uniquely well-suited to tackling the subject, said Gretchen Goldman, research director at the Center for Science and Democracy at the Washington, D.C.-based Union of Concerned Scientists.
"Aronofsky specifically has the ability to do this through vivid imagery and dramatic scenarios," she told HuffPost. "This is powerful for people."
Aronofsky is quick to point out that Republicans alone aren't the problem. He started working on "Mother!" and "One Strange Rock" during the final year of the Obama administration, after the United States helped broker the Paris climate accord, the first global deal to cut planet-warming carbon dioxide emissions. After the election of President Donald Trump, who has long dismissed climate science, Aronofsky went to the Standing Rock Sioux Reservation, where indigenous activists and environmentalists were protesting the construction of the Dakota Access oil pipeline through a sacred water source.
"I found the response from a lot of indigenous friends very neutral on the election, when I was sort of throwing up every night," he said. "I asked why, and they said, 'This is a 500-year race war. The pipeline started under Obama.'"
Aronofsky said Democrats should push for 100 percent renewable energy and to divest from fossil fuels. He also said Democratic candidates should refuse donations from fossil fuel companies.
"Right now, it's really clear how everything is kind of revealed suddenly," he said. "You have to reveal cancer before you cut it out. For me, that's the silver lining."
Before You Go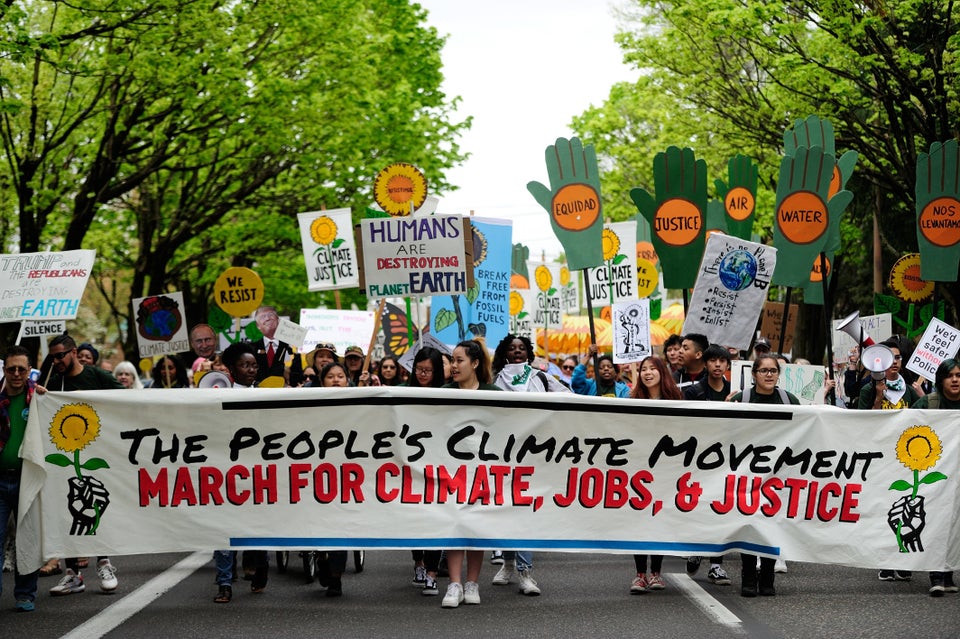 Climate Marches Across The U.S.
Popular in the Community