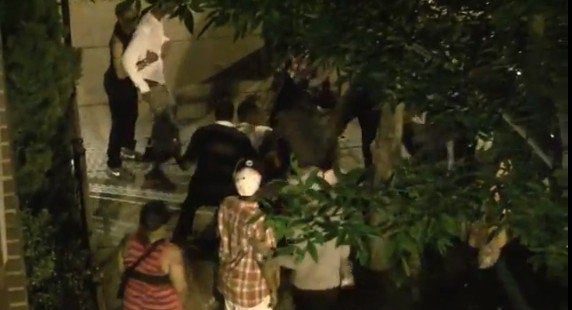 The Chicago Sun-Times is reporting that Hayes was ordered held in lieu of a $700,000 bail Friday. He is reportedly cooperating with police as they continue their search for others who participated in the July 3 stabbing and beating incident on North Halsted.
***

A 24-year-old Hammond, Ind., man has been charged in the videotaped Boystown stabbing incident that has proved a powerful catalyst for community outrage over recent reports of crime in the East Lakeview neighborhood's entertainment district.
Darren Hayes was charged Friday with three counts of aggravated battery and one count of felony mob action related to the July 3 beating and stabbing incident on the 3300 block of North Halsted that left one 25-year-old man with a punctured lung and multiple stab wounds, according to the Chicago Sun-Times. Police detectives reportedly relied heavily on a YouTube video that caught the beating on tape, in addition to an anonymous tip that led them to Facebook, to identify the alleged attacker.
Hayes reportedly turned himself in after he was contacted by detectives about the attack.
Meanwhile, as NBC Chicago reports, the police investigation will continue into the incident. They are asking other individuals in the community to come forward with any evidence or tips they may have about the other eight to ten individuals seen punching and kicking the July 3 victim.
Tunney, who has also announced new "safety seminars" for neighborhood residents, also denied accusations that he described the July 3 stabbing as an "isolated incident," which residents contend it was not.
"We have been dealing with late night crime on our streets for years," Tunney wrote. "We all need to be aware of our surroundings and not be afraid to call 911 with as much information as possible when you see someone behaving suspiciously or committing a crime. We all must work with the police to effectively fight crime."
"We don't downplay this violence," Gender JUST member Joshua McCool said in the release, "but we won't allow you to use this as an excuse to profile us; we see policing and profiling as tools of violence - and you can't fight violence with violence!"
Support HuffPost
The Stakes Have Never Been Higher
Related
Popular in the Community