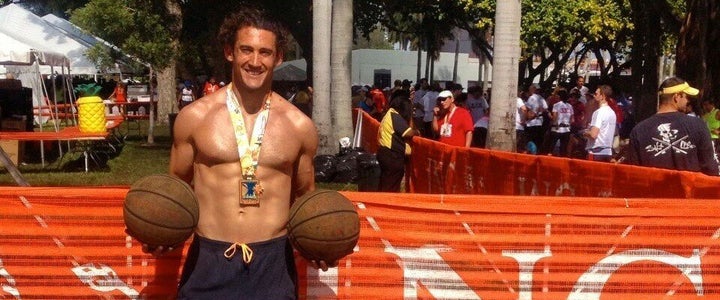 Darren Weissman will be pursuing a Guinness World Record in the Publix Fort Lauderdale A1A Marathon on Sunday morning: fastest marathon run while dribbling two basketballs.
The 30-year-old lifelong Miami resident, a middle-school basketball coach, fitness instructor and ball-handling guru dubbed Doctor Dribble, actually beat Jerry Knox's time of four hours, 55 minutes set in the 2011 Orange County (Calif.) Marathon three weeks ago.
Bouncing a Spalding Never Flat official-size basketball in each palm without once stopping or losing control while simultaneously running 26.2 miles, Weissman finished the ING Miami Marathon in four hours and 48 minutes.
But it wasn't an official record because he didn't notify Guinness beforehand -- he's filed the proper paperwork this time. His biggest regret, though, wasn't that, he said. It was not raising money with his feat, which he will do in Sunday's race. (Story continues below.)
PHOTO GALLERY
Doctor Dribble World Record Attempt
Weissman, who previously fostered a child for five years, said he's giving 100 percent of donations made at doctordribble.com/donate to Our Kids, an organization whose mission is to provide care to abused, abandoned and neglected children and their families in Miami-Dade and Monroe counties.
"I believe everyone has a talent and a gift and you've got to find a way somehow to use that talent -- no matter how ridiculous it might be, like dribbling basketballs throughout a marathon -- to impact other people in society," Weissman said.
"I think it's very interesting and very commendable," said Matt Lorraine, race director for the A1A Marathon. "I know I couldn't even dribble a basketball 26 miles, let alone two of them. It's hard enough just doing the run."
Weissman is one of a record 5,000 runners (about 700 more than last year) expected to participate in this year's eighth annual A1A Marathon and Half Marathon, which will start at the Museum of Discovery & Science at 6 a.m. and finish at South Beach Park.
About 75 percent of the participants are local residents, Lorraine said. That includes Carrie Pustilnik, 36, of Delray Beach, who was the overall women's winner of this race in 2010 (2:58:29) and 2011 (3:00:11) and finished third (3:18:11) last year.
It also includes 83-year-old August Leone, of Boca Raton, who won the male age group of 75-99 last year in 5:28:08. Leone said he started running at age 68. He has completed 42 marathons in the past 13 years, training no more than four days and 20 total miles per week, he said.
"I thought, 'What would be a good thing to do for my 70th birthday? A marathon sounds exciting!' " Leone said. "So I followed the training program to the letter, it worked, and I got hooked on marathons ever since."
Leone said he hopes to run marathons for several more years but will only do so until he can no longer finish within six hours.
This will be just the third marathon for Weissman, who ran the ING Miami last year without a basketball in under four hours. He wasn't registered for this year's ING when he said a friend suggested to him a week before the race that he run while dribbling two basketballs. Weissman said he didn't know about the world record till informed afterward.
"I was amazed that the balls never got out of my reach. I never lost control of them the entire way," he noted. "There were 25,000 witnesses that can attest to it."
While Knox set the record wearing gloves, Weissman dribbled at ING Miami with his bare hands, which were blackened with dirt by the end. Some of the skin on his fingertips rubbed off as well, he noted.
"It was tough. It was tiring. It was exhausting. My entire body, my arms, my neck, my back were cramping up," Weissman said. "But at the same time, I was having fun doing it. I could see all the people around me that were running with me, and people at the cheer stations, getting a kick out of it. There were even people running with me that told me after the race that listening to the sound of the basketball hitting the ground helped them get through the last 10 miles because it gave them a rhythm with their stride."
sgorten@tribune.com. Follow him on Twitter @sgorten. ___
(c)2013 the Sun Sentinel (Fort Lauderdale, Fla.)
Distributed by MCT Information Services
Calling all HuffPost superfans!
Sign up for membership to become a founding member and help shape HuffPost's next chapter